Have you heard of Google Business Profiles yet? What about Google My Business? The former has replaced the latter, but regardless of the name of the network, you can still easily stay in touch with your customers, or those who are about to become customers.
Every month, a seemingly infinite number of searches are made on Google for opening hours, current offers and locations for businesses, institutions, and shops. This is more about facts than storytelling content to convince potential customers - because users are actively searching for your business or similar to yours.
So what are the news, offers and events that your company wants to communicate to potential and existing customers during their search? Through Google Business Profiles, you can keep the communication flowing and create a fantastic customer experience.

As you can see, integrating your Google Business profile into your social media strategy makes perfect sense - regardless of the type and industry of your business.

👉🏽 Take advantage of this opportunity with Google Business Profiles Publishing in Facelift Cloud.

How does Facelift Cloud support Google Business Profiles?

In Publisher, you have the option to create and publish posts about what's new, offers and events.
Opening hours have changed? Let all searchers on Google know in your news!
Draw attention to your company's current offers and announce limited-time vouchers, discounts, or promotions.
An inserted coupon code allows you to track your offer and its performance.
You can also use the opportunity to announce upcoming events - be it an open day, a trade fair, or a new job opening.


How does GBP publishing work in Facelift Cloud?

In the post creation process, select Google Business Profiles and choose between the different formats.

Now add your text and appropriate media - you have the option to add up to 10 images or videos.
Note that if a potential customer searches on their desktop, one image or video will be displayed at a time. If they are on mobile, up to 10 media will be displayed.
Depending on the format of your post, individual parameters can be inserted during the creation process.
For special offers, you can enter a voucher code, as well as start and end dates for the promotion period.
For events, remember to enter a start and end date as well. You'll be able to determine what an optional call-to-action should look like by selecting the button during creation.
And last but not least, select one or more Google Business profiles on which you want to publish.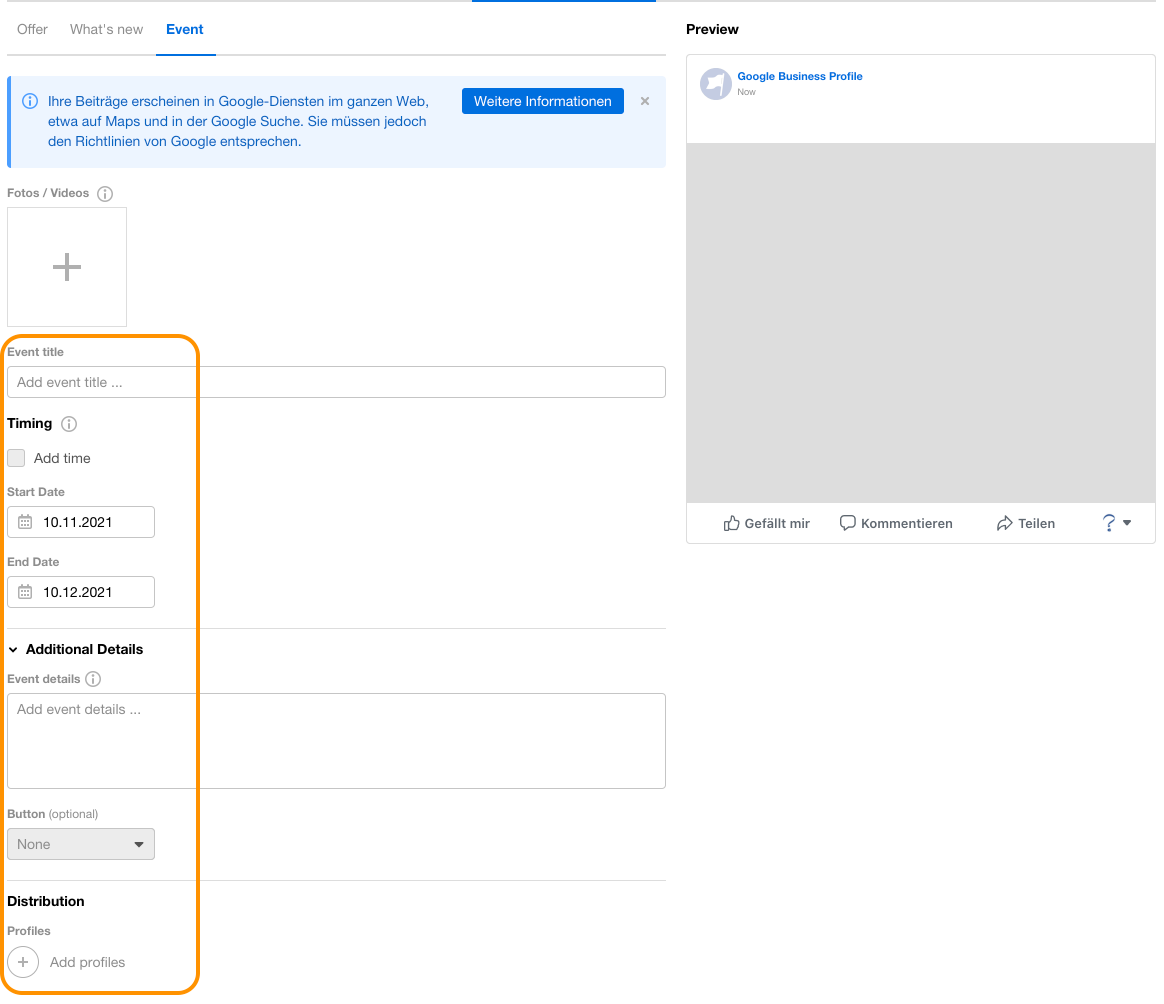 In the preview, you'll have a good preview of the end result that the user will then see when they take a closer look at your company on Google. 🔎
Everything you need to know about publishing via Google Business in Publisher can be found in this Knowledge Base article.

Managing multiple Google Business Profiles?
Do you have various branches, locations, divisions, or other reasons to have multiple Google Business profiles? If your headquarters is responsible for creating templates for several of your locations, it is worth considering a content template in the Facelift Cloud Content Pool for Google Publishing. Simply define in advance on which profiles and for which locations actions, events and news should be shared. You can find out more about contribution templates here.

You haven't linked your Google Business Profile to Facelift Cloud yet? Oops 👀!

It's not too late to get started! In this knowledge base article we explain how you can easily connect your profile to Facelift Cloud.

Have fun creating your first Google Business Profile post! 🚀

See you soon!
Rike
Product Marketing Manager