Benchmarking
Always One Step Ahead: Analysing Competitors, Comparing Your Own Performance, and Utilising Insights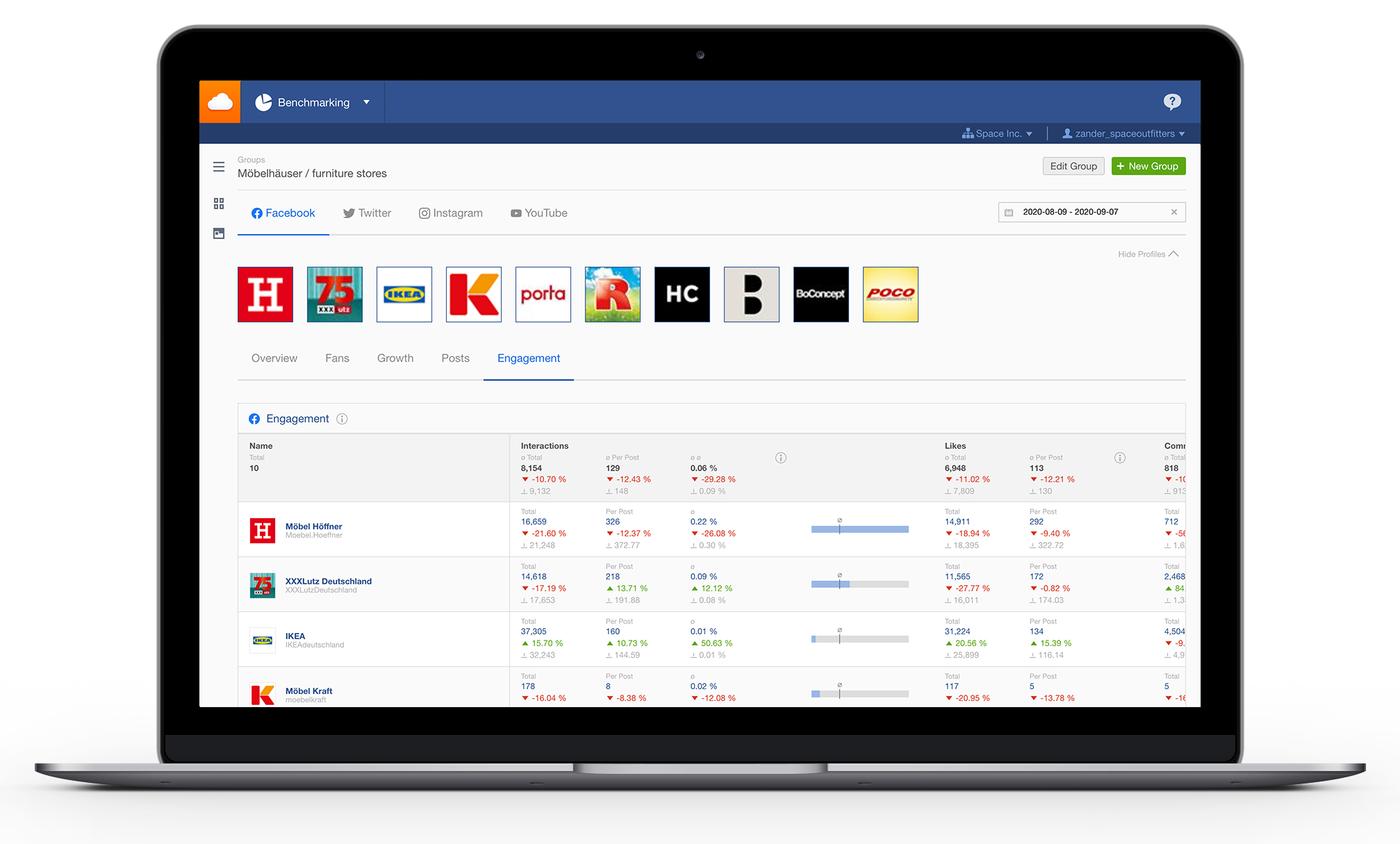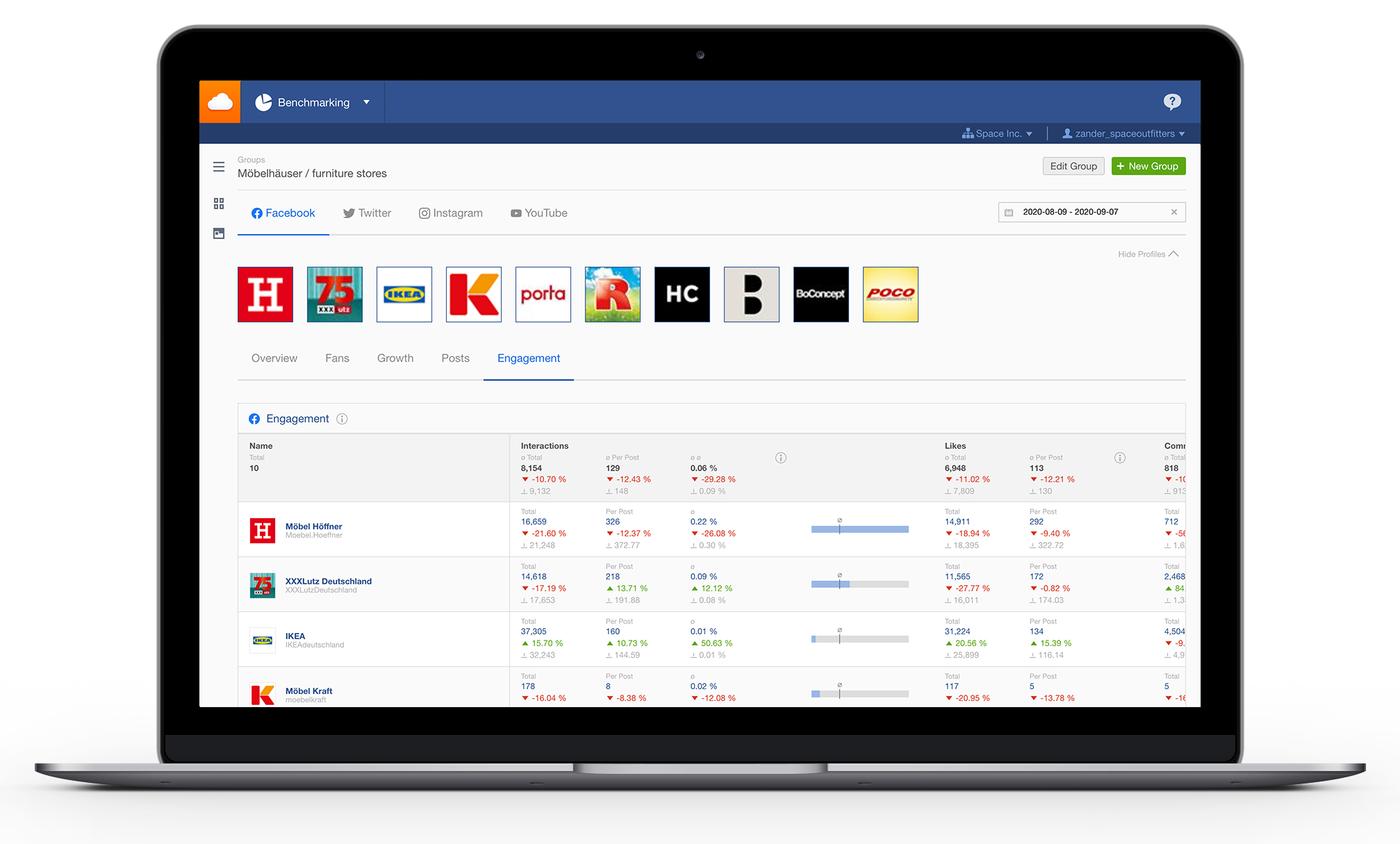 The Most Comprehensive Competition Analysis for Effective Social Media Marketing
In addition to being able to analyse your own channels, the Facelift Cloud Benchmarking module allows for a central and extensive competition analysis. You are given access to the social media activities of your competitors in a data security-compliant manner and will thus gain precise insights. Find out via which social media measures you can achieve particularly good results in your industry and which of your competitors' mistakes you should avoid. This strengthens your position in the market and ensures that your brand message is well-placed.
Lasting Control of Your Social Media Presence
Social networks often only provide data for third-party profiles for a short period of time – Facebook does this for a mere 28 days, for example. The Facelift Cloud Benchmarking module solves this problem and maps all information for all networks across their historical course. The advantage is obvious: You can immediately recognise whether your competitor has made structural changes to his social media communication, merely got lucky, or whether the entire industry is experiencing a seasonal effect. Particularly noticeable developments can be analysed in detail as a next step in order to derive helpful impulses and concrete recommendations for action regarding your own social media presence.

Learning from the Industry – Develop a Better Understanding of Your Communities
The analysis of your competitors at the macro level inevitably leads to the question of how the KPIs and changes that have been observed can be explained - and how these insights can best be used in the service of your brand. That's why the Benchmarking module gives you access to all published posts, including user feedback, at any time or for any period - from Facebook posts to YouTube videos. With just one click, representative lists of concrete examples show what type of content makes for a high reach, how users respond to different types of posts, and what activates the community.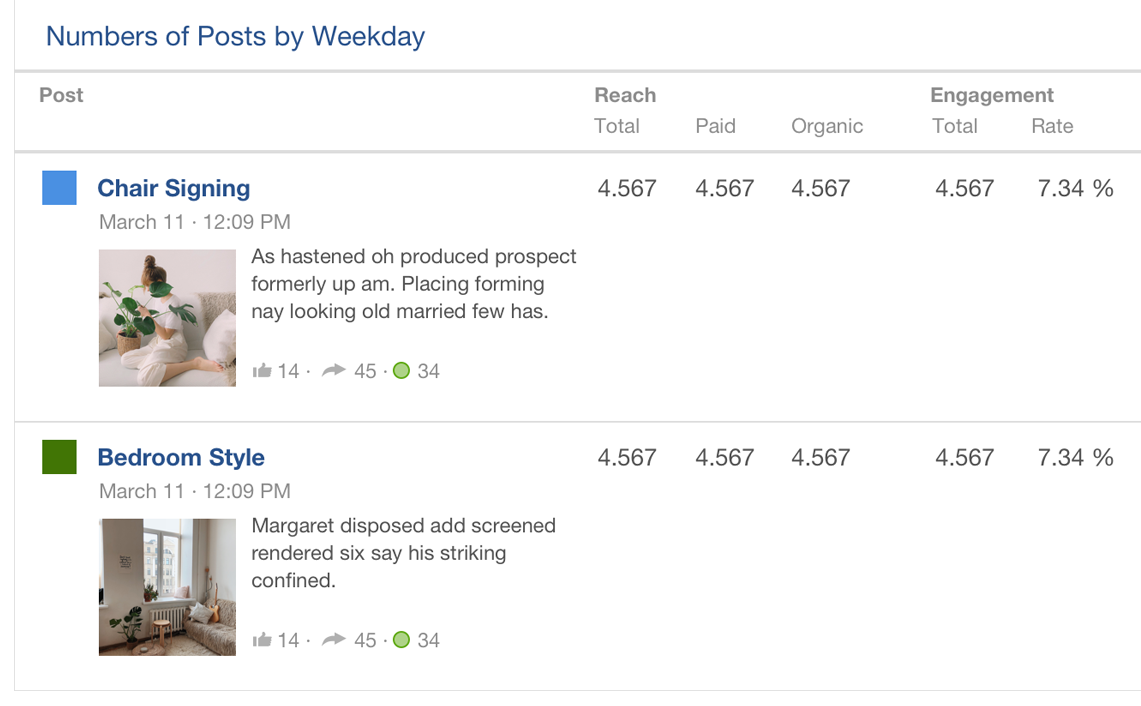 The Most Important Features at a Glance
Optimised Editorial Planning
Receive important competition insights for your editorial planning
Improved Expectation Management
Use competition data to identify which targets are realistic
Recognise and Avoid Mistakes
Avoid the mistakes of others and convert shitstorms into candystorms
Brand and Profile Sharpening
Profile sharpening through comparison with industry averages
Integration of All Relevant Channels
Facebook, Instagram, Youtube, Twitter
Real-Time Evaluation of All KPIs
Retrieve all KPIs and make the right decisions
Optimise Interaction Rates
Recognise daily rhythms and incite active community participation
Competition Dashboards
Keep an eye on the most important competitive KPIs
Facelift Cloud offers many features - Discover more: