Identify relevant topics and trends - with Content Inspiration.
Creative theme selection is not possible at the push of a button? From now on it is. Our Content Inspiration is the most efficient path to relevant content.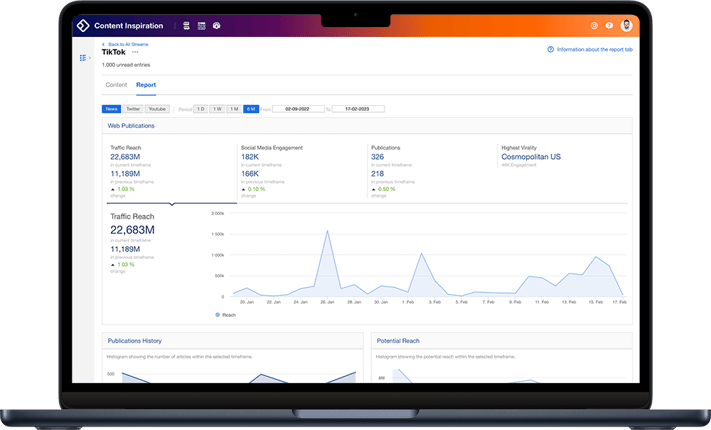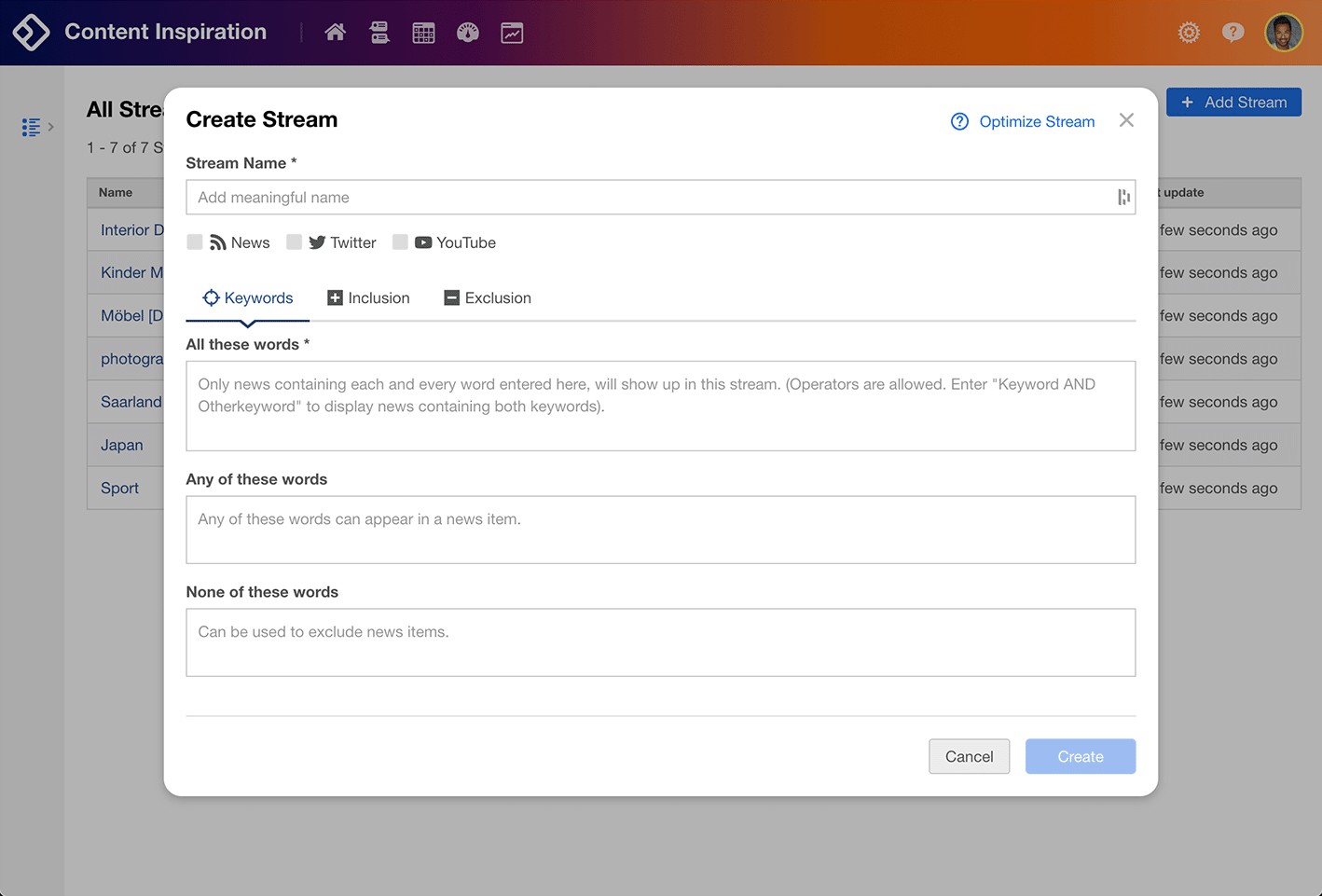 Efficient and sustainable theme selection.
Our content inspiration provides theme-specific impulses and trend topics for the target group compliant content design of your editorial plan. By means of a filter function, the content streams of your trend topics can be accurately tailored to your needs - without any programming skills being required.
Central trend statistics diagrams.
All trend topics related to your keywords can be filtered by platform at any time. Diagrams provide information on when, where, and on which media platform topics are especially under discussion. For example if a topic is discussed with a different focus on Facebook than in editorial online media, for example, this becomes obvious immediately. So you can customize your planned posts in channel-specific manner.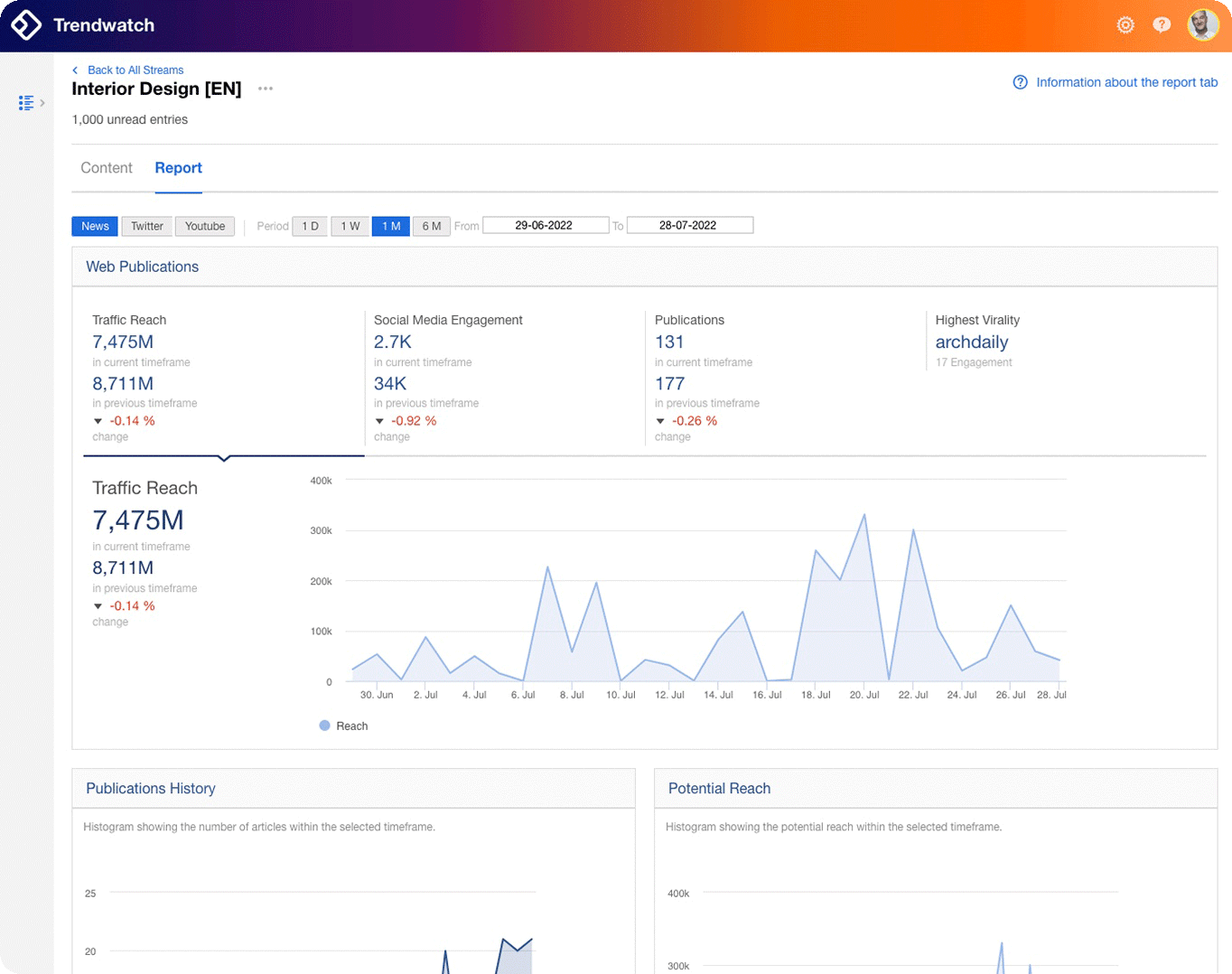 Our applications are independently audited by TÜV Rheinland based on information security standard ISO 27001. A test we continue to pass every year. Our software is hosted on servers in Germany and completely GDPR compliant.
Tracing long-term developments and seasonal effects via historical information.
All data at hand during the next editorial meeting.
facelift is a fit for any social media management team, no matter if you are a small social media team, a medium-sized company or a big enterprise with complex team structures.
Frequently asked questions about facelift.
What is facelift?
facelift offers the most important tools for successful social media marketing in one application. Content can be scheduled, shared and published on all major networks. Community management and customer service use a unified inbox with all important formats. Dashboards, reports and competitor analyses are available for success analysis. facelift pays particular attention to teamwork, data security and reliability. The tool is interesting for medium-sized and large companies with high demands on service and quality.
Who is facelift suitable for?
What networks can I manage with facelift?
How does the free trial work?
In which languages is facelift available?
What features does facelift include?
What software can be integrated with facelift?
How secure is my data in facelift?
Is facelift GDPR compliant?
Subscribe to our newsletter to receive all the latest news around marketing and social networks.