Instagram Reels vs TikTok
Reels and TikTok – How Businesses Can Decide
It's a game of monkey see; monkey do every time a social media platform releases a new popular feature. While many "innovative" concepts, such as Twitter's short-lived "Fleets", went the way of the dodo fast and hard, others have taken the entire world of social by storm and changed up the game.
And true to form, social media upstart and major disruptor TikTok completely changed the way that a new generation of social media users consumed their digital content, in many ways leaving the short-form video capabilities of their competitors in the dust.
And just as expected, the empire(s) struck back when Instagram and YouTube both rose to the challenge with their own short-form video features: IG Reels and YT Shorts, respectively.
But there's more than meets the eye to these short-form video changes. To give a better picture of what's happening, where things have gone, and who is doing it right, we've broken down some performance metrics using the top brands and influencers across both IG and TikTok.
We've chosen to focus on these two specifically because with the release and subsequent promotion of Instagram Reels, Meta really threw down the gauntlet to TikTok in a big way. YouTube's own challenges are a topic for another time, but if you'd like to learn more about YouTube's shorts, we discuss them further in our comprehensive short-form video guide, which you can snag here.
But first, let's quickly set the stage:
Demographics
TikTok and Instagram are used by different people. While the use of TikTok has expanded to include users from all generations, it remains most popular with teens and younger adults in Generation Z. Instagram defined the millennial generation, who pioneered social media in general as a global phenomenon.
That's not to say there aren't Millennials on Instagram or members of Gen Z on Instagram – there absolutely are – but from a business and influencer perspective, the differences in numbers are worth bearing in mind when selecting the best choice for a business.
Technical Differences
TikTok and Reels are both vertical video platforms, which means that their content can be – and is intended to be - shot with mobile devices. While Instagram Reels tend to still be a bit more polished and advertisement-friendly, TikTok's videos have a more raw, organic, and low-budget feel that resonates with its user base.
TikTok is designed for interactivity and does a strong job of advocating for it. Instagram, the home of beautiful, high-budget and quality content, has traditionally kept a more exclusive image, especially for brands with the resources to invest in high-quality videos.
Number of posts by hour
Brands:
First, we want to look at the number of posts creators are publishing and at what times throughout the day they are posted. We decided to take a look at brands first, where we at once notice some interesting trends.
Both TikTok and Reels have similar posting activity times, suggesting a correlation not necessarily of each platform, but to social media users' consumption of video content. These appear to be the times at which most users are actively viewing content, thus it makes sense that both brands and influencers are publishing content at these times. ,
Influencers:
We see very different results regarding optimal posting times for influencers on both platforms that show that 10:00 GMT is the most common publishing time. However, they are also clearly illustrative of the dominance of TikTok in the short-form video sphere.
Reels is still struggling to catch on to the extent that Meta might like, a problem they recognize. Many influencers have spoken out audibly about Reels becoming increasingly like TikTok, complaining that it is not what they want, and not what their audiences want.
Brands, too, are struggling to embrace Reels the way they have historically embraced other Instagram content. While the charts above may indicate similar shapes, notice that the volume of videos on TikTok is greater by far.
Interaction rate by day of the week
It's important for organizations to know which days are the best for their audiences. To give you a better clue of what's working for some top brands, quintly let's look at daily interaction rate for the 30 days of August 2022.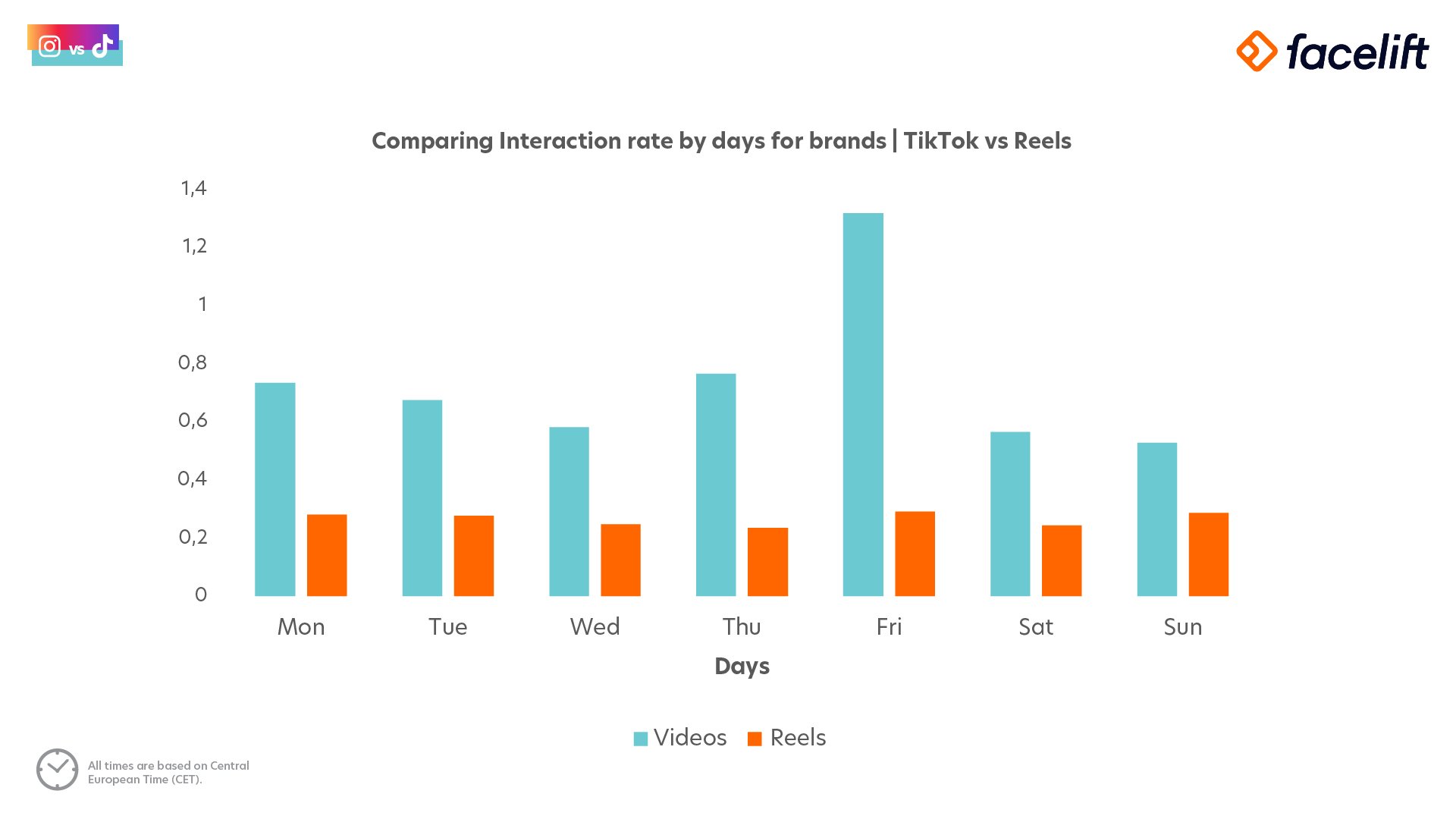 For Reels, things are relatively consistent, hovering just above 0.25 and below 0.3% for every day of the week. Still, Fridays seem to take the cake by a small margin. TikTok on the other hand, already famous for a higher interaction rate than its competitor, demonstrates higher engagement across the board, but importantly also shows a clear peak on Fridays, immediately followed by waning numbers over the weekend, with both Saturday and Sunday coming in at less than half the rate of Friday's engagement.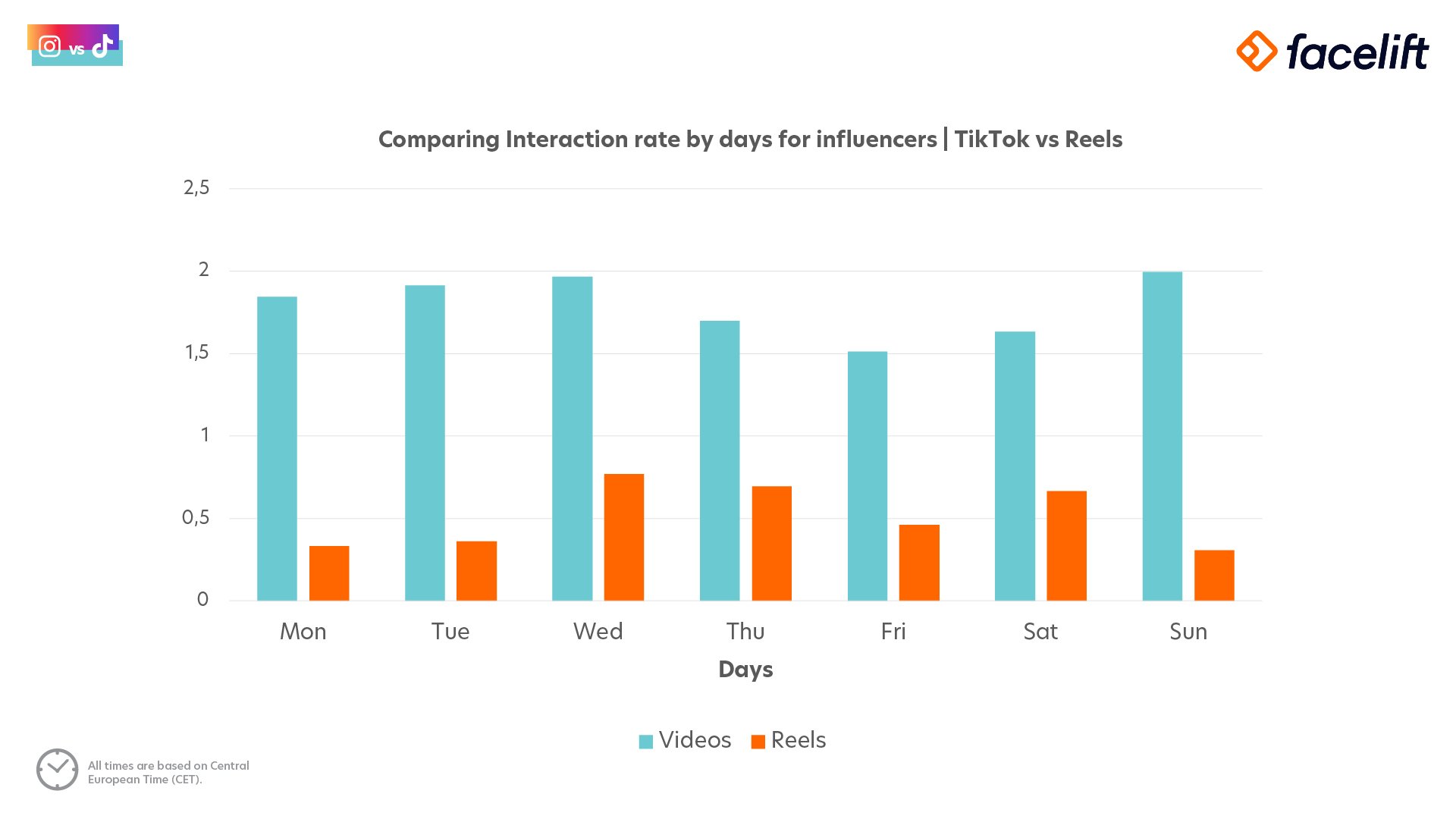 However, influencers seem to perform differently here as well with much higher interaction rate across the board on both Reels and TikTok, but also showing much clearer movement on Reels.
Because influencer content often speaks more to the entertainment side of social media than the branded content does, it makes sense that we see an uptick in activity on the weekends, and less-so during the start of the week. TikTok shows much more consistency, with performance waning between Thursday and Saturday.
Why is this? It could be that influencers are a much more fluid breed of content creator, providing new material on a wider range of subjects and for a broader audience than brands that are limited to specific industries. The flexibility of the influencer could allow for this higher degree of variation that we see in Reels, as well as account generally for why they see a higher interaction rate than brands.
People still prefer people to companies, and they don't like being advertised to.
Reels interaction rate comparing August to July 2022
But have things stayed consistent?
No, they rarely do in social media, but right now interactions seem to be on the rise, particularly among brands, upon which we've focused upon in this section.
Among these top accounts, August saw a considerable increase in engagement over July, with a jump of more than 17%. It's hard to pin down exactly why jumps like this may have occurred, but Meta is pouring more and more resources into Reels, so its growth seems likely.
Interaction rate by number of hashtags by top brands
As users know well by now, a strong hashtagging strategy can do wonders for organic reach. Using hashtags, your content can be "categorized" into different topics, which are then searchable and followable by users. While there are countless hashtags and many ways to use them, their use is generally encouraged.
However, it is never exactly clear how many hashtags you should use on Instagram or other social platforms. While the figures will vary from page to page, audience to audience, and industry to industry, this is what our top brands have to show for it on Reels and on TikTok.
An interesting thing to note about these performances on both TikTok and Reels is that neither platform features a large number of hashtags per post on average compared with the "general wisdom" of the social media management community.
Traditionally, it has long been said that there are hashtag "sweet spots", some claiming that number to be right about 11. But others have argued for using the maximum number per post.
In both cases, we see that less may be more. It's also possible that brands of this nature simply don't feel the need to reach as far into the hashtagging game, instead letting their massive reputations and names do the heavy lifting for them.
Regardless, we don't see huge differences in the number of hashtags used on Reels or TikTok by these brands, with most seeming to prefer 2-4.
Interaction rate based on length of description text
The text descriptions for social media posts are essential for many reasons, from simply providing explanations at their most basic, to providing CTAs and an opportunity for linking, and even allows for better accessibility.
Note: TikTok only allows in-post linking for accounts with 10,000 or more followers.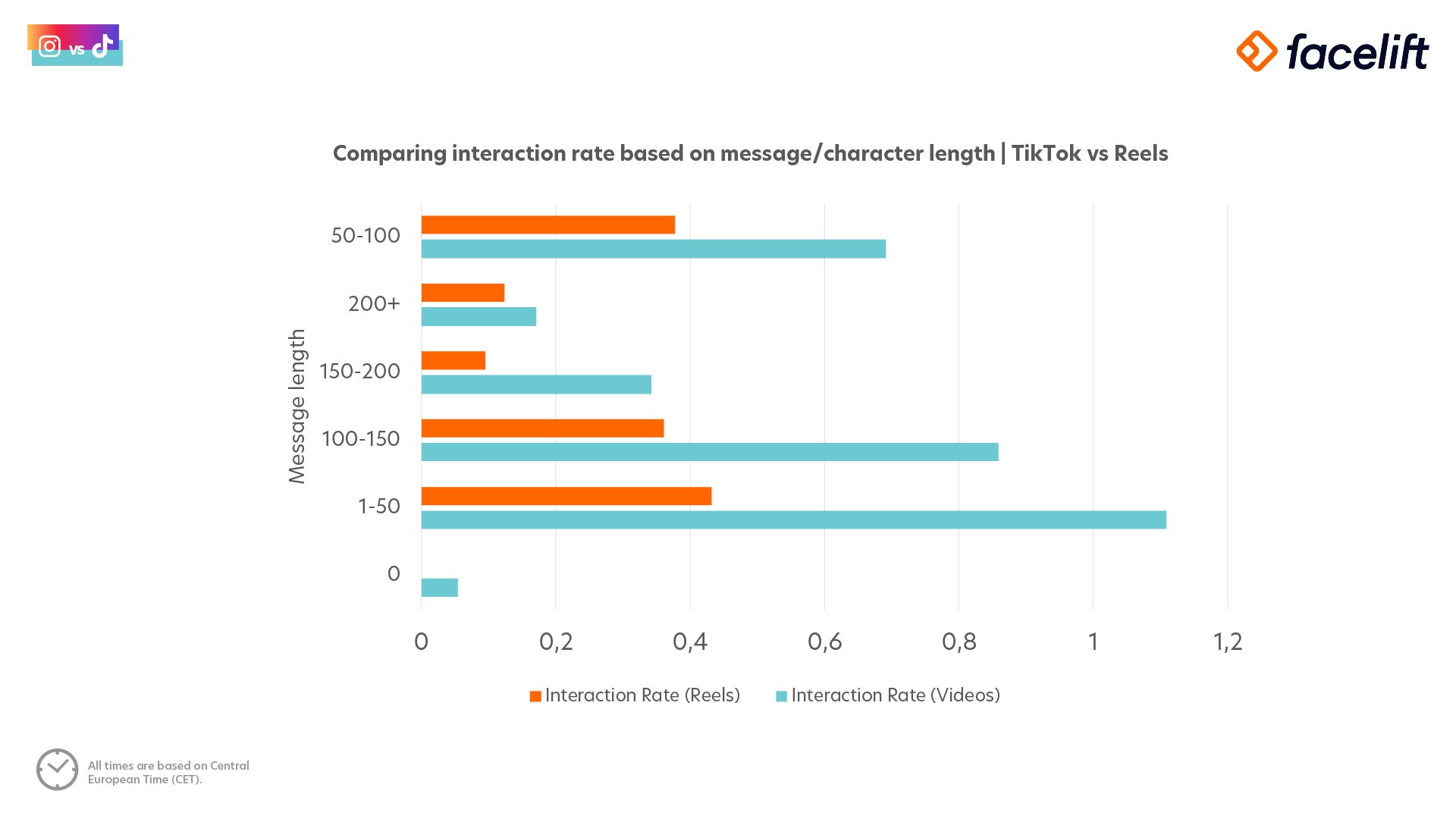 Trends in character count seem comparable between TikTok and Reels, both showing that shorter texts result in posts that tend to be received better, at least by these brands. However, it is also clear that no text is a no-go and that we should always write something. Just keep it short and sweet!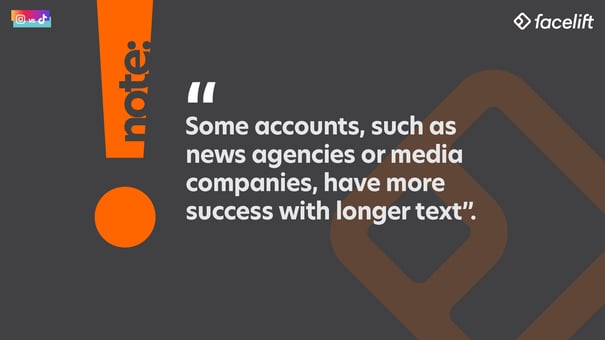 Takeaways
If there's anything that is for certain, it's that TikTok shows a clear advantage in terms of interaction rate or engagement. This is a compelling argument in its favor as engagement is a top KPI (Key Performance Indicator) for most social media campaigns and is key to generating organic reach and growth.
That doesn't mean that Reels is out of the game yet. While it has faced a lukewarm reception and struggled to compete, Instagram still is a dominant force in social media by user count with a few hundred million more users than TikTok, even if they aren't all on board with Reels yet.
But Reels is facing a huge push from parent company Meta, who have claimed that a majority of their content will be Reels in the future. The clout of their company, their established history of success, and the promotion of a popular method of content distribution is likely to make this dream come true for Meta, so Reels is not to be ignored.
How your organization can decide on Reels, TikTok, both, or neither
The fact that so many brands have been so successful with their social media content sends a clear sign that anything is possible. These top-ranking influencers and organizations put a lot of time, effort, and planning into their short-form video strategies and are seeing a huge return on investment in terms of interaction and social media growth.
But it's important to note that success on Reels does not always equate to the same level of success on TikTok, even for brands with social media teams of comparable size and experience.
To decide which platform is a more logical decision for your brand, you need only look at your product or service. While there are advantages to using both TikTok and Reels, doing so can be more resource intensive and time consuming.
When choosing between Reels and TikTok, think about:
Who makes up your target market or audience and where do they spend their time? TikTok and Reels have slightly different user bases, so knowing your market is key to knowing with which platform(s) they can best be reached.
What kinds of resources do you have? Doing social media campaigns right is generally worth the time and investment, but it can also be expensive and resource heavy - especially when it comes to video. Is your social media fully equipped with the time and assets to create high-quality video content for two separate platforms at once? If your answer to this question is anything but a clear yes, it may be best to focus on doing one platform really well rather than doing just okay on both.
Are your competitors active on Reels or TikTok and are they experiencing success with their content? Creating performance benchmarks for new social media projects is important for assessing growth potential and seeing what works and what doesn't.
It's also possible that neither Reels nor TikTok are the best choices for your business goals. In 2022 it is valuable to have a strong social media strategy, and as social media in general turns more towards short-form video, it increasingly behooves companies and other organizations to place emphasis on this form of content creation.
But there are still companies that may face a more uphill battle when it comes to success on social. Many B2B companies may struggle to gain traction with these models. While this is changing as more B2B companies get on the social media train and begin seeing the value in video content, it's important to know whether audiences are present on these apps.
If they're not there, Reels and TikTok may simply not be the ideal choices for social media focus, and it may be better to concentrate on traditional "business platforms" such as LinkedIn.
And finally, as we can see, the activities and engagement rates of influencers rather than brands can be very different, happen at different times, and imply different forms of engagement. This poses an opportunity for brands, who can leverage influencers as part of their own campaigns, reaching an expanded audience that they may not otherwise get.
How quintly and facelift can help
Importantly, knowing whether your audience is even present on Reels and/or TikTok is important, and to determine this it's important to closely analyze your followers across all social media platforms.
Creating an actionable social media campaign means coming armed with as much information as possible. Now, thanks to social media analytics tool quintly, you can dig deeper than ever into your social media pages, trends, and those of competitors, among others.
facelift now integrates directly with quintly to supply a seamless social media management experience that is second to none. Not only can you plan, schedule, and monitor all your social content via facelift, you can take advantage of quintly's deep insights to tweak and perfect your campaigns for best performance, and keep an eye on trends, industries, and competitors.
Thanks to quintly, you'll receive:
Well over 300 metrics for creating a powerful, data-driven social media campaign
Detailed performance analytics at scale
The most powerful way to benchmark against your competition
Support for TikTok analytics and more
Most of the insights compiled in this guide have been taken from quintly research. We wanted to make sure you received a glimpse of what the platform can do, and we hope you've taken something of value from it.
If you'd like to get started with facelift and quintly, you can try our free two-week trial by following this link!