Social media management made easy with Facelift.
Create authentic content for reach and conversions. Engage with your community to make them happier faster. Analyze and understand your impact.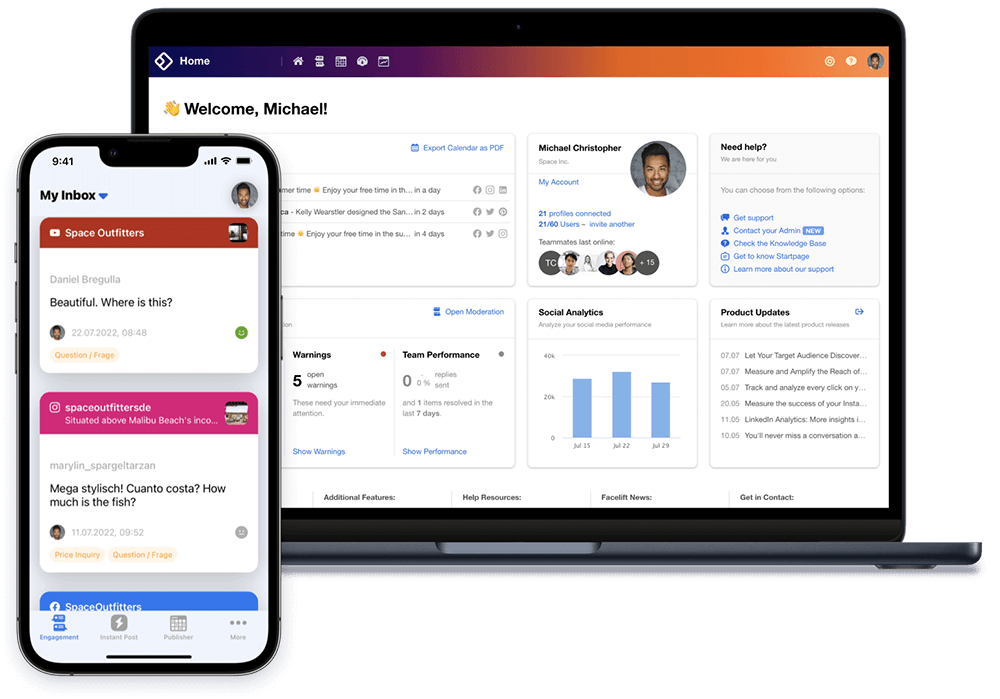 Over 2,000 customers trust Facelift.

Marketing
Publish efficiently and analyze your impact.
Whether you want to plan and publish your social media posts at scale or analyze the performance of your content – with our marketing solution, we help you take your social media presence to the next level.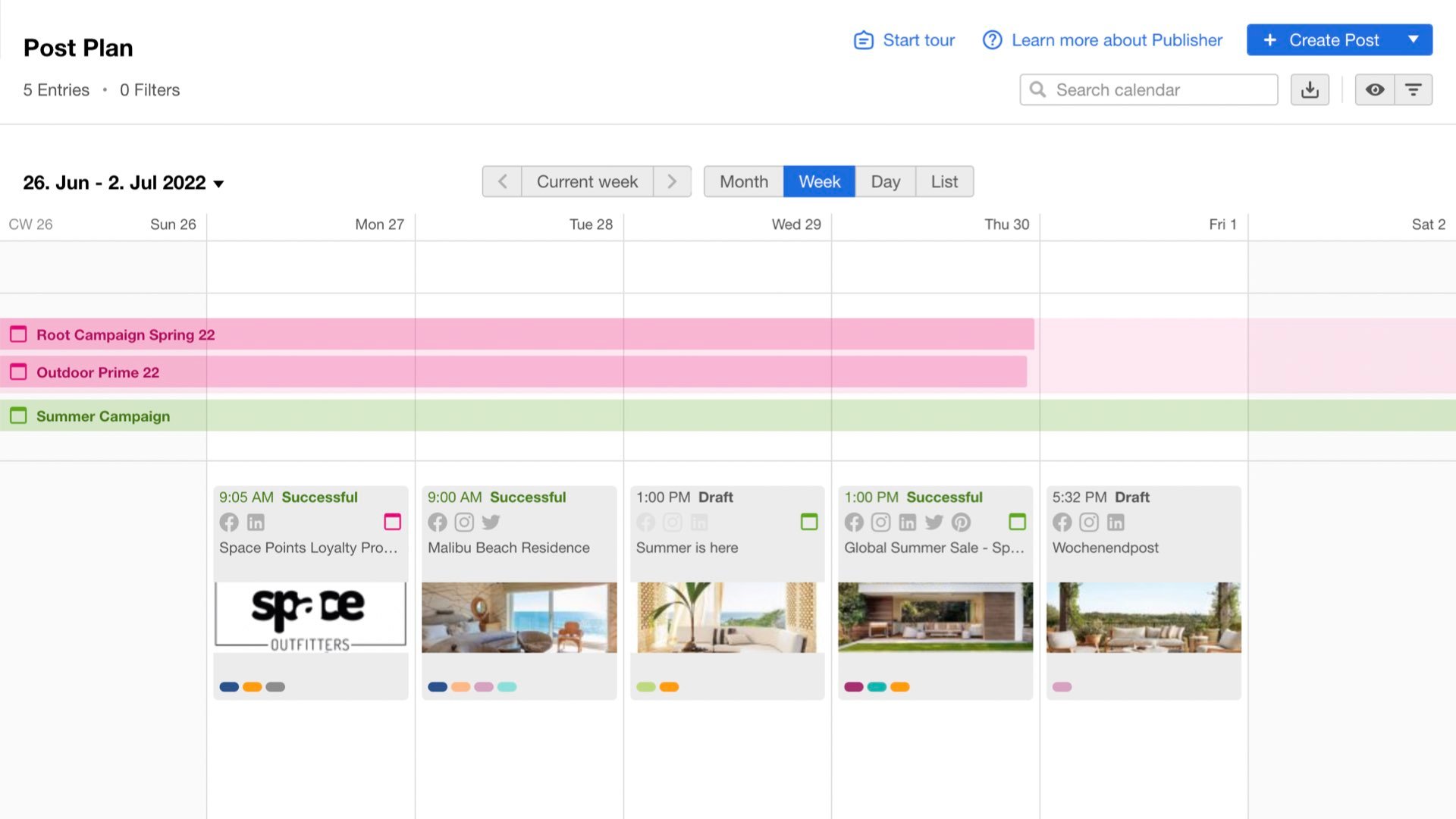 Publish to all networks.
The intuitive and easy to use post creation process ensures high quality content on all your networks.
"Great customer service and a reliable business solution."

Nils Scholz
Referent Digital Marketing
Generali Deutschland AG
Care
Customer care across all social media networks.
Prioritizing and replying to hundreds of messages can be difficult without help. With Facelift you can easily track, organize and respond to your community with a unified inbox for all social media channels.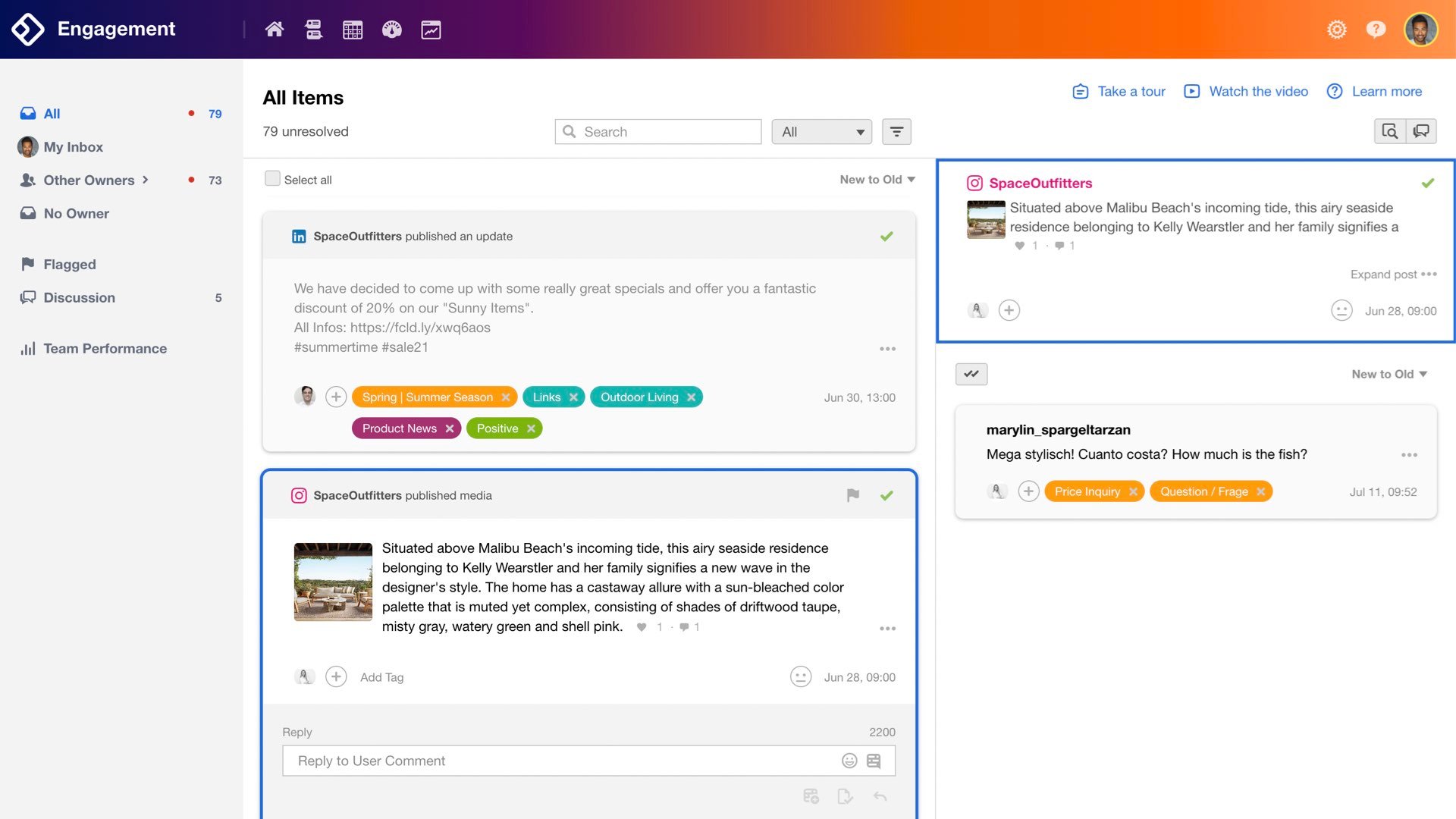 Use one central inbox for social media.
Everyone knows who is responsible for what with clear assignments. Get to inbox zero and happy customers quickly.
"What I like most about Facelift is the intuitive use of the tool, as well as the wide range of options and the good personal support."

Sarah Zarges
Online Marketing Managerin
SPAX International
ANALYTICS
All social media data in one place.
All data in one central place. Dashboards for your most relevant KPIs. Aligned reports for your team. Dynamic competitive analysis to be one step ahead of the pack.
Efficiently analyze your social media data.
Use convenient dashboard templates for instant insights. Our intelligent role and rights management system lets you easily define who can access which data giving you full control.
Learn more
Dynamic competitive analysis.
Easily compare your own profiles with the most important competitors. Immediately identify whether they have made structural changes, merely got lucky, or whether the entire industry is experiencing a seasonal effect.
Learn more

Reliable and Scalable.
We're proud of our engineering team for making Facelift available around the clock. Frictionless work in publishing and customer care so you can concentrate on what's important.
Security and Privacy.
Facelift is independently audited by TÜV Rheinland based on information security standard ISO 27001. Our software is hosted on servers in Germany and completely GDPR compliant.
Customer Service.
Our customer service is available globally 24/7 and rated with an overall 97% satisfaction score. Solution-oriented customer success experts proactively amplify your success with Facelift.
Applicable for all sizes.
Facelift is a fit for any social media management team, no matter if you are a small social media team, a medium-sized company or a big enterprise with complex team structures.
Subscribe to our newsletter.
Subscribe to our newsletter to receive all the latest news around marketing and social networks.