MARKETING SOLUTIONS
Publish across teams and analyze the impact.
Whether you want to plan and publish your social media posts at scale or analyze the performance of your content - with our marketing solution, we help you take your social media presence to the next level.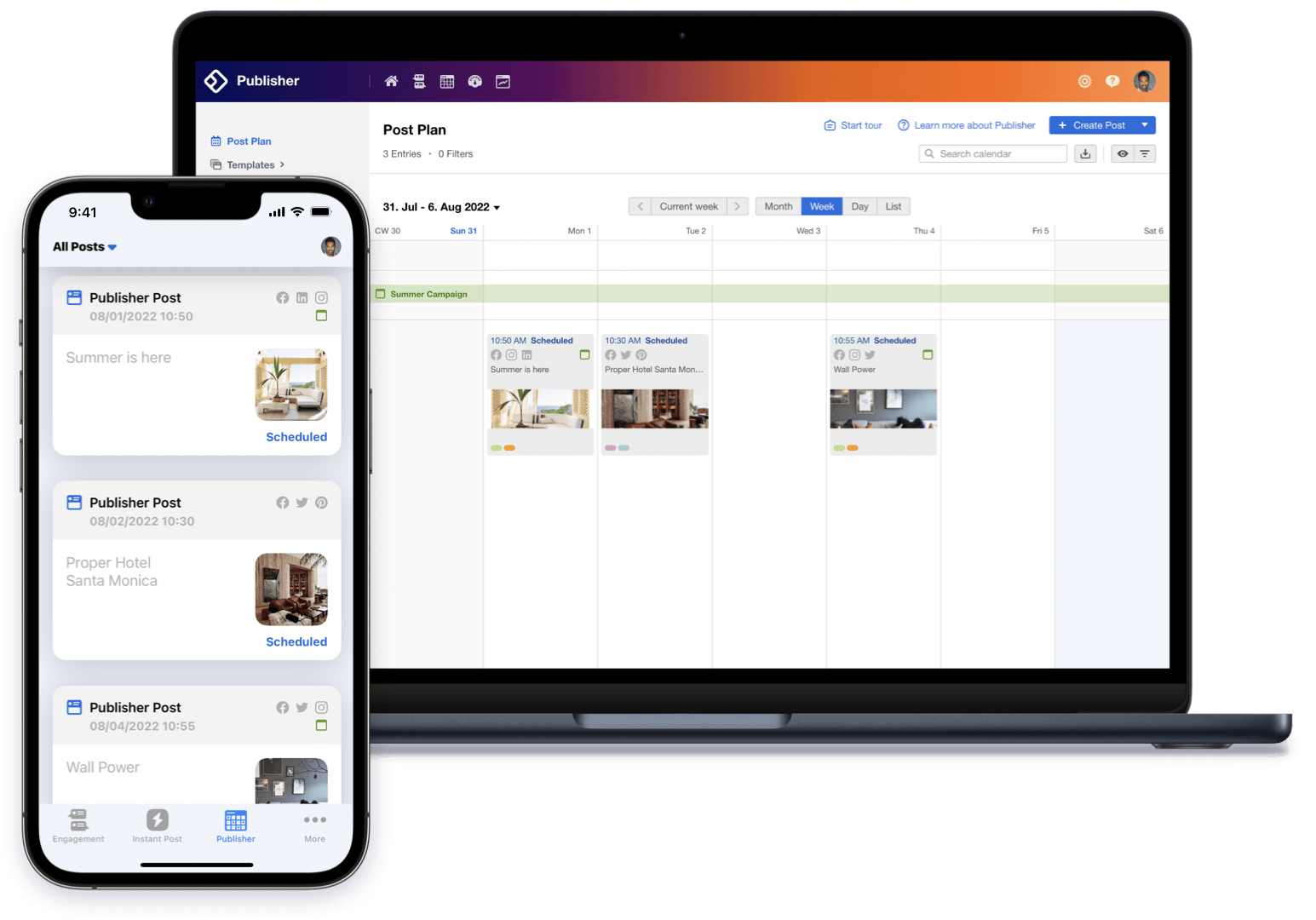 INSPIRATION & PLANNING
Get inspired and tell a coherent story.
There is something before you get rewarded with increased reach on social media: it's called planning. In order to reach your target audience, marketing campaigns, events and social media posts need to planned in a way so they tell a coherent story to your followers. For that you want to bundle all information and distribute tasks and responsibilities. Learn more about how we help you with Facelift to get inspired and plan your content.
Content Inspiration
Campaign & events
Templates
Ensure only high-quality content makes it to your followers' newsfeeds.
After creating a post, team members can review and optimize it through Facelift's intuitive release process. Our approval strategies are flexible depending on your team. You decide if you go for a two-man rule or the setup of an advanced approval process with a multi-step approval workflow – high-quality content will be the result anyway.
Evaluate post metrics and optimize your strategy.
With the integrated post performance we help you to keep an eye on your metrics, evaluate performance, and act accordingly. Find out what worked and what didn't - to only create tailored content for your target audience and with that, increase your engagement rate.
Mobile publishing on the go.
Wherever you are - our mobile app is with you! No need to log in to Facelift's desktop version. Publish posts with our Facelift mobile app while you are on the go.
Secure & reliable.
Our marketing solution offers you the highest reliability in the publishing process. Smooth workflows in planning, creation and analyze simplify your daily work to focus on your social media strategy. Meeting the highest IT security standards, Facelift is scalable and secure for all business sizes.
Employee advocacy.
Turn employees into brand ambassadors and increase the reach of your social media posts. Our Social Share app provides your employees and resellers with ready-to-share content to allow for distribution to their private or business networks.
Learn more
Task management.
Your entire social media planning can be mapped and efficiently broken down into individual tasks thanks to the integrated task board, for efficient coordination of tasks and assignment of responsibilities.
Collaboration.
Coordinate your content across teams and collaborate with external partners. The discussion and briefing functions in the post creation process help you to exchange your posts content with your colleagues.
Learn more
ANALYTICS
Keep an eye on your social media performance.
To perform better on social networks, it is necessary to measure the performance of your actions. Identify the content that works best, track the KPIs that matter to you, and take a look at the engagement rate of your community.

Subscribe to our newsletter.
Subscribe to our newsletter to receive all the latest news around marketing and social networks.