Never before have live formats on social media been more popular. Some of the most recent additions to this rapidly emerging trend include Facebook, Google and LinkedIn. But who is the industry giant Twitch.tv and what opportunities does Twitch offer for your marketing efforts?
What is Twitch?
Twitch is a livestreaming platform where users can consume various content live. In the meantime, it has become known as the gaming platform of all, as there are functions such as "Let's Chat" or "IRL" ("In Real Life") in addition to many different game formats.
Gaming is in the foreground, but the chat function is also the reason for around 13% of the content Twitch has to offer. The main actors in the Twitch matrix are the streamers, who function as content creators, who share their everyday life, hobbies and activities with their viewers via their broadcasts. Twitch therefore forms a solid basis for unadorned, authentic and modern marketing communication.
Even though the focus remains clearly on gaming, Twitch.tv is now more than just a niche website for geeks and streamers. Over 1.2 billion views in some months in 2021 indicate the steady growth of the streaming platform, and we don't expect it to drop.
How long has Twitch been around?
Twitch was originally founded in June 2011 by Justin Kan and Emmett Shear under the name "Justin.tv". In the beginning, the platform was very generalistic about streaming and users could broadcast almost anything live. After a short time and with phenomenal success, a focus on live video game broadcasting quickly emerged under the "twitch.tv" segment.
In 2014, Justin.tv was shut down to focus resources on Twitch, which accounted for the majority of the platform's growth and popularity. In 2014, Twitch was acquired by Amazon for approximately $970 million. This acquisition allowed Twitch to further expand its infrastructure and resources.
Twitch as a marketing platform
Streamers who deliver regular content can have their content monetized on Twitch.
Twitch creators have the opportunity to apply for a partnership with the platform. However, for this, the channel should be large enough and host a stream at least three days a week. For smaller accounts (50 followers or more), there is the affiliate program. For this, too, content must be produced regularly - at least eight hours of it per week!
The streamers will receive a share of Twitch's advertising and subscription revenues if they monetize accordingly. Communities can not only follow broadcasters, but also subscribe to them. A first-level subscription can be purchased in Germany for as little as €3.99 per month.
Also interesting: Twitch has published a regional cost structure in 2021, which is based on the cost of living in the respective regions and countries. In many places, prices were lowered during this, including in Germany - a positive surprise for many users!
This model is intended to make it possible for all fans to subscribe to their favorite channels, regardless of where they live.
However, the community can also book a voluntary subscription of up to 20 euros and give away subscriptions to other fans. In addition, viewers can donate to actively support the streamers. The so-called "bits," Twitch's own currency so to speak, are "cheered" to the streamer in the chat to celebrate special moments or statements or simply to make themselves heard - this happens with certain emojis that appear in the chat after the donation.
One bit costs users just under 1 cent, but as with many such systems, the larger the amount you buy, the less you pay per bit. How big the profit for the streamers on the bits is is unclear. There is a lot of speculation about this.
In addition, there are other ways for Twitch streamers to earn money, which can be quite unique. On the one hand, conventional advertising can run before or during the stream. On the other hand, various vehicles of influencer marketing can also be used.

Why is Twitch worthwhile for advertisers?
Twitch offers countless advantages that complement and even exceed established methods and platforms. Here are just three of the largest benefits:
Extended Reach on Twitch:
Twitch has an undisputed monopoly in the livestreaming market. Every day, around 30 million users visit the site and find a selection of up to 10 million streamers. You can leverage the number of users, the duration of usage, and the diversity of different streamers to give your business visibility.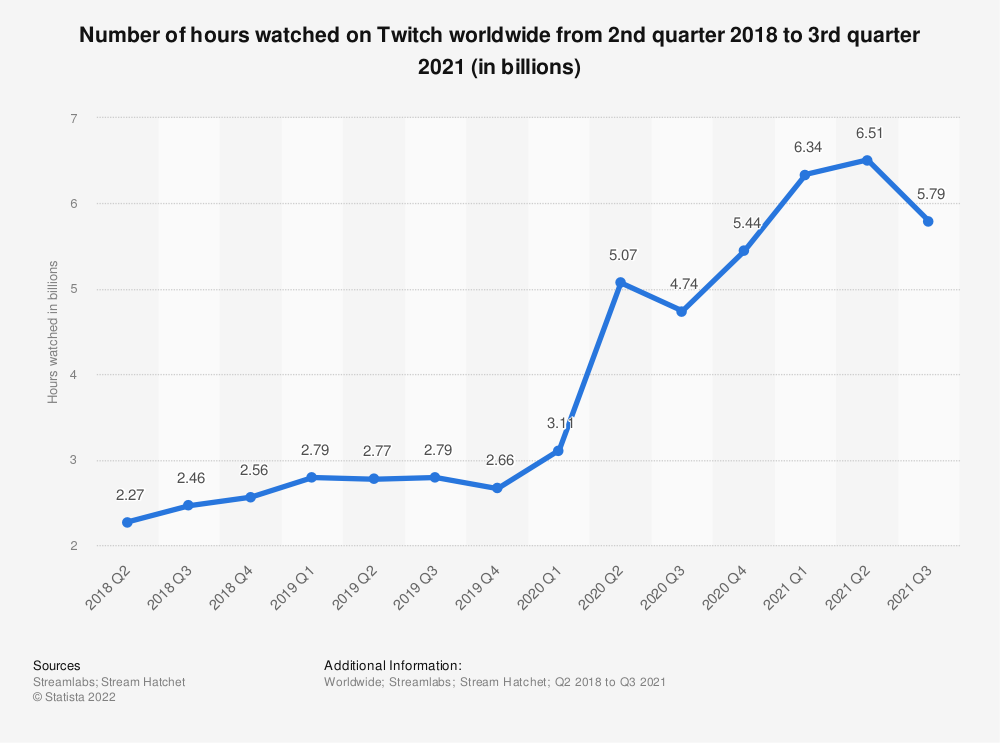 Authenticity:
Live formats mean nothing can be cut or edited, leading to trust and connection-building between streamers and viewers. Appropriate product placements are more likely to resonate through this than on some other platforms. Livestreaming is very interactive, which leads to personal, flexible communication, as the streamer can follow the thoughts and feelings of their own viewers in the chat in real time.
Young user demographic:
Demographically, the user base on Twitch is largely made up of younger men - as of last year a full 65%. This is a target group that is notoriously difficult to reach among marketers. So if this is a suitable target group for your business, take the chance. And it is also assumed that the number of female streamers will increase in the future due to the increasing content diversity. A lot of potential, isn't it?
The right Twitch marketing strategy:
The streaming platform offers several primary ways to do marketing.
Product placements that take place during streams.

Classic video ads in the form of pre- or mid-roll ads that are placed as video ads before and during a stream.

Discount promotions, giveaways, and live events designed to encourage participation.
Above all, it's important to make sure you choose the right partner. Which creator is suitable for your brand? Will you be creating your own content internally? Criteria you should consider when choosing: Genre, target group, reach, language and activity of the respective account.
In the best case, your streamer(s) are also directly involved in the campaign planning, as influencers know best which products, which strategy and which type of placement is successful with their target group. The product should be directly integrated into the live experience and support the stream instead of interrupting it - a natural integration of the product and a true added value for the viewers are promising factors for success.
Best Practice Twitch Marketing
Well-known brands like Nike and Kelloggs jumped on the Twitch marketing bandwagon early on, even though as companies they don't directly embody or sell gaming content - they discovered that their target audiences could be found on Twitch.
ALDI is considered a Twitch pioneer in the DACH region, having understood the platform's potential relatively early. ALDI has demonstrated how marketing campaigns can be sustainably established on Twitch. Together with several well-known streaming accounts, the supermarket chain has built its own Twitch account.
The content of this channel includes livestreams, competitions and various gaming tournaments. The background is that ALDI wants to position itself as a sponsor and supporter of the gaming industry and e-sports scene. Thus, the discounter also became the official supplier of the Prime League, the biggest league of the gaming classic "League of Legends".
ALDI is thus proving to other companies that twitch marketing can also be implemented outside of its own industry. The only important thing is to demonstrate a feel for the target group and select the right influencers.
Conclusion on Twitch Marketing for Business
Twitch is a rising star of marketing channels and is still often overlooked. Is the user base on Twitch perhaps your target audience? Then you should definitely take a closer look at this platform. Especially the long-term opportunities with Twitch marketing are target-rich in many ways, as the branded content can give your brand an enormous boost to awareness.
"A format that will join the ranks of steady online marketing disciplines." - Patrick Klingberg in our podcast: Facelift 30 Minutes - Social Media Marketing Talk.
Patrick brought us some insights on the platform and the right marketing approach on it in the episode. Feel free to listen in: You can access the episode (in German) here.