PUBLISHER
Plan and publish Social Media posts - with Facelift Publisher.
The goal of publishing content through social media channels is to create reach and thus generate leads and conversions. The Publisher offers a solution that helps you to solve your daily publishing challenges and boost your impact.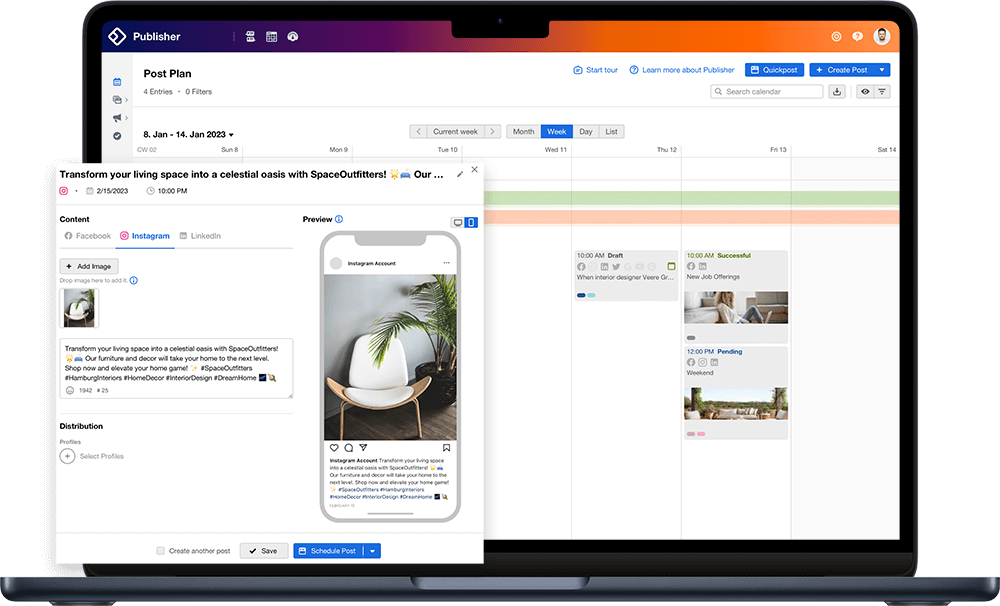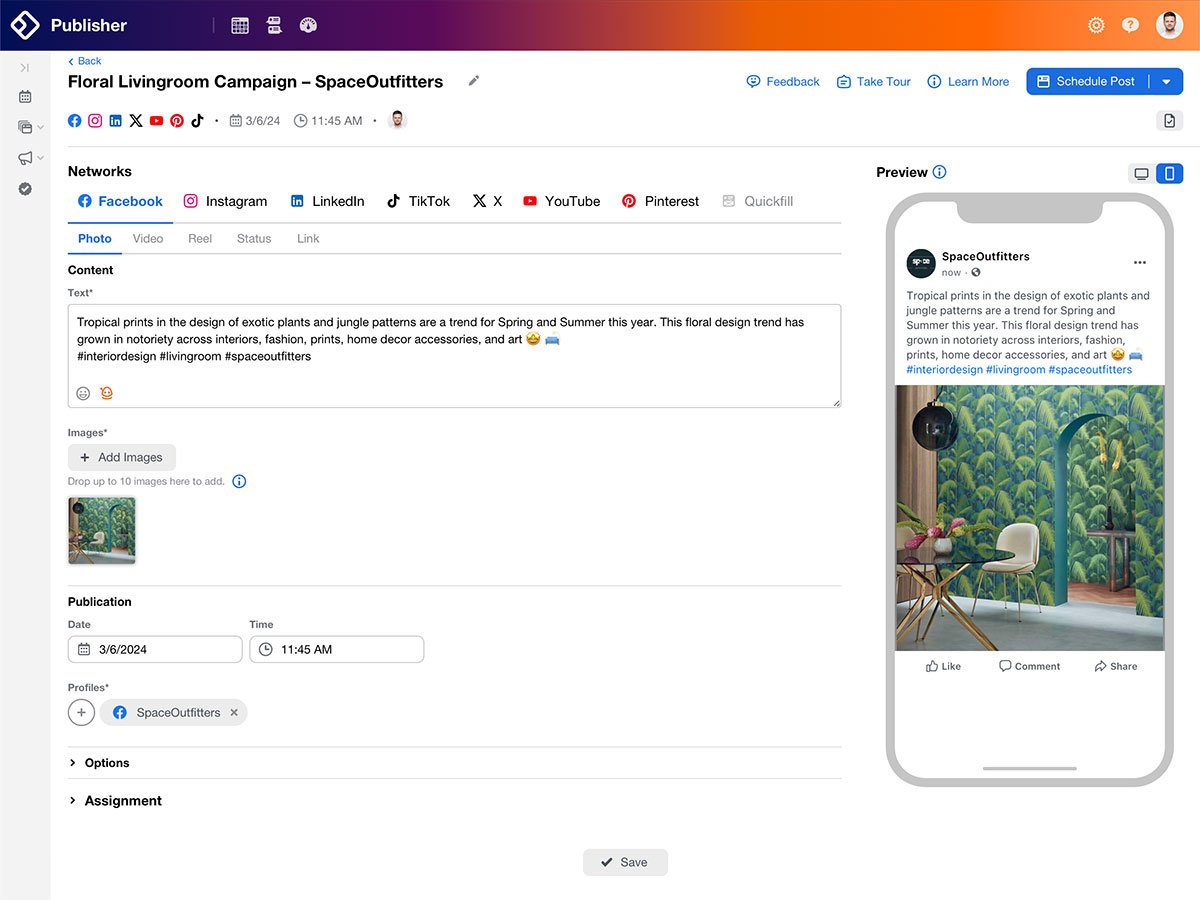 CREATION & PUBLISHING
Publish efficiently across teams and save precious time.
Publish on multiple social media channels at once. Create content, select channels, share, and publish posts, all in a single space. A very intuitive creation process makes it easy to create a post. You are ready to go with three simple steps.
Establish creative processes, coordinate content, and involve the right people at the right time.
MOBILE APP
Create & publish posts and stories wherever you are.
The Facelift App combines community management and mobile publishing. Your customers and fans don't care for opening hours on social media.
In the app you will find all the functions you need for instant posts. You can work on the go as usual and create and schedule your post.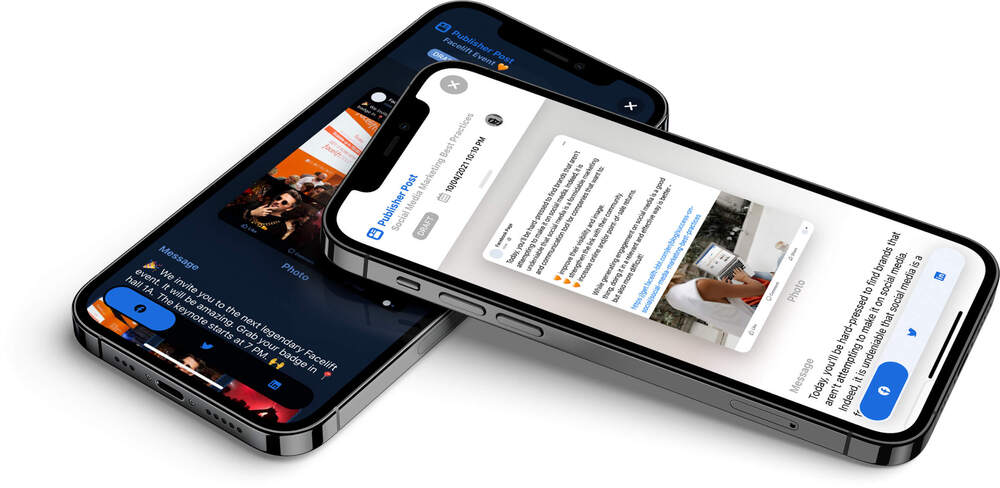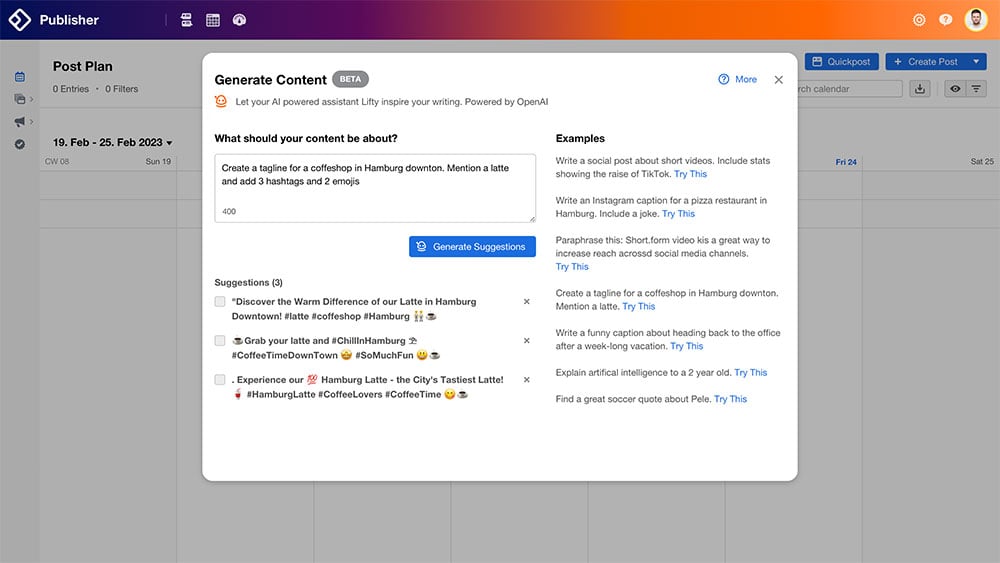 LIFTY AI ASSISTANT
Say goodbye to creative blocks, and minimize time-consuming routine tasks.
With the help of AI, you can now take a data-driven approach to content creation and achieve better results with your social media efforts.
Lifty, our new AI Assistant is here to make your life easier and your social media content better than ever! It can help spark creative ideas and provide inspiration for new social media content.
INSTAGRAM STORIES
Switch to Automatic Publishing and Forget Mobile Apps.
With scheduled Instagram Stories, you can plan and organize your content in advance, saving valuable time and ensuring a consistent posting schedule. This allows you to focus on other aspects of your business or creative process without the constant need for manual posting.
So, what are you waiting for? Start scheduling your Instagram Stories with Facelift now and take your social media game to the next level!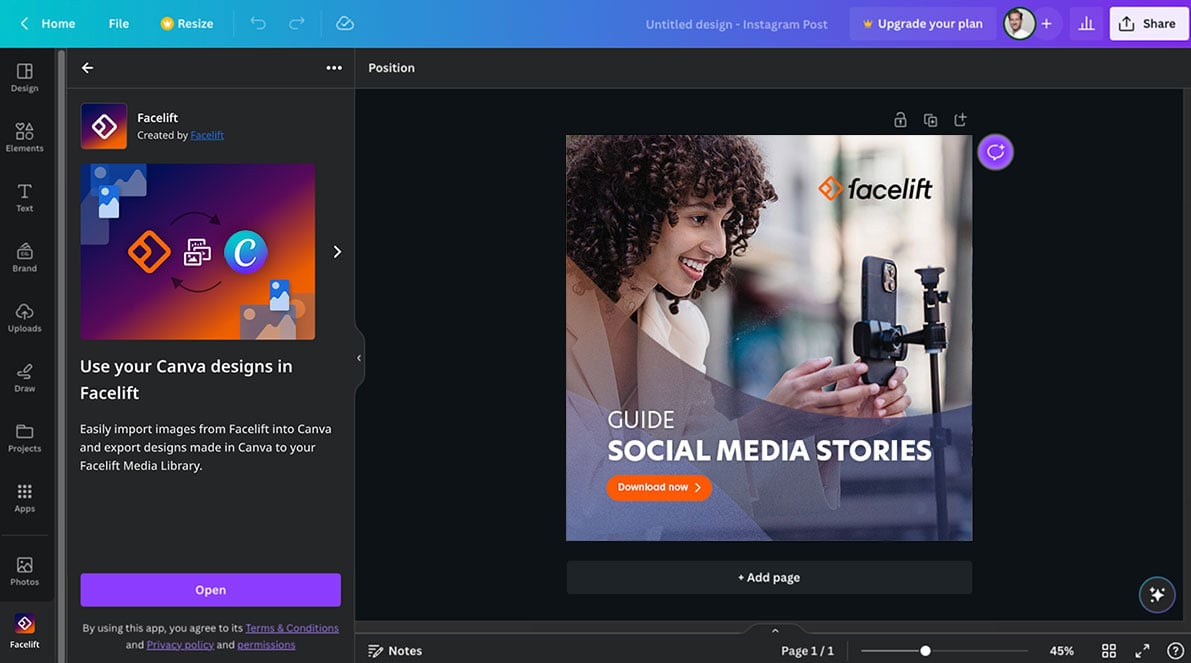 CANVA INTEGRATION
Turn your Canva designs into stunning Social Media posts.
With Canva, you can create eye-catching social media posts, engaging infographics and stories, memorable thumbnails for your reels, and other graphics or videos tailored to your specific needs.
With Facelift's seamless integration in Canva, sharing your designs with Facelift Publisher is simpler than ever before.
Features.
Keep track of and execute all your campaigns, events and posts.
Publish across all your social media channels and profiles at once.
Make sure only the finest content makes it to your followers' newsfeeds.
Spread your brand-aligned content company-wide and across all your locations.
Teamwork.
Coordinate your content across teams and collaborate with external partners.
Add briefings to your posts and templates. Pass on important details about the post to your colleagues and, as the creator, always keep an eye on them.
Use the discussion in posts you have already created to discuss the content with Facelift users and external colleagues.
Post performance.
There are plenty of social media KPIs to keep on top of, but engagement in particular is of especially high value, and in turn pays into the achievement of overall business goals.
To measure the success of your content to optimize your Social Media strategy, it's essential to know what worked and what didn't.
With Facelift's integrated post performance, we help you to keep an eye on your metrics, evaluate performance, and act accordingly.
Secure & reliable.
Our applications are independently audited by TÜV Rheinland based on information security standard ISO 27001. A test we continue to pass every year. Our software is hosted on servers in Germany and completely GDPR compliant.
Individual views.
The filter function in the calendar overview makes it easy to display individual views with all the details you are really interested in.
Paid promotion.
With our paid promotion function you can promote your organic posts for Facebook, Twitter and LinkedIn super easy from within Facelift. Start the promotion process directly after publishing.
Applicable for any company size.
The Publisher is a fit for any social media management team or creative process, no matter if you are a small social media team, a medium-sized company or a big enterprise with complex team structures.
FAQ
Frequently asked questions.
What is Facelift?
Facelift offers the most important tools for successful social media marketing in one application. Content can be scheduled, shared and published on all major networks. Community management and customer service use a unified inbox with all important formats. Dashboards, reports and competitor analyses are available for success analysis. Facelift pays particular attention to teamwork, data security and reliability. The tool is interesting for medium-sized and large companies with high demands on service and quality.
Who is Facelift suitable for?
What networks can I manage with Facelift?
How does the free trial work?
In which languages is Facelift available?
What features does Facelift include?
What software can be integrated with Facelift?
How secure is my data in Facelift?
Is Facelift GDPR compliant?
Subscribe to our newsletter.
Subscribe to our newsletter to receive all the latest news around marketing and social networks.