ENGAGEMENT
Customer care across all Social Media networks.
With facelift Engagement you get automatic assignment, custom inboxes, and responsibilities for each social media profile. Community management will be a smooth ride through the jungle of social customer care.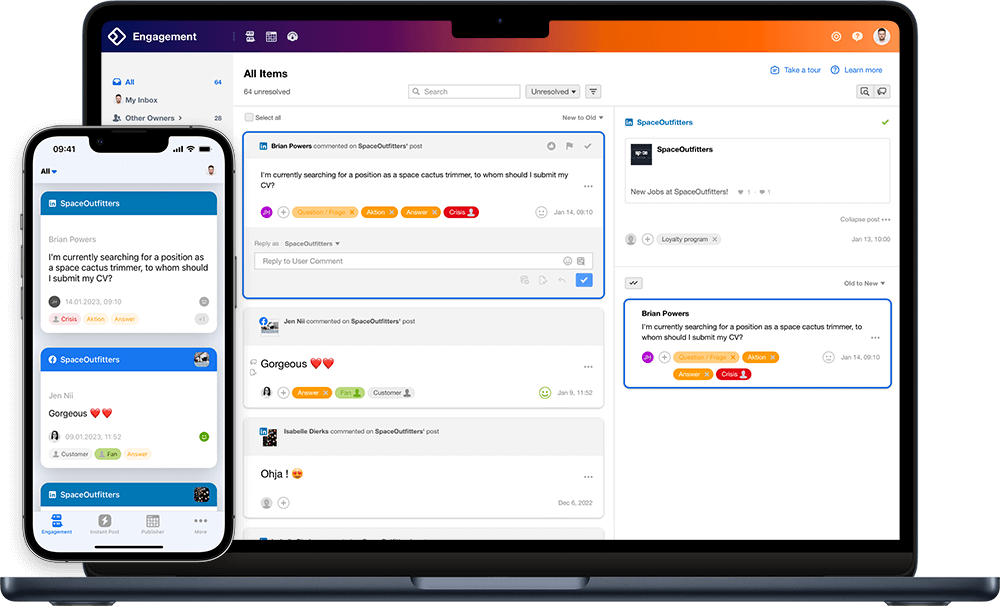 MOBILE
Handle your community management on the fly.
The facelift app combines community management and mobile publishing. Your customers and fans don't care for opening hours on social media.
In the app you will find all the functions you need for your community management. You can work on the go as usual, react to comments, tag elements or assign them to one of your colleagues.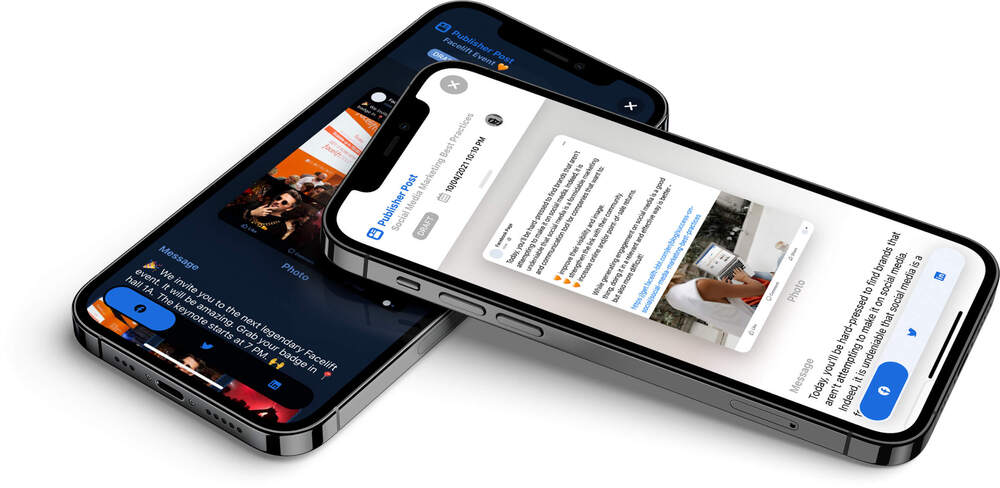 Features.
Custom inboxes with saved filters and responsibilities.
Internal chat and external collaboration.
Sentiment tracking to assess customer satisfaction.
Exceptional customer service with the WhatsApp Business platform.
As an official WhatsApp Business Solution Provider, facelift offers you the perfect interface to communicate personally and directly with your customers via WhatsApp.
Automation to focus on what's important.
Tags make it easy to analyze topics or recognize critical messages fast. Automatic assignment based on keywords, clear responsibilities for each social media profile based on urgency and directly resolved emoji-only messages make your work effective.
Facebook & Instagram ad comments.
Not every comment on ads is available in any social media management tool. We made sure to fetch all ad-related Facebook or Instagram comments.
Facebook & Google Business review management.
Apart from messages and comments, also reviews on Facebook and Google Business can be moderated in facelift.
Secure and reliable.
facelift is independently audited by TÜV Rheinland based on information security standard ISO 27001. Our software is hosted on servers in Germany and completely GDPR compliant.
Applicable for all sizes.
facelift is a fit for any social media management team, no matter if you are a small social media team, a medium-sized company or a big enterprise with complex team structures.
FAQ
Frequently asked questions about facelift.
What is facelift?
facelift offers the most important tools for successful social media marketing in one application. Content can be scheduled, shared and published on all major networks. Community management and customer service use a unified inbox with all important formats. Dashboards, reports and competitor analyses are available for success analysis. facelift pays particular attention to teamwork, data security and reliability. The tool is interesting for medium-sized and large companies with high demands on service and quality.
Who is facelift suitable for?
What networks can I manage with facelift?
How does the free trial work?
In which languages is facelift available?
What features does facelift include?
What software can be integrated with facelift?
How secure is my data in facelift?
Is facelift GDPR compliant?
Subscribe to our newsletter.
Subscribe to our newsletter to receive all the latest news around marketing and social networks.