Banks, insurance companies, and retailers, in particular, are faced with the question of how best to position themselves in social media. After all, these industries tend to have many locations.
Sooner or later, the question arises as to how best to organize their Facebook presence: Either with a corporate fan page or with pages for each location. While a corporate fan page often does not meet the needs of the locations, fan pages for each location mean a lot of organizational and human effort. Sounds like a lot of work, but is it necessary? Are there ways to save time?
What is the parent-child structure?
Let's keep it short and crisp. Yes, there is a way to save time managing Facebook Pages. To call a spade a spade, it's called the Parent-Child Structure.
For a few years now, Facebook has offered the possibility of a Parent-Child structure. As the name suggests, this is usually a parent-and-child relationship. Not in a social-legal sense, of course, but in terms of user permissions for Facebook Pages.
Here's how it works:
Parent: The parent is the main administrator or owner of the Facebook Page. S/He has the highest level of permissions and control over the Page and can perform various tasks such as posting content, adding administrators, and managing the Page. In our example of the retailer from the introduction, this would likely be the corporate office.
Child: Children are people or other Facebook profiles invited by a parent to become administrators or editors of the Page. Depending on the permissions they are given, they can perform certain tasks related to the Page, such as creating posts or replying to messages. To stay with the example, the individual branches.
Use cases and benefits
The parent-child structure allows organizations to efficiently organize the management of their Facebook Pages by distributing responsibilities among multiple people while maintaining control over key aspects of the page. This can facilitate collaboration and social media management.
The different pages are consolidated under one page (similar to global pages for international multi-brands). Posts on the parent page can be shared across all sites. In addition, "children" can write their own posts and customize specific information (such as opening hours).
The Locations tab provides a kind of branch finder so that customers can see the closest branch listed first. There are three main use cases for parent-child management:
Enterprise companies: Companies with large marketing teams can use the parent-child structure to manage different departments or branches. The main company (parent) can control the main site, while different branches (children) manage the sites for their respective locations or departments.
Agencies: Marketing agencies working on behalf of clients can use the parent-child structure to give their clients access to the sites they manage. The agency acts as the parent and the clients as the children, enabling efficient collaboration.
Brands with different product lines: Companies with different product lines or brands can create separate pages for each brand and use a parent-child structure to simplify overall management. The parent company retains control of all brand or product pages.
In these use cases, Facebook's parent-child structure allows for efficient collaboration, delegation of responsibilities and control over multiple pages. This can be particularly useful when multiple people or groups are involved in managing and updating Pages.

Four steps to a parent-child structure:
You can set up a parent-child structure for your brand in a few simple steps. Here's how:
Open the Facebook Business Manager and go to Assets -> Business Locations in the main menu. This sub-item is only visible as an admin.
Now set up a main page (parent page). This should be the main page of your business. This main page will "manage" the subpages in the future.
Note: This parent site will not only lose its address (if it had one before) but also all reviews and star ratings!
The third step is to add pages to the site. You can either add existing pages as children or create new ones using a mask. If your company has many locations, you may want to use the import function, which allows you to create and edit all your locations in one Excel spreadsheet. During the import, existing metrics on reach, followers, and check-ins will be displayed.
Check the settings under the store list. Here you can choose whether to show or hide the store finder and whether to automatically transfer posts to the subpages. You can also decide on a location-by-location basis whether posts should be shared or not (depending on how social media-savvy each location is).
Paid Campaigns - Dynamic Local Awareness Ads
Dynamic Local Awareness ads are a special type of Facebook ad that businesses can use to target their products or services to people in their immediate area.
These ads are especially useful for local businesses and businesses that want to target potential customers in their area. They are the perfect counterpart to paid outreach for businesses with a POS. In recent years, many innovations have been introduced that have significantly improved and simplified the process of placing ads for businesses with multiple locations.
For example, it is now possible to use dynamic content when running local awareness ads to better tailor ads to local specifics. It's no secret that ads perform better when they're relevant.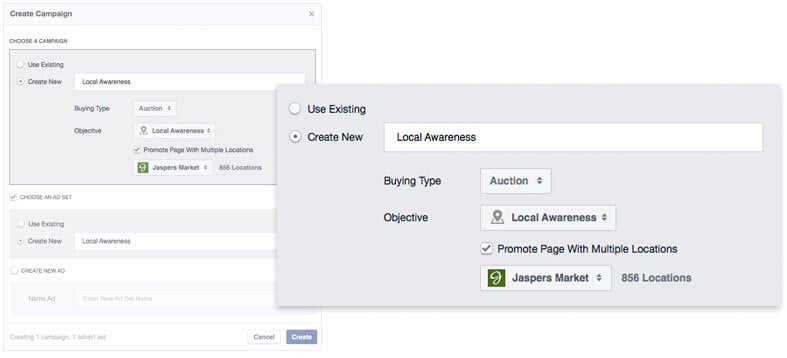 The new Local Awareness Ads dynamization features apply to text, links, and call-to-action buttons (such as place names, street names, or phone numbers). As a result, Local Awareness Ads can be tailored to specific local factors, making them much more effective.
Dynamic Local Awareness Ads make creating and targeting Facebook ads much easier. With the new dynamic feature, Page owners can automatically create and customize ads for individual businesses and locations.
Precise analysis with Local Insights
To help you avoid making blind decisions, Facebook has added a tab to the standard Insights section. This section contains useful information that can help market local Facebook Pages. For example, it can show the days and times when traffic is highest.
It also displays demographic information such as age and gender. As well as general information such as the geographic radius from which people accessing Facebook on their smartphones have seen your business in the last month.
To ensure that this information can be used effectively, Facebook Local Insights also shows the number of people in the immediate vicinity of a location who could potentially see the business ad. However, this information is only available to Facebook users who have enabled location sharing from their smartphones.
The second new development refers to statistical values, which are now also available for local Facebook pages. In order to achieve this, Facebook has added a new tab to the usual "Insights" area. This section contains useful information that could come in handy for marketing local Facebook pages.
For example, it can show the days and times when visitor frequency levels are at their highest. This allows you to quickly recognize exactly when your subsidiary or a particular local location is visited the most.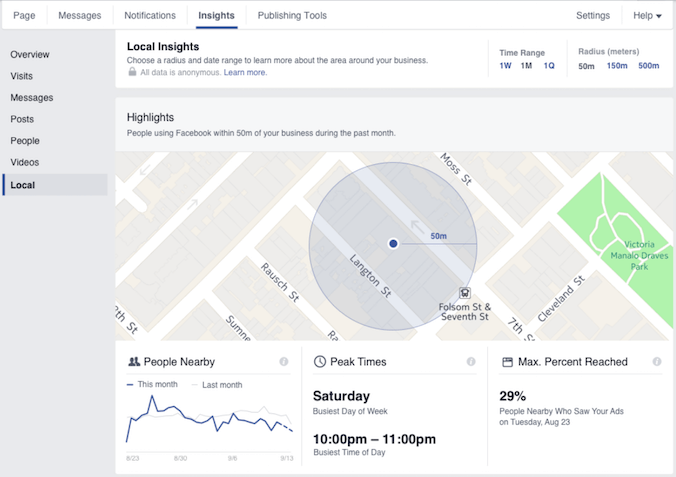 Parent-child structure outside of Facebook
The parent-child structure as it exists on Facebook is a special feature designed to manage Facebook Pages. Other social networks and platforms have different systems and features for managing Pages and accounts. Therefore, there is no direct equivalent to the Parent-Child structure on other social networks.
Each social network or platform may have its own set of management tools and features. On some platforms, users can be assigned different roles and permissions for pages or profiles to facilitate collaboration. These roles may have different names depending on the platform, such as administrator, editor, moderator, and so on.
It is important to review the specific features and management capabilities of each platform to understand how to organize collaboration and manage pages or profiles. This may vary from platform to platform, and it is advisable to familiarize yourself with the policies and capabilities of each platform to best meet your organization's needs.
Conclusion about parent-child structures on Facebook
As the mother of all social networks, Facebook has set a milestone with its administration options. Other social networks are still lagging behind, which makes administration even more difficult for those channels.
As a social media management tool, Facelift has developed very granular roles and permissions that can be customized for each user, location or team. Not only for Facebook, but for all networks. Are you still struggling with a lot of manual and repetitive work, or have you deliberately decided against Pages? Don't hesitate to request a free demo.