In 2020, a blog post was published on the official Instagram website, according to which more than 1 million memes are posted on Instagram, the social media platform operated by Meta, per day. For perspective, that means that in the span of a year, more than 365 million memes are shared and uploaded.
These memes can come in a variety of guises; large, small, black and white or colorful, with fonts and without. The possibilities are almost endless!
Through this article, you will learn about the benefits of using memes in social media marketing.

Now the question remains:
What is a meme?
Through a meme you can express the most diverse feelings, but mostly memes are shared on the Internet to pursue humorous intentions. There are basically no limits when you create a meme. Because whether the meme appears in the form of a photo that has been taken out of context and has now taken on a new meaning, a picture, or a short video, if it is even remotely funny, it is considered a meme.
So, when creating a meme, you can get creative, and in addition to the existing formats, there is the possibility of the text element, which often contributes a large part of the comedy in a meme.
Why are memes so popular?
Memes have gained so much popularity over the years because, on the one hand, they are super easy and quick to create as there are countless websites where this can be done quickly. And on the other hand, through their virality they spread rapidly on the Internet, as people naturally want to share the funny little posts directly with their friends, as hardly any other content piece would be able to do.
The different Types of Memes
There are two different types of memes, among which essential is distinguished:
As soon as a meme serves the pure entertainment of the viewer, it is called a humorous meme. Such a meme often makes fun of people, past events or the life and emotional world of the creator.
But if a meme carries a deeper meaning, such as criticizing political or economic events, the meme belongs to the group of satirical memes.
The distinction between the two types of memes is so important because humorous memes should trigger different feelings than satirical memes. Thus, humorous memes make you laugh or smile while satirical memes have a certain undertone which make you think.
Why is it beneficial to use memes?
Now that the general substance of the meme is known, the question of course is still: why should you, especially as a company, use memes as a marketing strategy?
Memes are hip
Memes create a sense of community
Memes are funny
Memes are highly engaging


The first reason memes are brilliant as a strategy for advertising is quite simple: memes are hip. The small and funny creations can help a company reach a younger audience. They are modern and enhance the company's impact. And who wants to look outdated?
Memes create a sense of community. Companies thus find it easier to "be there" when they take advantage of memes. Suppose an imaginary company posts a meme on its Instagram page that is related to its product.
Emilia discovers this meme and shows it to her friend. The two laugh at the funny depiction of the product, which automatically creates a sense of community, and automatically associates the product with something funny, i.e., something good. In the best case, the two girls also show the meme to other school friends and have thus advertised the product without even realizing it.
There are many reasons why memes are shared and sent, but the biggest deciding factor is the wit and humor it conveys. For this reason, pictures and videos of stars and celebrities in unpleasant or even embarrassing situations spread like wildfire, because as the saying goes, "Schadenfreude ist die schönste Freude" (gloating is the best joy). Of course, memes also spread faster than sending a carrier pigeon due to the fast pace of the Internet and its ability to share something with just a few clicks and effort.
Memes are highly engaging. For this reason, it is helpful to include them on your social media channels, because by now most of the internet knows what memes are. Memes also contribute to the reach of your social media accounts, as they are one of the most popular types of conversation. A good example of this are baby cat photos. Everyone loves them and likes or shares them. Memes behave in a comparable way, but instead of their cuteness, they attract people with their comedy.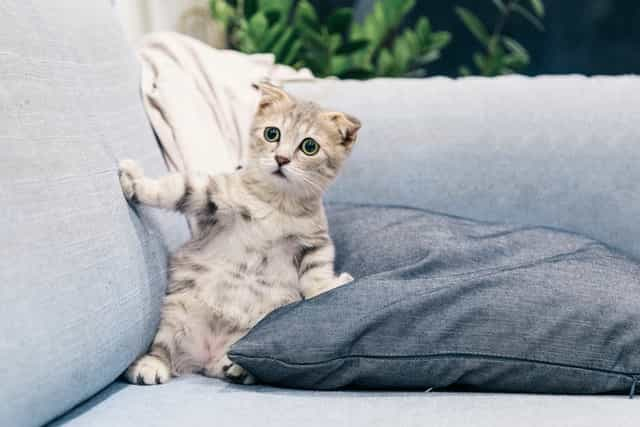 Tips for using memes on your social media channels
To use memes as a marketing strategy on your websites and social media channels, you should keep a few things in mind.
Know your target audience
It is important to know who should and does take interest in your company's product. So, think very carefully about who the meme appeals to and what it says.
Read the room
Another particularly important aspect of sharing memes is the ability to develop a sense of when memes are appropriate and when they are not. We do not want to share memes when the customer has just voiced a complaint, because then it might come across as making fun of them.
Variation
As you have already read in the upper part of the blog, there are several types of memes. For this very reason, it is important to vary between these types so that after a bit of time it does not get boring, and the meme does not lose its humor.
Apps for the creation of Memes
Vista Create is one of many platforms where you can create your own memes for free. The online website offers you over 50,000 meme templates of all kinds.
Small SEO Tools is another free website where you can create memes for free. It offers you already existing and popular meme templates and advertises the creation of a meme in a few seconds.
Memes that went viral in 2021
Before you start creating your own memes, here are a few examples of the memes that went completely viral ("through the roof") in 2021 so you have something to go by.
Oprah:
In an interview with Meghan Markel and Prince Harry, viewers were delivered variations of reactions from Oprah Winfrey which quickly became memes:
"So if we all could turn our cameras on…" pic.twitter.com/VVGXJ1qE4x

— James Fam Der Zee (@kidnoble) March 9, 2021
Kathryn Hahn:
Due to the worldwide success of the TV series WandaVision, a picture of actress Kathryn Hahn went viral looking like she was winking ironically at the viewer:
"i wont buy more books until i read the ones i already have" pic.twitter.com/zb0OJuTou8

— anto🤍 (@caspoppys) February 27, 2021
Bernie Sanders:
It is quite an honor to be present when the new president (Joe Biden) of the United States is sworn in. But not for Bernie Sanders, who sat slumped in his chair with his arms folded and his woolen gloves on. Of course, the meme creators could not help themselves and edited Bernie into some funny situations:
going to a concert after 30 pic.twitter.com/NDt6xfsanL

— ilana kaplan (@lanikaps) January 20, 2021
Bernie Sanders cameo in Forrest Gump 😮 pic.twitter.com/HUBejIgi1k

— El Duderino (@IamSegni) January 21, 2021
Memes
To recap: there are several advantages to using memes as a marketing strategy on your company's social media channels. For one, not only are they super-popular and can therefore achieve more reach, but they also create a casual vibe in the social media feed. We have found that memes are super fun! However, you should make sure to add variety to your formats, sizes, colors, etc..... This will keep your social media channels exciting, and your followers surprised every now and then.