The past several months have seen a couple big updates to Facelift Cloud, and we're super eager to talk about our latest: Google Business Profiles!
If you're not already familiar with the tool, it's basically your all-in-one solution to making sure your customers can find your business online, keep in touch, and find all the information they may need at a glance – and Facelift Cloud now supports it.
For more about integrating your Google Business Platform with Facelift Cloud, check out our recent product update here.
But whether you're already using Facelift Cloud already, Google Business Profiles is a great way to boost visibility for your brand, and there's no reason not to get started ASAP. Here's why:
What do Google Business Profiles do?
In a nutshell, GBP lets businesses create company profiles that showcase their products and services as well as basic company information. It's all about presenting facts and information at a glance. This information includes but isn't limited to: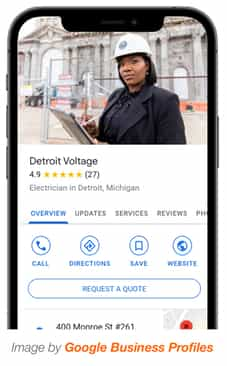 Opening days and times

Contact and travel information

Reviews

Product or service offerings

Company description

Photo album

Current information or updates

Send and receive direct messages

This customizable and free profile also allows for better Google indexing and makes your organization more visible – and thus more competitive – on the world's largest search engine. These days, with competition what it is, there're few things more necessary to survival online than search engine optimization.
It's also integrated with Google Maps, making your organization not only easy to find online, but on the streets as well!
Not only that, it's mobile friendly and greatly improves the ability of your audiences to reach you quickly and easily no matter where they are.
Who is Google Business Profiles for?
Pretty much every organization can take advantage of Google Business Profiles. Despite the name, it's not limited to just businesses, and other organizations, groups, non-profits, or government agencies can also take advantage.
While perfectly suited to organizations of any size, Google Business Profiles is especially valuable to small- and medium-sized businesses seeking to capitalize on their local customers or clientele, and helps virtually anyone stand out a bit more.
Certain industries in particular can benefit from Google Business Profiles. Some of the most successful include restaurants and delivery services. Hungry customers have quick and easy access to menus and can place orders within seconds, greatly expediting the purchasing process and resulting in happier customers.


Keep your finger on the pulse
Customers these days expect nearly instantaneous service, extremely rapid responses from customer service teams, and a seamless digital buyer experience that integrates with their online activities, such as those on social media.
With Google Business Profiles, you can not only provide the information your customers desire, you can talk to them directly. Your organization can not only read reviews, but can also respond to them, send direct messages to individuals, and even announce company updates such as sales or special events right there in the platform.
And finally, you can even send direct notifications to visitors to your business prompting them to provide feedback and info such as reviews, event updates, navigation warnings, and more. For example, if a customer has just visited your store, they may receive a prompt after leaving to leave a review if they were satisfied with your service.
This makes Google Business Profiles a wonderful addition to both your marketing and customer service efforts initiatives.
Conclusion
Keeping in touch with your customers has never been more important than it is right now, and this rapid-response communication world in which we all find ourselves living necessitates a whole new level of responsiveness.
Google Business Profiles is one simple and free solution to boosting your organization's digital footprint, and existing Facelift Cloud users can already integrate with it quickly and easily. You can get started creating your own account by following this link!
If you're not a Facelift user yet, you can try it out for free for two weeks with zero obligation. There you'll be able to sync all of your social media profiles – including Google Business Profiles, of course – with your cloud, simplifying your community management and fast-tracking your digital customer service.
Feel free to reach out to us or experience the facelift live in your free 14-day trial.