Ephemeral content: short, sweet, easily digestible, fun to watch and easy to make; Instagram Stories and other forms of short-form content have become a dominant force in the social media content landscape.
In this article we're going to focus on Instagram Stories and how you can use them to optimize your short-form video game on social. However, if you want a serious guide to working with short-form video on social media, we went into a lengthy explanation of the different major platforms and their ins and outs in a recent guide that you can check out here. It covers most major social media video platforms in detail, and is a great way to learn more for free.
What are Instagram Stories?
Stories give users the feeling of being in-the-know, in-the-now. They are easy to consume and have fundamentally changed modern social media usage. Today's users are consuming content faster and scrolling through their feeds more quickly, while paying considerably less attention. Social media stories can offer quick, exciting insights and captivate users with their broad range of creative features.
On social media, one unique selling point of the stories format is its transience. Story content, such as Instagram Stories or Snaps, is (usually) only available for a limited amount of time, after which it disappears forever. This type of content is referred to as "ephemeral content" and it presents both challenges and unique opportunities for brands.
While Snapchat may have been the original pioneer of story-type, social media content, Instagram Stories, which launched in the early summer of 2016, has long since become the leader in ephemeral video, a trend that has substantially changed user behavior across all major social media platforms and sparked a race to innovate this type of visual communication that continues in expanding forms today.
Instagram Stories can boast a daily user rate of over half a billion. With well over a billion users in total, Instagram is head-and-shoulders above much of its competition when it comes to short videos.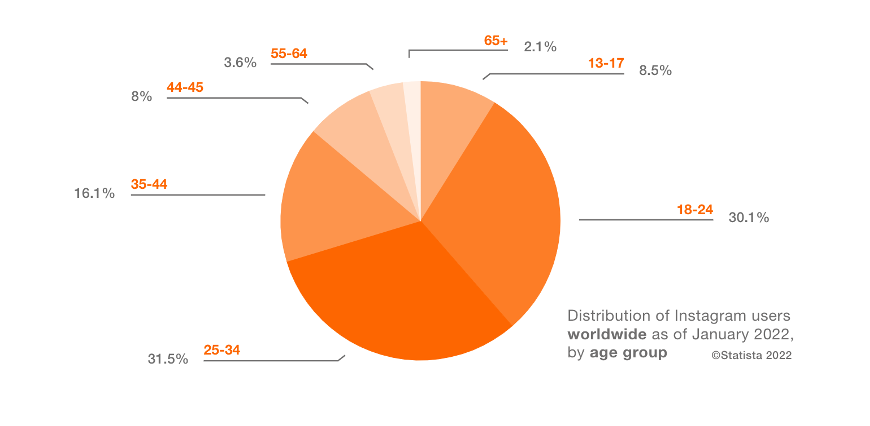 In addition to individual users, tens of millions of business profiles across just about every industry also make their homes on the visual sharing platform. More than half of all Instagram users follow at least one brand, which when coupled with the overall user rate, makes for an enormous potential for business exposure.
However, Instagram has in recent years found itself in the hotseat over the way that it has, perhaps inadvertently, spawned a crisis of popular perception. Many users have begun to dislike and distrust the public display of over-the-top, Utopian lifestyles depicted by airbrushed influencers, and evidence that they may be causing harm, particularly among younger Instagram users, has been in abundance.
What does this mean for your organization? It means that a considerable segment of social media users is no longer hunting just for likes and comments and are instead hoping for channels that can do without the high degree of polish and refinement.
Popular opinion has begun to turn towards authenticity, which is precisely what Stories were created to foster.
How do Instagram Stories work?
On Instagram, Stories are designed to depict a particular moment; they leave no room for staged and scheduled content. They are transient and are automatically removed after 24 hours. That does not mean that they cannot be planned, but their implementation should not appear too staged.
However, this doesn't mean that all content must be of raw quality. User taste has widely diversified. Due to the high quality of the content in the feed, Instagram is great for many kinds of products that may also be part of the premium price segment such as cosmetics, fashion, and lifestyle items.
Users can find the Stories of the pages and people they follow prominently placed above the feed when opening the app. Creators can customize Stories with variety of flair, including stickers, GIFs, polls, or geo and name tags and hashtags in particular. In addition, filters for the story or for the face, similar to those found in Snapchat can be added in selfie mode. Stories that stand out in particular can be stored on the profile in the form of highlights, which are not ephemeral and remain until deleted. The prioritization of stories in a user's feed is also determined by Instagram's algorithm, which emphasizes engagement more than anything else.
Recently, Instagram has also begun to allow all accounts to share links in their Instagram Stories. Previously this feature was only offered to official "verified" accounts and those with more than 10,000 followers. This has opened the door to businesses and individuals sharing links to their products, services, blogs, or other forms of content.
Instagram Stories for Businesses
Anyone that regularly publishes stories seldom loses the attention of users. Instagram Stories act like a little digital logo-shaped magnet for the eyes, directing and pulling attention to the prominently displayed icons above the feed.
Instagram Stories' array of features, such as geotags and hashtags, are of particular interest to many companies, especially those promoting their products or services within a specific area. Hashtags as well as geotags include their own subpages and are quite suitable for branding and for increased attention, since they encourage wider reach.
Other features included in Instagram Stories include polls and the option of sending private messages to users. These options are having a positive effect on user engagement as well.
In addition, the link sticker feature makes room for linking to landing pages, articles, or other web content. Within the story, these stickers can be featured prominently and creatively. Calls to action are a general best practice in many content formats across social media platforms.
Companies, individuals, or organizations that publish fresh content on Instagram Stories see a consistent boost to their visibility, so it's important to maintain activity and dedicate time and effort to a coherent and regular Instagram strategy whether the content is feed-oriented or comes in the form of Instagram Stories.
Advertising with Instagram Stories
In recent years, Instagram has continuously expanded its advertising opportunities, expansions with which IG Stories are also greatly benefiting. Stories ads can be posted in accordance with different goals:
traffic
conversions
app installations
brand awareness
In addition, at the end of 2018, the shopping feature was added to Instagram Stories for all companies. Brands can tag a product in each story using a product sticker, which will lead the user to the product page. There, the user receives further information, product suggestions, as well as a link to the online shop where he or she can purchase the item.
In March 2019, interactive stories ads were introduced, which companies use to promote engagement and reach greater prominence. During a beta launch, Dunkin' Donuts was able to decrease cost-per-video view by 20% thanks to interactive survey stickers in ads, while Next Games was able to increase its app installations by more than 40%.

Should your business be using Instagram Stories?
Instagram Stories have become an indispensable part of Meta's content distribution toolkit and are wildly popular globally. While they're not the only story and short-form video type available at the moment by far, they still remain a strong leader.
If your social media management team is looking for a relatively simple and affordable way to step up its video game on Instagram, stories are the place to start!
Want to know what your competitors are up to on social media and whether they're using Instagram Stories or other types of short-form content? facelift now also offers quintly, a leading social media analytics tool that will help give you the edge!
quintly is also the ideal tool not only for competitor research, but also for benchmarking and determining whether your industry is right for short-form content. Follow this link to learn more about what quintly can do to help you step up your social media game.