Time has become precious and we want to save it everywhere. Whether it's voicemails that you can listen to at twice the speed, or audiobooks that you can listen to on the go instead of finishing the book at home.

Attention spans are also getting shorter on TikTok, which means your content has to be compelling from the first second. Being active on TikTok as a business? It's still worth it. The platform grew another 215% last year and has now surpassed 1 billion monthly active users worldwide.

If you want to build reach for your business on TikTok and still need tips, you've come to the right place. In this article, I'll share five key tips for getting your business noticed and attracting customers.
Tip 1: Categories & creativity of TikTok

Creativity is required because, due to users' short attention spans, your TikTok needs to be so compelling in the first few seconds that they will watch it to the end, becoming interested in your business. The more creative your TikTok, the more attention it will get. TikTok's algorithm favors videos that people watch to the end and plays them more often.

What is the most popular category on TikTok? TikTok is best known for entertainment and comedy videos. However, there are also many informal videos that are often searched for. For example, short explanatory videos that get to the heart of issues in the world, or short educational videos that high school and college students watch. TikTok is increasingly being used as a search engine. Again, many people find short educational videos more illustrative than reading textbooks or reviewing material.
YouTube videos that are longer than 10 minutes are also too long for many people and they resort to short clips. As a business, you can present interesting facts and draw attention to your company.

Tip 2: Use hashtags & sounds

Hashtags can be used to classify posts. This can increase visibility and reach. Unlike Instagram, there is no limit to the number of hashtags you can use, but there is a limit of 2200 characters in the caption.
A special feature of TikTok is that when you open the app, you are immediately taken to the "For You" page - a kind of personalized home page for each user. This is where the most popular content from other users is currently displayed. The TikTok algorithm looks for a thematic reference. Hashtags also play an important role.

Appearing on this page is the goal of many creators and companies, as it can significantly increase the reach of content - so much so that videos from unknown users can suddenly go viral. As a result, many follow the strategy of creating their TikTok specifically for this page. Some of the most popular hashtags on TikTok are #foryou, #foryoupage and #fy.
These hashtags can be used between all types of TikToks because they are not specific to the content of your TikTok. These hashtags are very generic and have reach potential, but we wouldn't recommend using them as a business. For this reason, it makes sense to include other hashtags that are relevant to your video.
You can also see which hashtags are already being used and how many videos are under them. The more popular a hashtag is, the more videos will be viewed. Set the hashtags to match your target audience. And don't forget that it's important to use keywords.

TikTok sounds are the most important component on TikTok because they accompany the videos in a fun and creative way. Most of the time, video clips are edited to match the sound or the lyrics are spoken. Sounds that are trending have a wide reach on the platform at that time. If you use sounds that are popular on the For You page, you are more likely to get a high reach with your video. If you are a company, it is strongly recommended that you limit yourself to sounds from the commercial library to avoid violating any copyrights.
Sounds, hashtags, and challenges are often searched for by users. So if companies are participating in challenges that are trending, as well as using the hashtags and viral sounds that match the video, it is. There is a good chance it will go viral.
Tip 3: Time frame & video length
It's hard to say when you should upload your TikTok for it to go viral and get a lot of reach and likes. TikTok's algorithm is not yet deciphered enough to determine good times to post (and if it were, it would be constantly being revised). The algorithm customizes each person's "For You" page. However, some studies have shown that there are certain times that increase the likelihood of going viral. So when is the best time to post on TikTok? The times listed are based on Central European times.


Monday: 6 a.m., 10 a.m., 10 p.m.
Tuesday: 2 a.m., 4 a.m., 9 a.m.
Wednesday: 7 a.m., 8 a.m., 11 a.m.
Thursday: 9 a.m., noon, 7 p.m.
Friday: 5 a.m., 1 p.m., 3 p.m.
Saturday: 11 a.m., 7 p.m., 8 p.m.
Sunday: 7 a.m., 8 a.m., 4 p.m.
However, time is not the only factor that determines whether or not your video will go viral. Another indicator is the length of your TikTok. As mentioned above, there is an indication that the algorithm considers it very positive when videos are viewed in full. Therefore, there is an accumulation of short clips that go viral. If your goal is to get the widest possible reach for your business on TikTok, it is advisable not to exhaust the 3-minute video option, but to keep it short. As a general rule, TikToks should be no longer than 15 seconds to have the best chance of achieving reach. This will also ensure that you keep the attention of your users if your videos are not longer than 15 seconds.

Finally, let's state the obvious: there is no such thing as a weekend in social media. So as a team, you need to think carefully about which social media management tool you use to schedule your posts in advance.
Tip 4: Be present in other TikToks

In addition to posting TikToks to produce new content for users, another strategy for more reach on TikTok can be to be present in other TikToks: for example, through comments. This way, users will be reminded of the company in other environments and will be remembered for unexpected/funny/provocative reactions in the comments. Often, comments on TikToks get a lot of likes and the post takes on a life of its own (we call this the Twitter phenomenon, where the comments are often funnier than the post itself). It can even happen that TikTokers create a reaction video to the comment, which in turn can achieve a large reach.

A popular example is Deutsche Bahn. They respond to other comments from well-known companies and get a lot of reach as a result.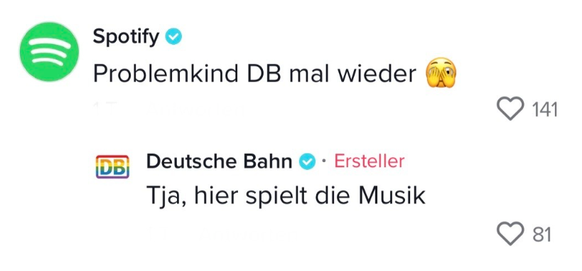 For more inspiration, go directly to the DB account.

Again, creativity and a sense of humor are needed to properly respond to other comments.
Tip 5: Influencer Marketing
Companies can leverage the reach of influencers and work with them. However, it is important to consider the influencer's target audience in order to get the product into the right hands and attract new customers.

Another way to use the reach of influencers is the comment function, as is shown in the example of Deutsche Bahn, to strengthen the presence of the company. Influencers can then respond to these comments. Either in the form of a video or another comment.
By commenting under the TikTok, the video is more likely to be seen by the influencer's followers.
Influencers can also record a TikTok promoting the product.
Conclusion
In summary, TikTok is a promising way for businesses to increase their reach, engage with a broader audience, and build a long-term community.

For more ideas and inspiration, check out our webinar
Learning from the Masters: How top brands are dominating TikTok. Want to learn more about short-form video in general? Download the guide for free here!