Today we are excited to share with you our newest release: Lifty, the AI Assistant within Facelift! Currently powered by OpenAI's ChatGPT*, Lifty will already help you with idea generation and content creation, but that's just the beginning.
Focus on what matters, leave content to Lifty
Artificial Intelligence (AI) has revolutionized the way we live and work and opened up a world of new possibilities, and it has made significant strides in transforming the way we plan and create content for social media. With the help of AI, you can now take a data-driven approach to content creation and achieve better results with your social media efforts.
Lifty, our new AI Assistant, is here to make your life easier and your social media content better than ever! It can help spark creative ideas and provide inspiration for new social media content. As of now, you can try Lifty within the Facelift newly released Publisher Quickpost and "Create Post BETA" for free.
3 Ways to use Lifty for social media content creation
Generate New Ideas: With Lifty, you can easily generate fresh and new ideas for your social media content. Just type in a topic or keyword related to your brand or industry, and Lifty will generate ideas for posts and captions that you can use on your social media channels.
Write Engaging Social Media Posts: Lifty can help you write social media posts that are more engaging and compelling. You can input a rough draft or a few bullet points for a post, and Lifty can help you complete the content, making it more interesting and shareable.
Improve Your Content's Language and Tone: Lifty will assist you with improving the language and tone of your social media content, making it more professional and engaging. Place your content, and Lifty will suggest grammar, sentence structure, and overall tone improvements.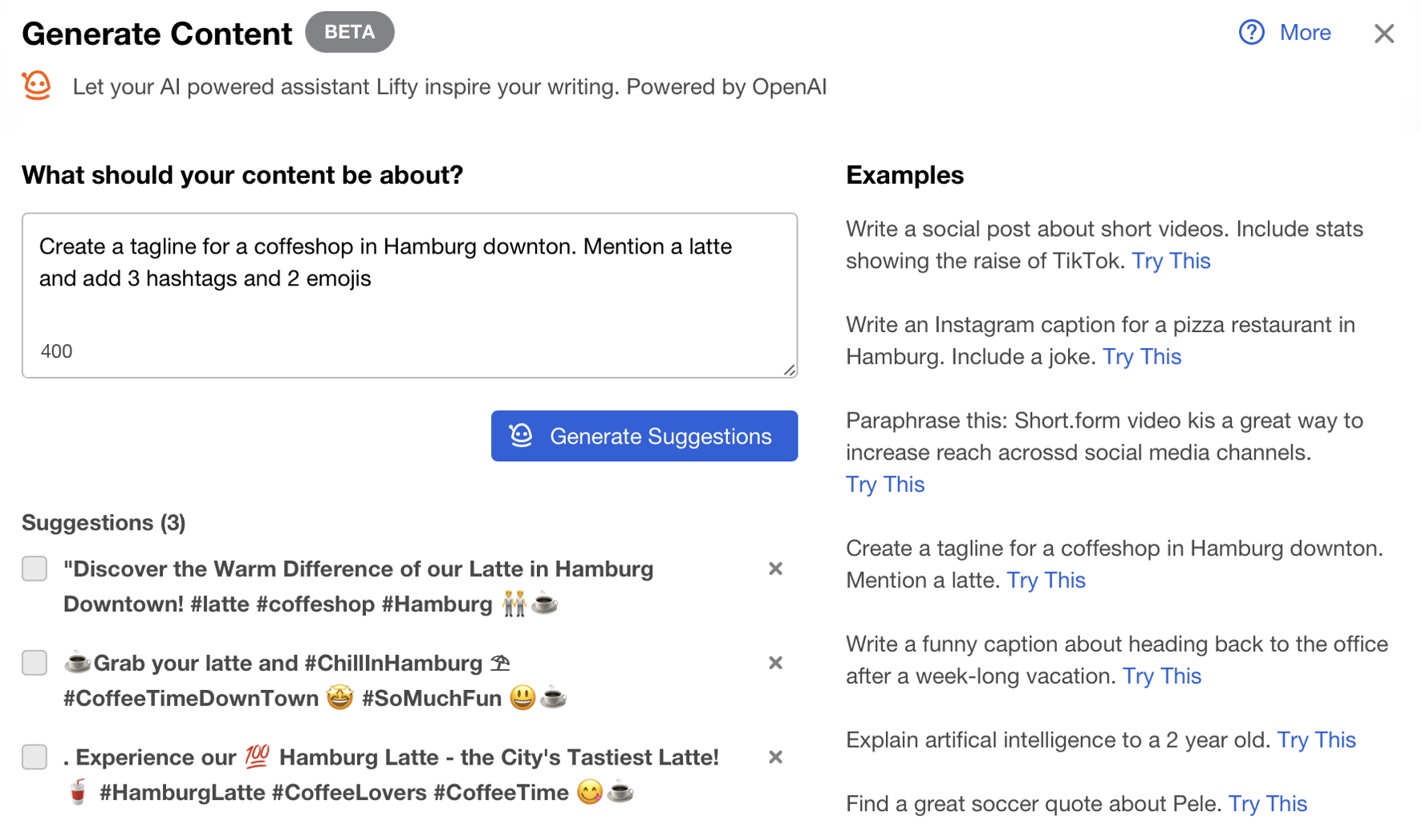 To get the best results out of Lifty, provide relevant information related to your objective. For example, if you want to generate ideas for social media posts, provide information about your brand, industry, and target audience. The more relevant information you provide, the more accurate and effective Lifty will be. By following these tips, you can use Lifty more effectively and get the best possible results out of this powerful AI tool.
How to get started?
Log in to Facelift and open Quickpost within the Publisher. Next, click on the Lifty-Icon within the text input field to show the new AI Assistant. Add a prompt with a specific task or use the examples on the right side at the beginning.
After a short second, the suggestions will show up and you can select one or more to copy into your new post. You can always try another prompt if you're not happy with the results so far.
Here is a specific example of how to ask for a post caption:
Prompt: Create a tagline for a coffeshop in Hamburg downton. Mention a latte and add 3 hashtags and 2 emojis

Suggestions:
"Discover the Warm Difference of our Latte in Hamburg Downtown! #latte #coffeshop #Hamburg 🧑‍🤝‍🧑☕"
"☕️ Grab your latte and #ChillInHamburg ⛱ #CoffeeTimeDownTown 🤩 #SoMuchFun 😃"
"Experience our 💯 Hamburg Latte - the City's Tastiest Latte! 🥤 #HamburgLatte #CoffeeLovers #CoffeeTime 😋☕"
What's Next?
With Lifty, we want to give you the best assistance with all social media tasks without being a nuisance but helpful for your daily work. As mentioned above, this is just the beginning for Lifty.
Our vision of Artificial Intelligence is wider than just generating social media ideas. Over time Lifty will help you to engage with your Audience, give recommendations and hints on when to post and what works best, but can also personalize your interactions in the future during customer care. Lifty is not just a content creation tool, it is a vision for all your social media needs.
Whether you're an experienced social media manager or just starting out, Lifty will make your social media workflow easier and your content better than ever. Already a client, check out this supporting Knowledge base article to get you started. Thinking about trying Facelift? We do offer 14 days, no strings attached. Start your 14-day trial
Tom
Product Marketing Manager
*We use the GPT-4 model, trained on text and code from before Q4 2021, which can understand, process, and generate natural language. GPT-4 is a large multimodal model that can solve complex problems more accurately than any of OpenAI's previous models, thanks to its broader general knowledge and advanced reasoning capabilities.