As social media platforms grow in popularity, businesses increasingly rely on social media managers to reach their target audiences. However, with the ever-increasing number of social media platforms and the need to produce high-quality content, social media managers often need help to keep up.
Thankfully, several time-saving features are available to social media managers that can help streamline the content creation process and make their lives easier. In this blog post, we will explore some of the most useful time-saving features to help facelift users in the interplay of Publisher and our Mobile App.
With the facelift mobile app, you can track your publishing activities on the go, publish instant status and image posts and engage with your community. Navigate to your App Store of choice and download our facelift mobile app now!

Save Time and Effort with Social Media Content Templates for Your Business
We are more than happy to announce that facelift Publisher Content Templates are now available through our mobile Apps for iOS and Android! That means you have access to centrally ready-made content and you or your colleagues can publish it easily via your/their smartphone. Open the facelift App, navigate to Instant Post and tap on the tiny templates icon next to the camera and camera roll icon. Congratulations, you are now ready to select a template from the list and move on with the usual publishing workflow.
Social media content templates can be incredibly beneficial for you in terms of efficiency and time savings. Here are some ways they can help:
Consistency: With content templates, you can maintain a consistent brand image and message across different platforms with a cohesive look and feel, reinforcing your brand identity.
Time savings: Templates provide a structure for creating content, saving you time and effort. By using pre-designed layouts, you can customize the template's content, eliminating the need to start from scratch with each post.
Quick and easy creation: Templates simplify the content creation process for you. They offer a framework for organizing information and incorporating critical elements like logos, slogans, or #hashtags.
Scalability: Templates become even more valuable as your business grows and expands its social media presence. They enable you to scale your content creation efforts without sacrificing quality or consistency.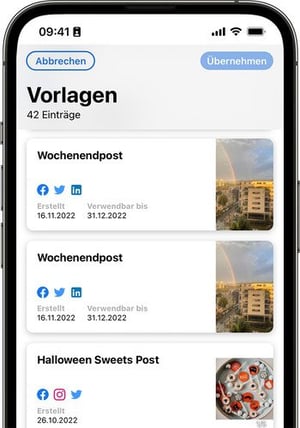 Maximizing Engagement: The Power of Multi-Image Posts on Social Media
Wether you are on the road or want to create a new post spontaneously, you no longer have to go to the office, boot up your computer, or wait until the next working day. With the Instant Post function of our facelift app, you can create new status and multi-image posts for Facebook, Instagram, Twitter and LinkedIn on the go.
Like to plan content? You can save posts as a draft or schedule them later, as the mobile app syncs data with the main facelift app.
Here is why you should start using multi-image posts:
Engage your audience: By sharing a series of captivating images, you can capture your audience's attention and encourage them to swipe through and explore each image and to interact with your posts.
Tell a compelling story: Multi-image posts allow you to tell a more complete and engaging story. You can use each image to showcase different aspects of your brand, products, or services, taking your audience on a visual journey that captures their interest and leaves a lasting impression.
Increase brand recognition: Consistently using multi-image posts with branded elements helps reinforce your brand identity and recognition. By incorporating your logo, colors, and visual style across the images, you create a cohesive and recognizable brand presence that leaves a lasting impact on your audience.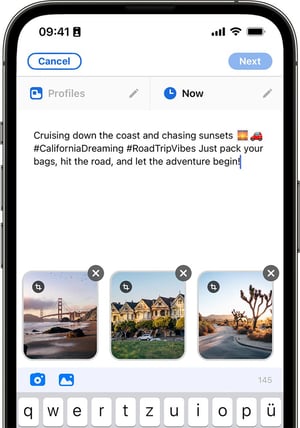 If you have not heard about facelift's mobile Apps before, please head to our Knowledge Base to learn more.