One of the greatest things about developing software is watching the innovation unfold before your eyes. You work constantly to improve and expand on your product, and this evolution can be truly fulfilling not just to the developers themselves, but to the entire organization.
We keep facelift up to date with all the latest security requirements, squish bugs, improve the user interface to make your lives easier, and perform countless other updates, tweaks, and fixes to keep everything running smoothly around the clock.
But the evolution of the software itself is not the only thing that needs to change with the times. That's why we've completely overhauled the way our pricing plans work, in order to provide you with the solutions that meet your needs in a more comprehensive manner!
Facelift Team, Business and Enterprise plans!
And it wasn't an easy thing to do. For months now, we've worked tirelessly to not only bring you a product you look forward to using each day, but one that also provides your organization with actual value. We know that your tech stack costs a pretty penny – ours does too – and we completely sympathize with your bottom line.
So, with that in mind, we're instituting a tiered payment system that we hope will bring some clarity, regularity, and simplicity to everyone without sacrificing on quality, and providing the solutions you need to succeed and grow in social media.
Starting now, facelift will be available in three separate pricing plans that may resemble some you've seen before. These plans are designed to scale with your organization's marketing maturity and we specifically designed them to suit businesses and organizations of different sizes, and at different points in your online marketing journeys.
They're broken into:
Because this is a substantial change, let's talk a bit about what these new tiers are, and hopefully help guide you to the right plan for your operations.
Learn more about our new plans in the short video below or keep on reading this article, in which we also explain our plans and give some use case examples.
Team
For a team that seeks business impact on social in the most efficient way.
Our most basic plan, our Team plan provides you with two user "seats" and allows the connection of up to five social media profiles to your facelift account.
This tier is designed for smaller to mid-sized businesses with smaller social media presences and teams who are newer to social media, or are looking to get their feet wet with a more affordable, simpler plan before exploring more powerful options later.
We wanted to offer a plan that was suited to this market because we're aware that at many companies, the social media management "team" is sometimes just one or two people, and that you may not have a wide range of pages, and don't need to produce in-depth quarterly reports to a marketing board.
Sometimes, it's also just nice to acclimate to new software without a bunch of bells and whistles that maybe don't apply to you, and just add clutter. If you decide as time goes by that you do, in fact, want some bells and whistles, we'd be happy to work with you to find you the solutions that keep your budding social media operations on track with our additional add-ons.
With Teams, additional users can be added to the account on demand for a per-user monthly rate. The tier includes all basic functions of facelift, such as Publisher, Engagement and Dashboard and is ideal for companies that need to keep on top of post performance and have a basic team management structure without extensive collaborative needs.
Team plan example: SpaceOutfitters
SpaceOutfitters is a small-to-mid-sized family-run furniture and home decor business with 50 employees based in Germany. With one social media manager and an intern who manage 5 social media pages, the operations are small and localized to central Europe, where they operate three separate store locations plus an online shop. They use our Team plan to stay on top of their smaller-scale operations all while making an impact on their social media growth trajectory.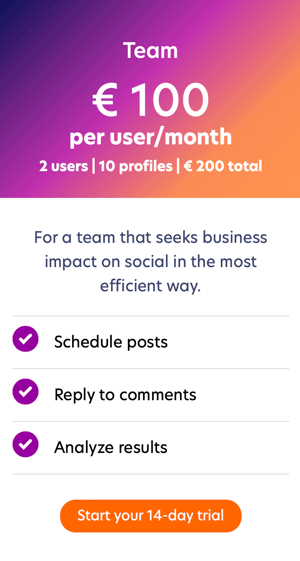 click to start trial
Business
To empower businesses to master social media marketing at scale.
Our mid-tier, all-inclusive plan, Business is dedicated to providing larger, more established, or more complex team structures with substantially more flexibility and power. It is designed with more "mature" social media marketing teams in mind and strives to provide the management support and potential required of this level of operation.
Business still provides your team with all our core features, but with an expanded palette of offerings for in-depth content analysis or higher message volumes, and enhanced Facelift customer support so that we can work more closely with you to support your scaling social media operations.
To keep up with your larger team, the plan starts with a minimum of 5 users and supports the connection of up to 25 social media accounts. This functionality is ideal for you if your organization operates multiple pages for international or multilingual target audiences, or if you use separate pages for your "primary" social media channels and your tech or customer service channels, for example.
The increased user accounts allow for more cross-departmental support, which is where Facelift 's collaborative properties really shine. If your organization wants to get its legal or PR teams involved in content creation or approval, or needs to produce regular, highly detailed reports, this is the plan for you!
It's also the perfect plan for agencies that manage the social media pages of multiple clients.
Business example:
SpaceOutfitters has expanded considerably throughout central Europe, opening multiple new locations throughout Germany and the DACH region, and is even eyeing a second office in Paris! This expansion means more users and SpaceOutfitters knows that the time has come to boost its social media management efforts significantly. They are hiring new team members and interns, opening up individual social pages for their stores, and looking to truly dig into how their social media is impacting business growth with more advanced reporting tools.
Their expansion doesn't only mean new social media managers, it also means inter-departmental cooperation and enhanced oversight.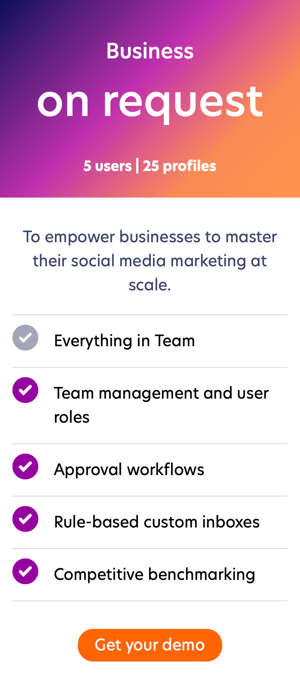 click to get demo
Enterprise
For complex organizations with advanced security or data integration needs.
For organizations with complex structures and extensive social media management needs, our Enterprise plans are customizable and scalable. Together, we'll help you settle on the plan that suits all of your needs.
Enterprise is ideal if your organization relies on enhanced security for its day-to-day operations. Not only does it expand upon the offerings of the Business tier by providing your large operation much more user power, it is also designed with safety in mind. We believe that data security is of the utmost importance today, especially in the world of social media, and we want to ensure that not only do your accounts remain safe, but that you are also provided with our premium customer service on demand.
If you would like to read more about Facelift 's dedication to your security and best safety practices on social media, please take a look at this article.
Not only is an Enterprise plan great for large or complex teams with a wide range of collaborative needs, but it also features additional features and add-ons not available to our lower tiers. To find out whether an Enterprise plan is suitable for your organization, get in touch with your our team so we can help develop a custom solution!
Enterprise example:
Having grown considerably into a market leader with a truly global presence, SpaceOutfitters, now employing over 4,000 individuals, has outgrown its Facelift business plan and is in need of something a bit more industrial-strength. Their needs included enhanced security and frequent customer support for global operations, an exponential increase in user capacity, flexibility, and coordination, as well as unique and niche data collection and reporting capabilities.
In partnership with their Facelift customer success experts, SpaceOutfitters' marketing department created a plan that provided everything needed to suit its status and needs.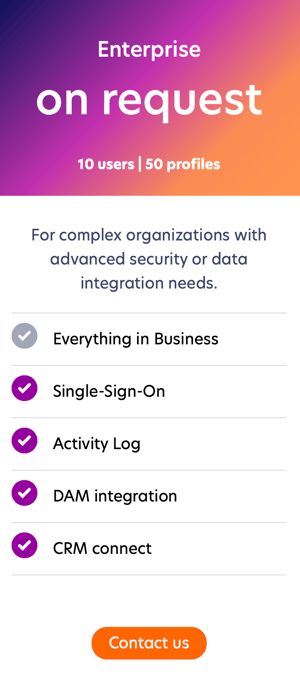 click to request price
I'm a facelift customer already! What does this mean for me?
For this we kindly ask you to contact your Customer Success Experts at customersuccess@facelift-bbt.com.
Conclusion
Today's businesses are more digital, and more agile than ever before, but what goes on behind the scenes is more complex and demanding as well. Software such as facelift is how businesses can remain fast and competitive in a world that won't look back to those who fall behind.
This is a large part of why we've made these new pricing plans. We want to make Facelift more accessible to a wider range of users without sacrificing the software quality or premium support upon which we pride ourselves, and we think this is a big step in the right direction.
Choose the right plan for you - here you can find an overview with all information about features and prices.



Give facelift a shot with our free two-week trial
Not ready to go in on any of these plans right off the bat? That's okay, we've got a free two-week trial that you can use to get started, learn about facelift, and take time to decide whether we'll be the next member of your tech stack! Give it a whirl by following this link!