Social media has made it so much easier to stay in touch with the people, places and issues that matter to you. Especially in difficult times, it also helps many people express their willingness to help and their gratitude for certain issues.
Earthquakes, floods, landslides, forest fires. Some of the world's current crises have led to a particularly large number of fundraising campaigns in recent weeks and months. The holidays and the cold season also seem to make people more willing to help and more generous.
For many companies, charities, humanitarian groups and non-profit organisations, it has never been more important - or practical - to raise awareness of their projects and causes on social media.

There are other reasons why organisations want to fundraise as well as raising money.
Here are some of the most common reasons why companies and organisations want to fundraise:
As an NGO or non-profit, you want to raise funds for your own causes and projects.
Companies want to use their brand awareness to raise awareness of third party fundraising projects.
Individuals want to do something good and support a specific fundraising project by asking their friends to donate.
Facebook in particular has recognized the trend towards digital donations and crowdfunding. In 2015, the largest social network in the world began using a "Donate" button, which turned into a huge success. Following its launch, Facebook reported some very impressive figures:
As of the end of 2021, users of Facebook and Instagram combined have raised more than 5 billion USD for the various causes and organizations they believe in.
Likewise, the American organization NP Sources has reported that online donations have grown in quantity and frequency consistently over the years:
Facebook Statistics Fundraising
18% of donors worldwide have given through Facebook fundraising tools.
Of those, 88% say they are likely to give through Facebook fundraising tools in the future.

Facebook refers 29.4% of traffic to donation pages on #GivingTuesday.

More than 29% of mobile donation traffic on Giving Tuesday came from Facebook.
In an average peer-to-peer fundraising campaign, 15-18% of donations are referred directly from Facebook.

84% of Facebook users share to show their support for a cause and highlight issues that are important to them.
How can NGOs, charitable organizations, and companies benefit from their online presences?
With the help of the following tips, you can put the finishing touches to your appeal for donations via Facebook.
How to launch a fundraising campaign on Facebook
1.) Register for the Facebook fundraising tools.
To create your own fundraiser on Facebook, you must first register as a non-profit organisation on the platform. Only then will the fundraiser be listed in an overview and can be selected and supported by other businesses or individuals.
You will also need to register for Facebook Payments to be able to take donations directly.


2.) Collect donations using the Donate button.
For non-profit organisations, the next step is of course to use the "Donate" button in the header of your own Facebook page.  You can also share your fundraising efforts with groups on Facebook.
If you are a business and would like to support the fundraising efforts of nonprofits on Facebook, you have several options. You can create a "Fundraiser" item on the left navigation bar of your Facebook Page in the Admin View.
You can also include the donation button in your Facebook posts or live streams. This should be of particular interest if you want to get involved in certain charitable causes and actions on behalf of your company and inspire your own fans to do the same. Talk about corporate responsibility!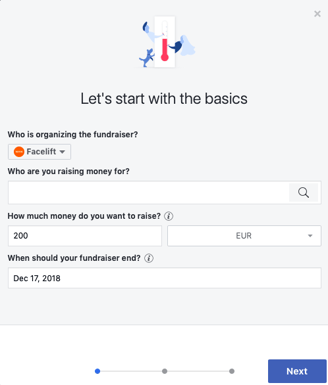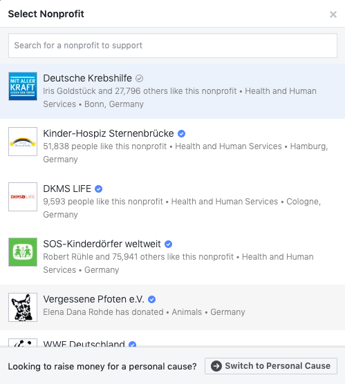 The good news is that Facebook allows users to donate directly. Your fans don't have to leave Facebook and get a great mobile option to do good. 
Alternatively, you can link the donation button in the header of your Facebook page to your website, if you already have a (non-Facebook) donation page there, and drive traffic to your own website.

3) Maximize your potential through content and transparency.
Do good and talk about it. Inform your fans and customers about your cause. If possible, give an insight into the work you are doing, e.g. through photos and videos or livestreams from the field. This will give potential donors a better idea of what your fundraising campaign is all about. To increase your reach, you should also promote your fundraising campaign on other networks.

Publicize and celebrate your fundraising milestones. Has a milestone been reached? What have the donations been used for? How and where is the money going? Transparency is important to maintain credibility. Social media management tools like Facelift can help you publish your posts and successes across multiple social channels. It also provides a single inbox for all questions and comments about your fundraising campaign.

4) Leverage partnerships 
Live up to the name of social media and get in touch with strategic partners, testimonials and other companies interested in your fundraiser. You can also challenge your fans and customers directly to a private fundraiser and start a little competition with the motto: "Every contribution counts!"
The benefits of Facebook donation tools
Reach: With around 3 billion monthly active users worldwide, Facebook is still the top dog among social media channels. Nowhere else can you reach so many potential fans and donors. And they don't even have to leave the platform to use Facebook's donation tools. For example, Facebook offers credit cards and PayPal, all popular and well-established payment methods.
No fees: The most important argument, however, is that Facebook does not charge for collecting donations for NGOs, making it an attractive tool that leverages the original idea of a social network.
Clear insights: Donations generated through Facebook Payment can be broken down in detail in a daily transaction report. Page Insights also show which posts and content are getting the most likes, shares and comments, when fans are active and when Facebook Ads might be more effective.
Birthday fundraiser on Facebook
As part of your birthday, you can create a fundraiser on Facebook to do good and raise support for charities. With this feature, you can ask your friends to donate to an organisation of your choice instead of buying you birthday gifts.

To create a Facebook Birthday Fundraiser, follow these steps:
Click "Celebrate a Birthday" on your Facebook start page.
Choose the charity you want to support or search for a specific charity.
Set a fundraising goal and an end date for your campaign.
Personalize your fundraiser by writing a message telling your friends why you care and why you're asking for their support.
Share your fundraiser on your Facebook page and Chronicle so your friends know about it. From now on, your friends can participate in your fundraiser by donating money instead of giving you birthday gifts.
4 steps to bring your fundraiser to Instagram
If you have a Facebook account, it's easier than ever to link it to Instagram and use the services to better support your fundraising campaigns.
Now you can add an Instagram donation sticker or button to your Instagram Stories for even more reach!
To get started, you'll need to sign up for Facebook's donation tools and link your Facebook and Instagram accounts.
Your Instagram account will also need to be set up as a business account. If you're a business, you probably already did this when you set up your account. If not, you can quickly and easily find this feature in the settings of the Instagram app.
Once you have done this, simply create a Story and select the Donate button from the list of stickers, just like any other IG Story sticker.
You will then have the option to search for your organisation from a list of others. This list also includes many other organisations that you can support if you want to raise money for another group, such as a Red Cross group or a refugee relief programme, to name a few.

Stories are one of the most engaging content formats on Instagram, and adding a donation button to an IG Story is easy. So why not give it a try now?
Remove an Instagram fundraiser
There are several reasons why you may want to remove a fundraiser on Instagram:
Fundraiser expires: If your fundraiser has a specific end date and it has reached that date, you may want to remove it so that it is no longer visible on your profile. Some people prefer to remove their fundraiser after it ends or for privacy reasons so that it is no longer visible.
Goal met: If the fundraising goal has been reached, or you decide not to continue the fundraiser for other reasons, you can remove it.
Change of purpose: Your priorities may change, or you may want to redirect your support to another organisation or cause. In this case, it makes sense to remove the old fundraiser from Instagram and create a new one.
Mistakes or inaccuracies: If the fundraiser contains errors or inaccuracies, such as incorrect information or technical issues, it is advisable to remove the fundraiser and create a new one if necessary.
The ability to manage fundraisers on social media platforms gives users the flexibility to tailor them to their current needs and preferences. To gain and maintain donor trust, it is important to ensure that the information about fundraisers is always accurate and up to date, so it is advisable to remove the campaign and create a new one if necessary.


But how do I remove a fundraiser from Instagram?
To remove a fundraiser from Instagram, follow these steps

Go to your profile: tap your profile picture in the bottom right corner.

Tap 'Edit profile'. This button is located just below your username and profile description.

Scroll down to 'Fundraiser': Below your profile description you'll find the 'Fundraiser' option.

Tap on the active fundraiser you wish to delete: You will see a list of the fundraisers you have created or supported. Select 'Remove Fundraiser': Click this option to remove the selected fundraiser. Confirm.

Sometimes you may want to remove a fundraiser from a specific item only:

To do this, go to the tab on your Instagram profile and click on the post you want to remove the fundraiser from.

Click on the three dots icon in the top right corner of the post. Then select the option to remove the fundraiser. Confirm by clicking Remove Fundraiser.
Turn your Facebook page into a fundraising powerhouse

By following these basic pillars of Facebook fundraising, you and your company can make a further contribution to corporate responsibility and, with the help of partners and the world's largest social media platform, achieve your fundraising goals and market them successfully.

And where there is activity and interaction, there is also a need for professional community management! Try Facelift for free for two weeks and find out how you can manage your followers and reach your fundraising goals with our central inbox.