Social media has made it easier than ever for people to connect with the people, places, and things they care about. In increasingly large numbers, social media users are also using these platforms to talk about the issues, and to raise awareness – and money – for nearly every cause you can think of.
Ongoing humanitarian situations have made fundraising campaigns especially common in recent weeks and months. The holidays and cold season also seem to make many people want to be more helpful and generous.
For many companies, charities, humanitarian groups, and other non-profit organizations, it has never been more important – or more practical – to raise awareness for their projects and issues on social media.
Some of the most common reasons why companies and organizations may want to collect:
As an NGO or non-profit organization, you may want to collect donations for your own activities and projects.

Companies want to use their brand awareness to draw attention to charitable projects by third-party organizations, such as humanitarian causes

Private individuals want to do something good and support a specific charitable project by asking their friends to donate.
Facebook in particular has recognized the trend towards digital donations and crowdfunding.
In 2015, the largest social network in the world began using a "Donate" button, which turned into a huge success.
Following its launch, Facebook reported some very impressive figures:
As of the end of 2021, users of Facebook and Instagram combined have raised more than 5 billion USD for the various causes and organizations they believe in.
Likewise, the American organization NP Sources has reported that online donations have grown in quantity and frequency consistently over the years:
Facebook Giving Statistics
18% of donors worldwide have given through Facebook fundraising tools.
Of those, 88% say they are likely to give through Facebook fundraising tools in the future.

42% of marketers report that Facebook is critical or important to their business.

93% of social marketers use Facebook advertise regularly.

Facebook refers 29.4% of traffic to donation pages on #GivingTuesday.

More than 29% of mobile donation traffic on Giving Tuesday came from Facebook.
In an average peer-to-peer fundraising campaign, 15-18% of donations are referred directly from Facebook.

84% of Facebook users share to show their support for a cause and highlight issues that are important to them.
General Social Giving Statistics
55% of people who engage with nonprofits on social media end up taking some sort of action.
59% of those people donate money.

53% volunteer.

52% donate clothing, food, or other personal items.

43% attend or take part in charitable events in their community because of social media.

40% subsequently purchase a product that benefits that charity.
25% contact their political representatives either by phone, letter, or email after engaging with a cause on social media.

15% organize their own events in their community afterward.

For every 1,000 email subscribers, nonprofits have an average of 199 Facebook followers, 110 Twitter followers, and 13 mobile subscribers.

Nonprofits have claimed Facebook as the most important social media for their causes, with Twitter in a close second place, and YouTube in third place.

Nonprofits share a daily average of 1.2 updates on Facebook and 5.3 Tweets.
Taken directly from NP Sources report.
How can NGOs, charitable organizations, and companies benefit from their online presences?
With the help of the following tips, you can put the finishing touches to your appeal for donations via Facebook.
How to launch a fundraising campaign on Facebook
Register for Facebook Donation Tools
In order to create your own fundraising campaign on Facebook, you first have to register as a charitable organization on the platform. Only then is your fundraiser listed in an overview and can be selected and supported by other companies or private individuals.
In addition, it is mandatory to sign up for Facebook Payments so that the donations can be processed directly.
Collecting donations via the Donate button
For non-profits, the next step is clear: Placing the "Donate" button in the header of your Facebook page.
If you want to support the fundraising campaigns of non-profit organizations on Facebook as a company, you have several options. For one, you can create a "fundraiser" item via the admin feature on the left navigation bar of your Facebook page.
In addition, the donation button is also available for your Facebook postings (photos, videos) or live streams. This should be especially interesting if you want to get involved in working towards certain non-profit goals and campaigns in the name of your own company and would like to inspire your own fans to do the same. What's key here: Corporate responsibility!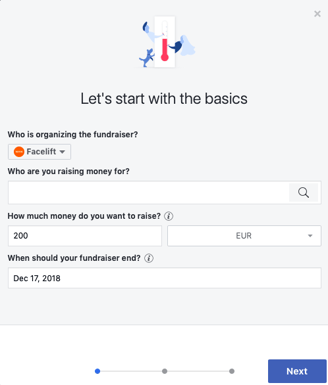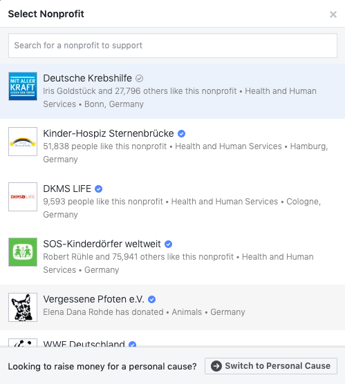 The good news: Facebook allows users to make their donations directly: So, your fans do not have to leave Facebook and can use their mobile devices for doing good from anywhere.
Alternatively, you can connect the donation button in the header of your Facebook page to your own website, if you already have a (non-Facebook) donation page set up and thus increase your own website traffic.
Maximum potential through content and transparency
Do good and talk about it!
Let your fans and customers know about the purpose of your fundraising efforts. If possible, supply insight into the charitable work, e.g., through photos and videos or live streams on your site or Facebook page.
That's the only way your potential donors can get a better sense of what your fundraiser is all about. To increase your reach, you should also draw attention to your fundraiser on other networks.
Post and celebrate your donation milestones. Has a certain intermediate level been reached? What have the donations already been used for? How and where exactly are the donations being used? Remaining credible requires a lot of transparency. Social media management tools like Facelift Cloud can help you publicize your posts and achievements across multiple social channels at once to save time. In addition, you can collect all questions and comments about your fundraiser in one central inbox.
Use Partnerships
Do the name of social networks justice and connect with strategic partners, testimonials, and other companies interested in your fundraiser. You can also directly ask fans and customers to initiate a private fundraiser and thus start a small contest according to the motto: "Every contribution counts!"
The Advantages of Facebook Donation Tools
Huge reach
With 32 million monthly active users, Facebook is still the top dog among all social media channels. Nowhere else can you reach so many potential fans and donors. In addition, they do not even have to leave the platform when using the Facebook donation tools. From PayPal to credit card payments, Facebook offers all of the popular payment methods that have long established among users, for example.
No fees
One of the most important pros is that Facebook does not charge any fees for collecting donations for NGOs, thus making it an attractive tool that uses the original idea of a social network to its fullest extent.
Clear insights and analytics
The donations generated through Facebook payments can be broken down into an exact daily transaction report. The Page Insights also show which posts and content are getting a lot of likes, shares, and comments, when your fans are active, and when you could achieve even more reach through Facebook Ads. All of these are important insights that will help you to more precisely target your fundraising activities for maximum success.
You can use Instagram for fundraising, too!
If you have a Facebook account, linking it to Instagram and sharing your fundraising campaigns is easier than ever.
Now, you can add an Instagram donation sticker or donation button to your Instagram story posts and take advantage of even more reach!
To get started, you still have to sign up for Facebook's "charitable giving tools" and link your Facebook and Instagram accounts.
Your Instagram account also must be a "business account". If you're a company, you probably already set your account up this way when you made it. If not, you can find this feature quickly and easily under your settings in the Instagram app.
Once that's out of the way, just create a story and select the donation button from the stickers list, just like you would any other IG Story decal.
You will then have the opportunity to search for your charity on a list. This list will also include many other charities that you can support, if you wish to raise money for another group, such as a Red Cross branch or refugee support programs, among others.
Stories are one of Instagram's most highly engaging content forms, and the effort it takes to add a donation button to your IG Story is minimal. Why not give it a try?
Turn your Facebook page into a fundraising powerhouse
If you adhere to these pillars of Facebook fundraising, you can make a huge contribution your company's corporate responsibility, or be a game-changer for your organization Together with partners and the help of the largest social media platform, Facebook, successfully reaching and marketing your fundraising goals is quick, easy, and effective.
And, where there's activity, there's community management! Try out facelift for free for two weeks and find out how our unified inbox can help you keep your page's followers satisfied.