Facebook may be an elder amongst social networks, but it's still the world's largest player and an indispensable tool for social media marketing today and keeping up with the times is just as important as ever. These Facebook trends will have a significant impact on how businesses market themselves on the platform in 2023.
We've identified 5 major trends and will show you how each trend is likely to shape your social media marketing:
1. Increased focus on privacy and security
Facebook has faced intense scrutiny in recent years over concerns about privacy and security, and it's a trend that's set to continue in 2023. In response, Facebook is continuing to work to improve the privacy and security of its platform. Last year, in 2022, Facebook rolled out new features such as end-to-end encryption for messaging, and two-factor authentication for accounts. Additionally, Facebook launched a new privacy center, which will provide users and businesses with a central location to manage their privacy settings and data.
Social media users are not becoming less wary about how their data is collected and used, and this is likely to remain a trending topic this year and in the future.
As a consequence, to this trend, businesses will need to be more mindful of how they collect and use customer data, and be transparent about their privacy practices. It's likely that there will be an increase in marketing campaigns that focus on privacy and a stronger emphasis on building trust with customers. The goal is to show customers that the business is committed to protecting their privacy and ensuring the security of their data.
You can read more about how your organization can stay safe on social, as well as what facelift does to keep your data protected by reading this article.
2. Greater Emphasis on Groups and Communities
As a social network groups and communities have always been an of Facebook, but in 2023 we're likely to see even greater emphasis on these features. Facebook has been investing in tools and resources to help groups and communities thrive, such as new features for group administrators, and improved ways for members to engage and interact with each other. Facebook will allow the publishing of Reels in groups, too, making this short-form video form more relevant than ever. In case you want to discover more about Facebook Reels - check out our detailed blog article on "How Businesses can take Advantage of Facebook Reels".
With Facebook putting more resources into groups and communities, businesses will need to find creative ways to engage with customers in these "natural" environments. For example, businesses can participate in discussions, host events, and create content specifically for these groups in a more intimate way!
3. Growth of E-commerce and Online Shopping
E-commerce and online shopping are still growing rapidly, and Facebook is looking to tap into this trend in 2023. The platform has been testing new e-commerce features, such as the ability to shop directly from a brand's Facebook page and is likely to expand these offerings in the coming year. This trend is a response to the growing popularity of e-commerce and the shift towards online shopping and will provide Facebook with a new source of revenue.
As e-commerce and online shopping continue to grow, businesses will need to focus on creating an effective online shopping experience for customers. This will likely include developing a strong online presence, improving product descriptions and photos, and making it easy for customers to purchase products directly through Facebook.
Social commerce is a huge topic and you can read way more about it here.
4. Expansion of virtual and augmented reality
Virtual and augmented reality are poised for significant growth in 2023, and Facebook and the Metaverse are at the forefront of this trend. The company has been investing heavily in VR and AR, as it continues to boost the profile of its VR headset the Meta Oculus. In 2023, Facebook plans to further expand its VR and AR offerings, including new features and applications that will change the way people engage with the platform.
As virtual and augmented reality become more prevalent, businesses will need to think about how they can use these technologies to engage with followers. For example, a business could create virtual product demonstrations, host virtual events, or use AR to enhance the customer shopping experience for example using Spark AR Studio.
5. Ongoing growth of video content
Video content has been a growing trend on Facebook for some time, and in 2023 this trend is set to continue. Facebook is investing in new tools and resources to make video creation and sharing easier and more accessible, such as the ability to livestream in 4K resolution and new video editing tools. Additionally, Facebook is also exploring new ways for businesses to use video content to reach customers, such as video shopping and video ads.
With video content continuing to grow also on Facebook, you as a business can focus on creating high-quality video content that engages & entertains your followers. This could include live events, problem-solving videos, or developing behind the scenes insights.
If you want to step up your video marketing this year to keep up with Facebook's trends in 2023, one way you can do that is by checking out our recent guide to short-form video content. It's free and has everything you need to know to be successful with Facebook Stories, IG Stories, TikTok, and more.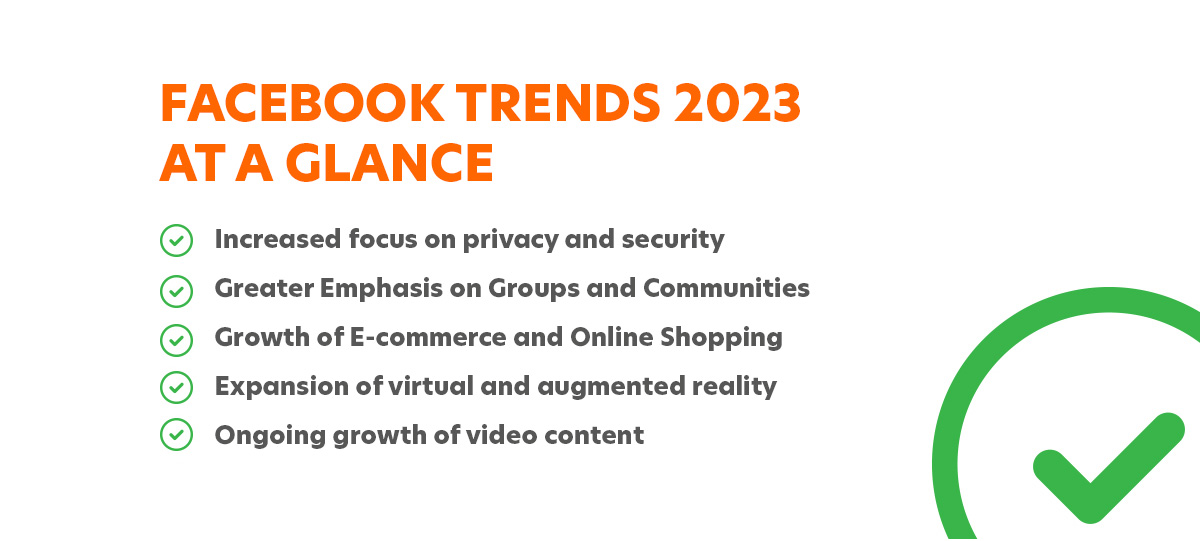 Trend summary
These are five of the most key Facebook trends in 2023. From increased focus on privacy and security, to the growth of e-commerce and video content, Facebook is constantly evolving to meet the needs of its users. Stay ahead of the curve by keeping an eye on these trends and be ready to adapt and take advantage of the changes to come.
Overall, these trends will shape the way businesses market themselves on Facebook in 2023, and businesses will need to adapt to these changes in order to effectively reach and engage with followers. It's important for businesses to stay ahead of the curve and be proactive in taking advantage of these trends, to maximize their marketing potential on the platform.