Plan and publish social media posts - with Facelift Cloud Publisher
Streamline your campaigns, events and posts in one tool

Enable multi-channel publishing with fast post creation

Ensure high-quality content with approval flows

Collaborate with your team and external partners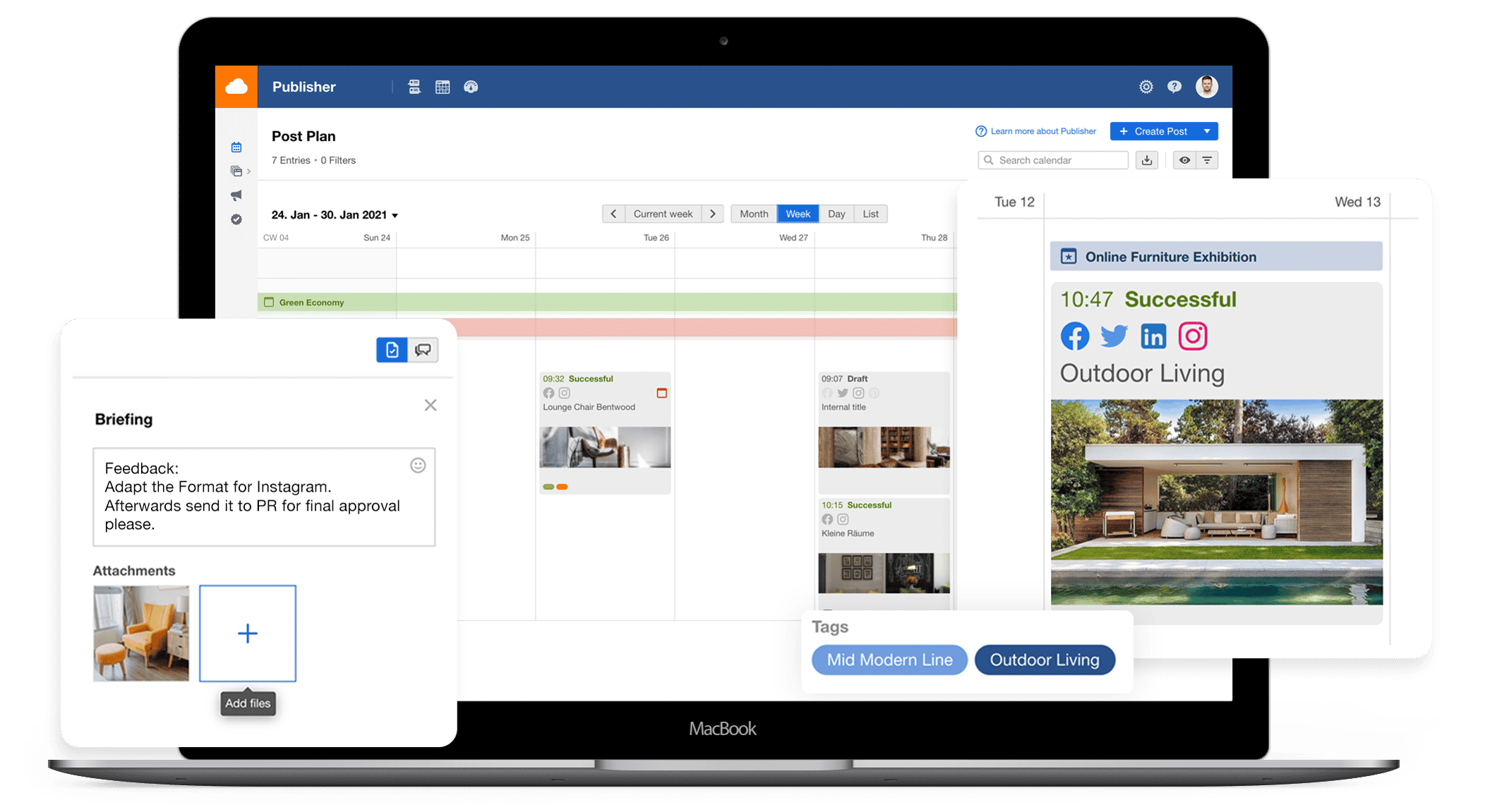 Publish efficiently across teams and save precious time
See what content is being published when and on which networks in the calendar.
Create content, select relevant channels and publish the final posts all in one workflow.
Establish creative processes, coordinate content, and involve the right people at the right time.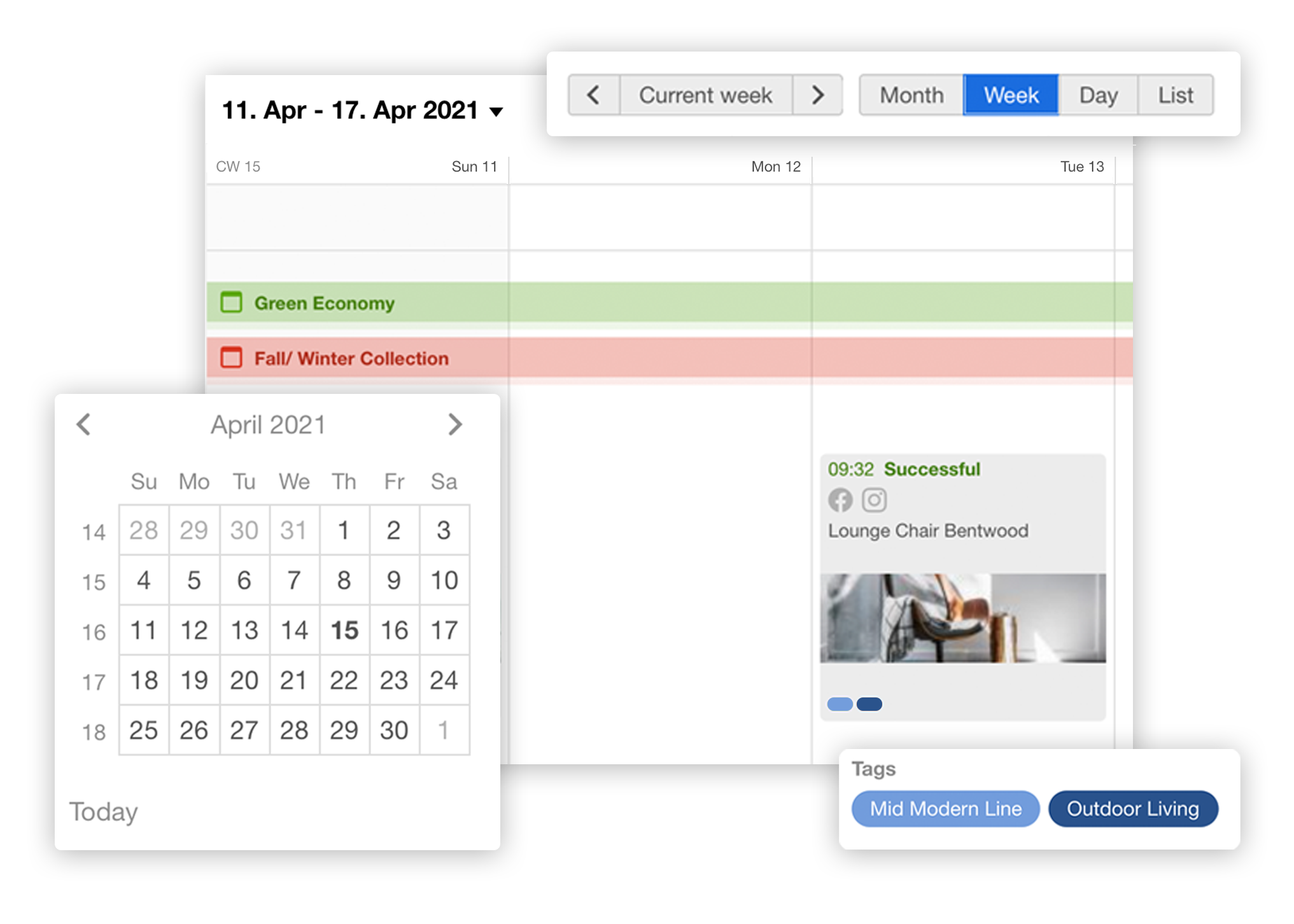 Keep track of and execute all your campaigns, events and posts
The editorial calendar provides an instant overview for planned or already published posts across all channels. You can pick daily, weekly, monthly or list views.
Use tags to categorize your posts. The preview gives you an overview of the status of each post and the networks profiles. The filter function makes it easy to display individual calendar views with the level of detail you are really interested in. With the setup of individual team structures, everyone only gets to see the relevant content.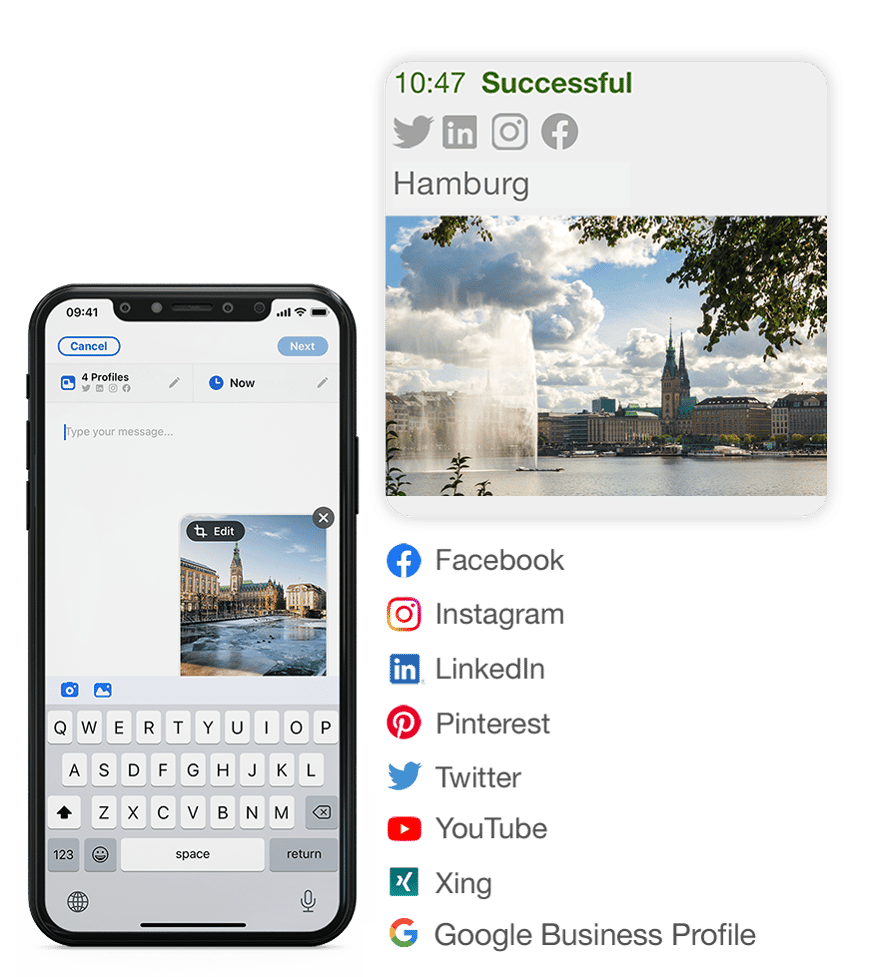 Publish across all your social media channels and profiles at once
Publishing across multiple networks is easy with Facelift Cloud. Prepare content for all your channels and publish it to any social network with one click.
With the Facelift Cloud App, you can schedule your posts on the go. No matter if you are doing 5 or 500 posts.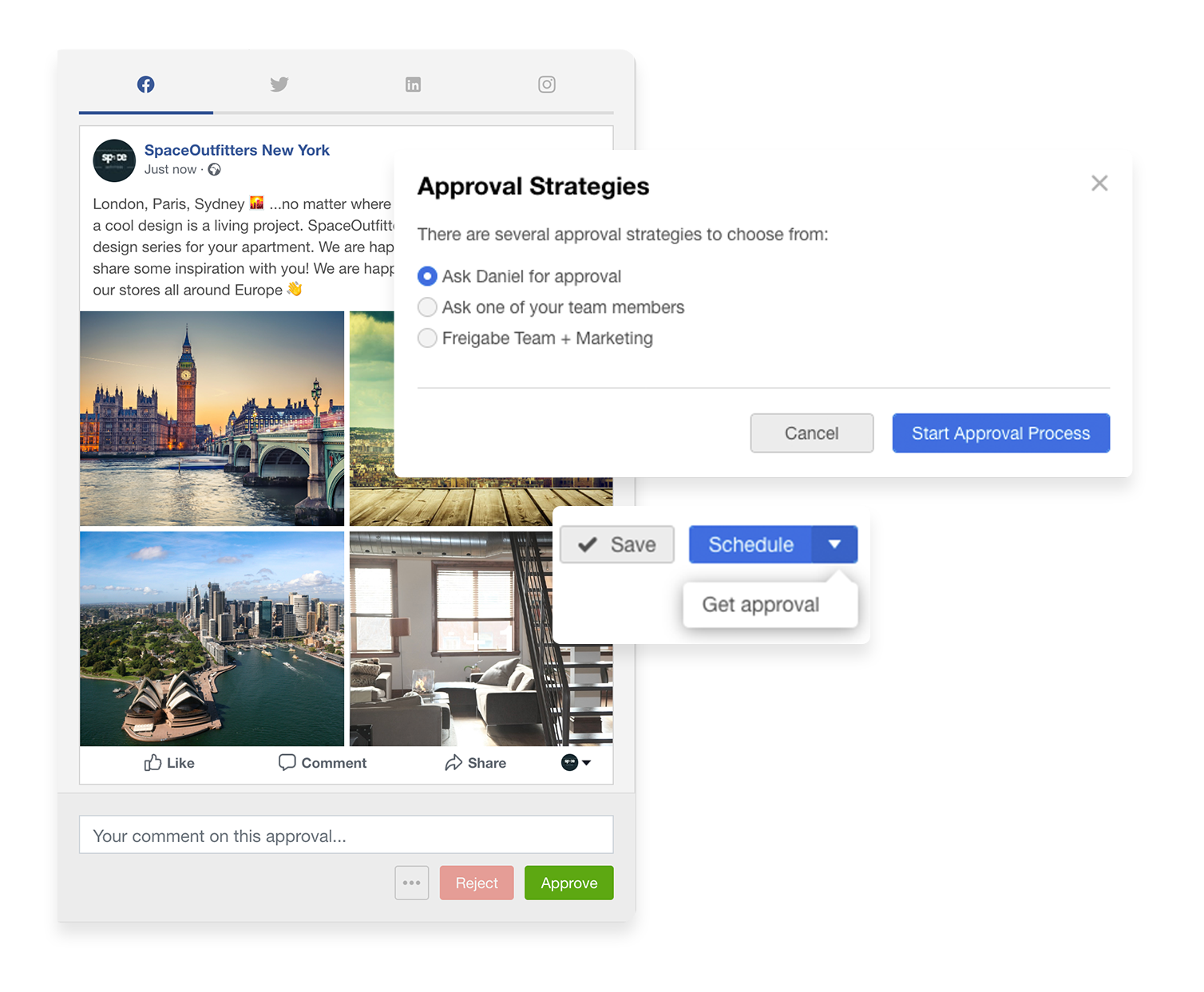 Make sure only the finest content makes it to your followers' newsfeeds
After a post has been created, it can be reviewed and optimized by team members through Facelift Cloud's intuitive release process. Our approval strategies are flexible depending on your team.
You decide, if you go for a two-man rule or the setup of an advanced approval process with a multi-step approval workflow – high quality content will be the result anyways.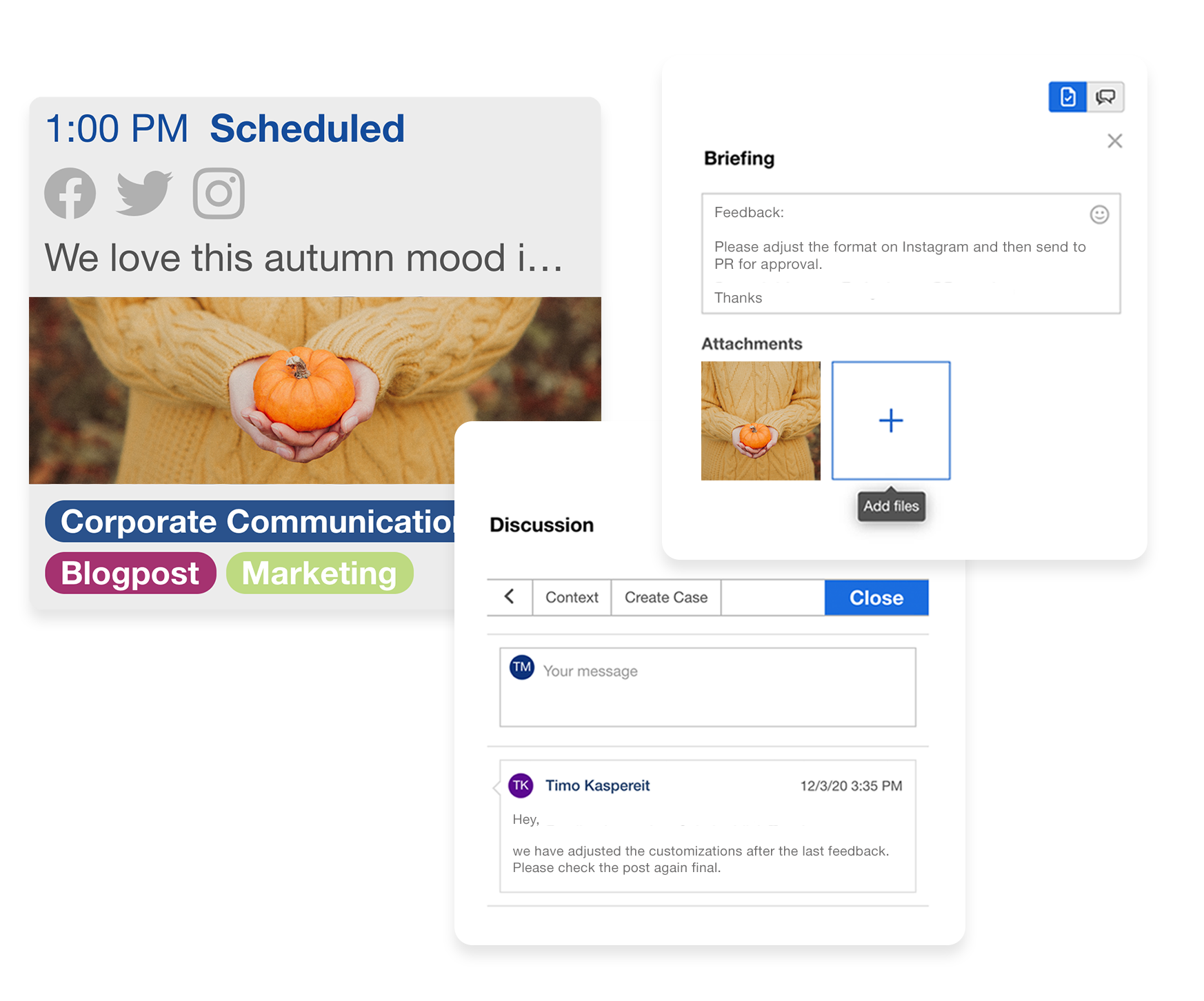 Coordinate your content across teams and collaborate with external partners
To help you coordinate your content, you can add briefings to your posts and templates. Pass on important details about the post to your colleagues and, as the creator, always keep an eye on them.
The briefing feature is accessible during the whole content creation process so that all team members are kept up to date and can interact on the post.
The rights and roles system ensures every team member can only access and see the information he or she needs.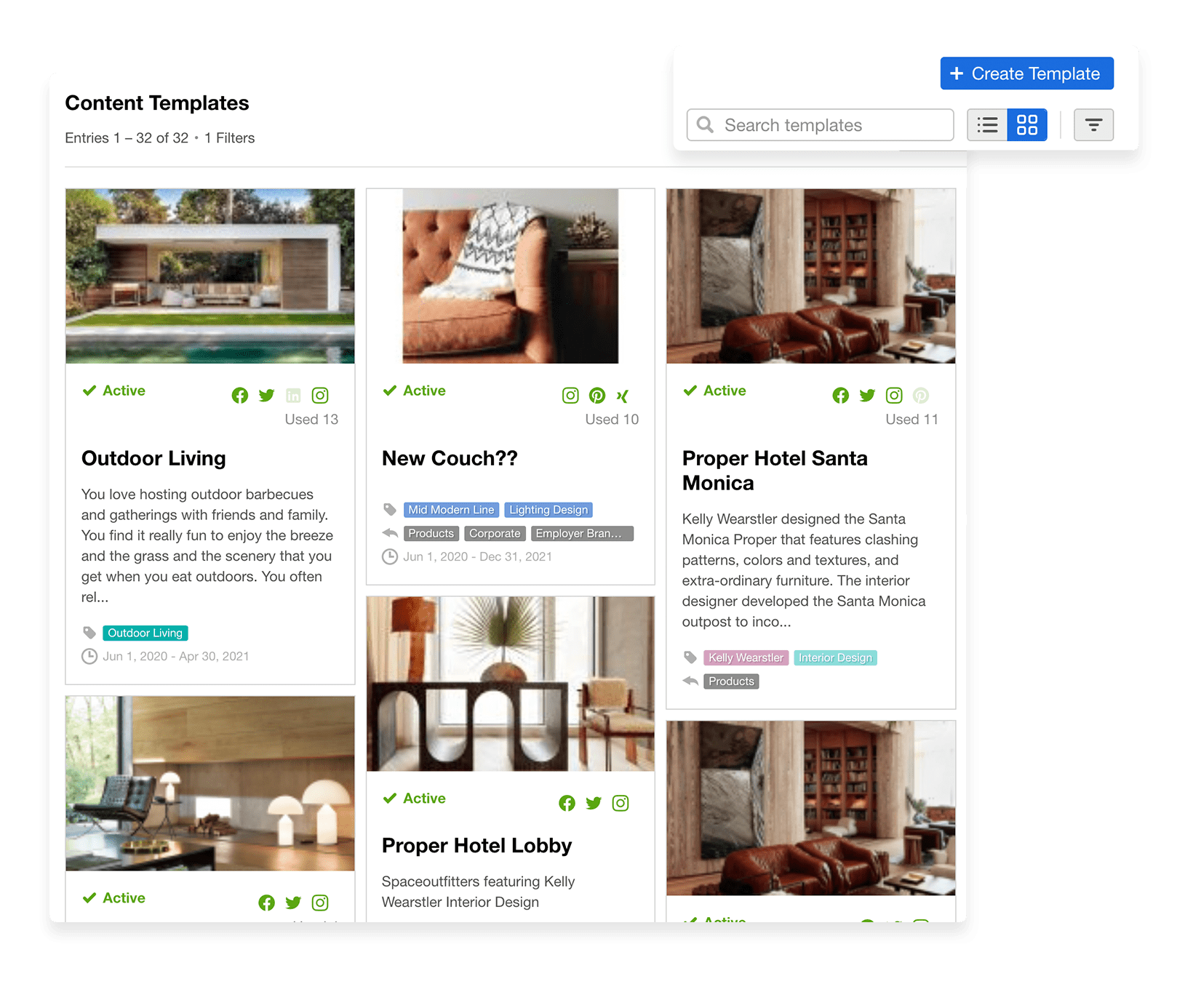 Spread your brand-aligned content company-wide and across all your locations
Specify content standards to be used for local and international adaption through templates in the content pool. Use templates not only for content, but also for preset target groups, specific landing pages and page groups.
Make these templates available to other teams and locations to share your content even faster and on a larger scale. On top of that you can also provide your employees with posts via the Social Share Mobile App so they can share them on their private profiles.
Interested? Just book your personal demo and get to know Facelift Cloud
Over 2,000 customers trust us
We have been partnering with companies from numerous industries and countries for many years. It is our pleasure to support them in the implementation and optimum usage of Facelift Cloud. We're very proud of our broad customer base and their continued success.
We help you to achieve quantifiable business results
Our customer service is available globally 24/7 and rated with an overall 97% satisfaction score

Solution-oriented account partners proactively amplify your success with Facelift Cloud

We partner with many important networks, agencies and other tool providers, to ensure full impact on social