Exciting news! We are thrilled to announce that you can schedule and publish videos on TikTok using Facelift! Whether you're looking to create entertaining challenges, informative tutorials, or inspirational content, you can now connect and engage with your audience on TikTok. We can't wait to share more about incorporating TikTok into your marketing strategy and how Facelift simplifies the management process. Get ready to make a splash and go viral! Let's dive in!
Every Network at Your Fingertips: TikTok Publishing Now Available
Facelift Publisher simplifies and amplifies your social media strategy by seamlessly integrating TikTok alongside established platforms. Imagine the efficiency of crafting, scheduling, and publishing content across Facebook, Instagram, and now TikTok, all from a single, user-friendly interface. This may sound too good to be true, but it's a reality!
Here's a comprehensive list of advantages that are applicable whether you're already a TikTok sensation or if you haven't ventured into the world of TikTok yet and are contemplating using Facelift to handle your social media presence:
All-in-One: Save time and effort by managing all your social media accounts, including TikTok, from a single software
Consistency: Maintain a uniform brand identity and message across different platforms, enhancing brand recognition and customer trust
Future-Proof: Begin your TikTok journey effortlessly by integrating it into Facelift, eliminating the need for a separate learning curve or tool
Time Efficiency: Save time on setting up and managing a new platform, as Facelift can easily extend to TikTok with familiar features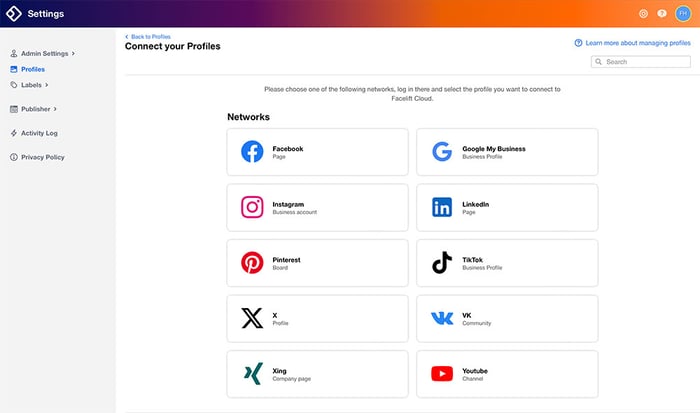 How to get started
With Facelift, you have the power to plan and organize your 9:16 content in advance, saving you precious time and guaranteeing a consistent posting schedule. Not only that, but you can also effortlessly publish your short-form videos across multiple platforms like Instagram Reels, Facebook Reels, YouTube Shorts, and TikTok, maximizing the reach of your content. This means you can have a comprehensive overview of all your social networks in one place, making managing your posts a breeze.
Connect your first TikTok profile in the Administration Settings
Upload or choose a video from the media library
Select your preview image by using the arrow keys on your keyboard
Write a phenomenal caption and add your hashtags, or ask Lifty for inspiration
Select your publication date or publish directly
Now you can lean yourself back, and Facelift will do the rest!
Learn more about TikTok Publishing Options in our Knowledge Base and read all the Post Creation (BETA) details.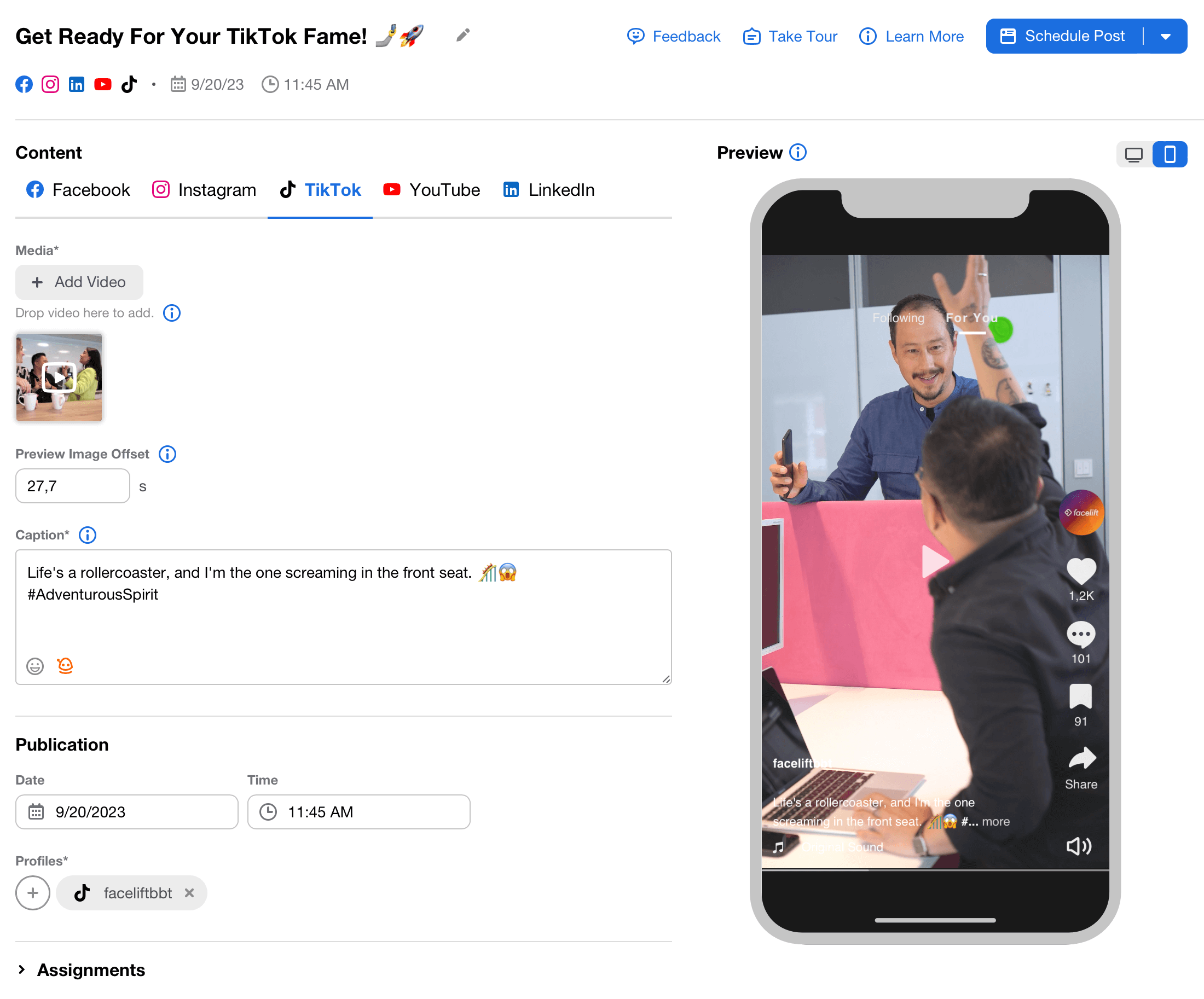 Why TikTok should be one of your marketing instruments
If you already use TikTok to spread your content in ✨snackable✨ short-form videos, you are one step ahead of those who don't! Do you think your company might not be a good fit for TikTok, or you might not reach your target audience? You can read more about it in one of our last blog articles here, but let me tell you: even if you are a fridge producer and won't find your customers on TikTok, you might find your future employees there, and could use TikTok for Brand Awareness and Employer Branding.
In addition, it is not unlikely that one (or more) of your TikToks could go viral and increase your engagement, so to say, overnight. Often, it's the videos you wouldn't expect to be so popular - so try different things, and you will learn what your audience likes.
Well, what are you waiting for? Start creating and scheduling your TikTok Videos with Facelift now and take your social media game to the next level!
Best regards,
Karina
👋🏻