As part of Meta's family of apps and social media tools, WhatsApp is naturally supported by facelift, and we're excited to explore some of its possibilities with you!
These use cases are abstracted from real cases to give a better feel on how to and how not to utilise the WhatsApp Business API integration for facelift.
Advice at a fashion company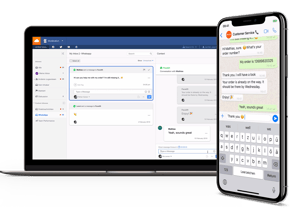 A big German fashion retailer uses WhatsApp to offer their VIP clients personalised fashion advice in a unique way. All members of their 'fashion club' receive access to an exclusive WhatsApp number. Through this, clients can get in touch with a consultant and get individual advice on newest trends and recently released new pieces. A well-received service with high satisfaction.
The setup in the background was easily handled by facelift. The retailer decided on a number – the rest was done by our product specialists. Automatic keyword detection enabled the retailer to quickly assign requests to the best consultants. User tags helped to further categorise VIP customers.
Installing a digital reception desk at a hotel

Due to COVID-19, a hotel chain was hard-pressed to innovate their handling of reception requests. Guests were already sceptical of picking up their room's phone. The hotel decided to offer WhatsApp as an alternative way to contact the reception desk. Guests can easily scan a QR code in their room to open a new chat and ask for fresh towels or to prolong their stay.
As the hotel chain required multiple numbers to be available, facelift was an ideal partner. Our automated set-up process helped to quickly make the necessary WhatsApp accounts available. facelift's roles and rights system assigns each profile to the responsible hotel manager and enables the social media team to have a central operations overview. The system can therefore easily scale to multiple locations.
Introducing WhatsApp at an electronics retailer
As a special bonus, an electronics retailer introduced their WhatsApp customer service number together with their Black Friday specials. Customers got the opportunity to claim hot deals and coordinate pickup as well as delivery. The launch was a big success and was rapidly adopted by existing and prospective customers. However, the retailer was quickly overwhelmed by thousands of requests.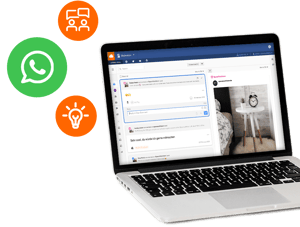 While facelift's infrastructure was readily handling the incoming messages, the customer service team was not.
Nevertheless, the client could draw valuable conclusions from the test. Setting up a clear team structure together with their client partner and narrowing down the use case, the retailer has now successfully implemented WhatsApp as a customer service channel for technical support.