Employer Branding
and the human side of social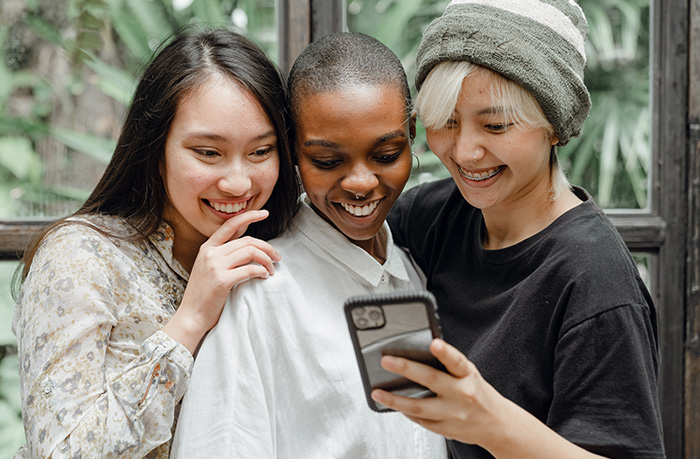 Over the past twenty years, social media has become a defining element of the human experience, touching virtually every level of society and impacting the way in which we learn, communicate, entertain ourselves, and of course, do business.
But beneath the digital exterior of KPIs, algorithms, formatting, messaging, and editorials, lies a human element we cannot forget. After all, it is the human touch that puts the social in social media, and we want to ensure that this remains true.
That's why we've taken it upon ourselves to craft this guide: an all-in-one look at how you and your organization can work together with your greatest assets – your team – to create a social media management machine optimized around your favorite humans.
In this guide, we'll cover:
Employer branding in detail: What is it, how to do it, and what the best platforms for employer branding are. We'll discuss corporate influencers: how you can take capitalize on workplace affinity and culture and more.
This guide also covers some other ways you can take optimize your success on social by utilizing the team you have to its fullest potential.

Employer Branding
Your company's image matters. When done right, your message architecture, corporate design, and all your other branding elements come together to project your unique image, mission, and values to the world in a positive light. But even more powerful than a great logo may be the way in which your own people talk about and promote your product.
That's what makes employer branding so incredibly important and why every organization today needs to take advantage of what is far more than just a social media trend.
What is employer branding?
Employer branding is the process of creating and promoting a positive image of an organization as a place to work and build a career. It capitalizes on employees' workplace affinity to support business objectives, particularly when it comes to the marketing of the company and the entirety of the employee experience. The best way to make your company shine in the minds of potential new colleagues is by leveraging the affinity of your existing employees, either directly as brand evangelists, or indirectly via company outreach and messaging.
Employer branding is crucial in today's competitive job market, where organizations are competing for the same finite pool of talented candidates. Nowhere is this more prevalent than in tech industries, but the labor market in Europe and the DACH region is facing a crisis when it comes to available and qualified talent.
The talent shortage is not restricted to Europe, either, with serious shortages causing huge losses in finances and opportunity worldwide. According to a 2022 study by the ManpowerGroup that focused on 8,000 participants across 7 western European nations and the United States, roughly 75% of companies right now report labor shortages.
While there are many reasons for this shortage, ranging fallout from the "Great Resignation" during the Covid-19 pandemic, to a paradigm shift in the way that workers view their relationships with work, the results are the same: not enough people with the needed skills to fill the required openings.
This means that employer branding is a top tool for keeping businesses above water and succeeding in the face of growing competition that isn't going to get any easier in the short term, and likely beyond.
Employer branding on social media
Social media has become an integral part of the employer branding strategy for many organizations. Platforms such as LinkedIn, Xing, Instagram, and TikTok, among others, can provide organizations with an opportunity to display their cultures to a much larger audience than they can from just their own pages.
This intersects closely with brand evangelism and corporate influencers, which we explain later.
The vast pool of candidates reachable with a solid employer branding strategy is one of the greatest benefits of using social media for employer branding. Top social media platforms – LinkedIn and Xing in particular – can reach the exact people you're looking for, exactly where they are, and we'll take some time to highlight these networks below.
Social networks help organizations engage with candidates in ways custom tailored to their needs by helping provide a "more intimate" one-on-one interaction, respond to their queries, and provide them with insights into the organization's culture and work environment in a familiar setting.

Another way in which social media is beneficial in employer branding is by providing organizations with an opportunity to highlight their employees' experiences directly. This can help build credibility and trust with potential candidates by helping them envision themselves in the positions you're offering.
Social media also allows organizations to show their brand through visual content such as images and videos, rather than just boring text-based job listings. Visual content can help supply a more authentic and engaging view of the organization's culture and work environment. If you'd like to learn more about video content and how it can redefine your social media strategy, take a look at our guide to short-form video.
Employer branding does not mean simply posting your latest job openings on LinkedIn and waiting for applications to roll in. We're not saying that you shouldn't publish your openings like this at all, but a job post for a new graphic designer, or a sales development representative, doesn't really communicate much about your company itself, and a competitor who dedicates time to showing their candidates what their company is really like will get priority attention every time.
One of the critical factors in the success of employer branding through social media is the authenticity of the content. Potential candidates can easily spot inauthentic content, which sends a poor message. It is essential for organizations to create genuine and authentic content that highlights their employees' realities.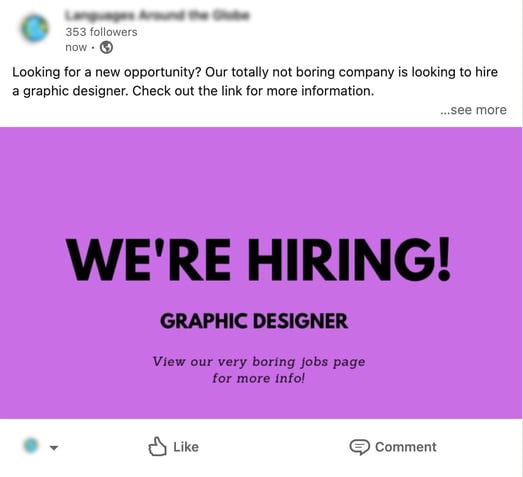 Social media also allows organizations to show their brand through visual content such as images and videos, rather than just boring text-based job listings. Visual content can help supply a more authentic and engaging view of the organization's culture and work environment. If you'd like to learn more about video content and how it can redefine your social media strategy, take a look at our guide to short-form video.
How and where to do employer branding on social media
Social media can also be used as a tool for employee advocacy or evangelism. Organizations can encourage their employees to share their experiences and promote the organization's culture and work environment through their own personal social media accounts. Employee advocacy can help amplify the organization's employer branding efforts and reach a wider audience.
Here's an example from one of our hypothetical companies: Gunsmoke
Gunsmoke, an international cosmetic brand based in Germany that markets itself specifically to men, has a LinkedIn following of 10,000 accounts. Since LinkedIn is mostly a professional platform, it's not the top place for the company to promote its products directly, which perform much better on Instagram and TikTok.
However, Gunsmoke uses Xing and LinkedIn for communicating other forms of company branding and for handling its recruitment. The company's LinkedIn followers consist primarily of industry experts, fans of the company itself, which is famous for espousing a strong progressive message architecture, as well as other businesses and organizations with whom it works, such as marketing agencies, manufacturers, and more.
Gunsmoke uses the platform to post its job openings, but these posts rarely see more than 100 organic views, despite their large following. This is because LinkedIn's algorithms do not prioritize this form of "boring" content that isn't well tailored to the broader audience. It receives relatively low engagement and little reach.
But Gunsmoke has a trick up its sleeve! It's not a giant in its industry, but it can still boast 700 employees around the globe. The business takes advantage of this to find additional talent. A bit more than half of Gunsmoke's employees are active on LinkedIn and each has an average of 600 connections.
The organic reach and engagement rates are much higher for private users than for businesses.
If 400 Gunsmoke employees each share Gunsmoke's content, and it is seen by even 15% of their 600 connections, that's roughly 90 followers each. 90x400 = 36,000 accounts reached; an order of magnitude more reach than the company gets organically.
And that's just on LinkedIn.
People trust people more than they do businesses, especially if they know or have a more personal connection with those people. This is a dream scenario and getting 600 employees to share your content may be a stretch, but it's not outside the realm of possibility, and the point still stands: your employees could be a goldmine of highly effective and publicity. Even a quarter of that number would still far exceed 100 organics, and it may not cost much extra.

Best social media platforms for employer branding
While there is potential for employer branding on all social media platforms, some may work better than others, and each may require a different approach. We will focus on a few of the strongest platforms.
LinkedIn
LinkedIn is the top professional social networking platform in the world. With over 900 million users worldwide as of 2023, LinkedIn is a well of opportunity for companies looking to spread their message. It's especially powerful for discovering new talent and is the most frequently used job search platform on Earth.
According to this, the average LinkedIn user has between 500 and 1,000 connections in their network. These connections are very often related to their industry.
On LinkedIn, you have the opportunity to demonstrate that your company is one to work with, both for prospective employees, but also potential leads or business partners who respect your organization for the its culture.
On the other hand, while still highly effective, LinkedIn job listings are among the most expensive in the jobs board market. Leveraging your employees can offset this cost, and using the two options together could bring tremendous results!
Xing
This smaller cousin of LinkedIn is a more localized professional networking platform. While very similar to LinkedIn, Xing is very much targeted at users in the DACH region, particularly Germany. It features a very similar audience and atmosphere to LinkedIn, but may allow businesses operating in the DACH region to specifically target the people living in Central Europe the way they wish.
Instagram
As a highly visual social media network, Instagram, with its ability to communicate feelings and emotions via image and video, is an excellent way for your employees to express their professional lives in a positive and interesting way without being as stuffy as a traditional business platform. Instagram is a great place to promote job openings to a different audience, introduce your team, highlight successes, and tell stories about your team and your company. You can even highlight certain employee benefits there in visually appealing ways that grab attention and promote engagement!
TikTok
The "fun" platform everyone's talking about these days: TikTok took the world by storm and has truly come into its own as the defining social media platform of Generation Z. It's an effective way to share funny and creative content to a different audience of job seekers, while displaying your company's culture in a lighter way.
And on TikTok, and all platforms, don't be afraid to engage! Starting a conversation with your audience has always been the best way to promote engagement and build brand affinity.
These four platforms are by no means the extent of what social media can do for employer branding. Other platforms such as Twitter, Facebook, Snapchat, and the rest can also be used to showcase your business in a positive light, demonstrate your company culture, and send the right message to prospective employees and clients alike.
Facelift Tip!
Also, apart from TikTok, facelift supports all these platforms, which means you can make your employer branding posts even easier!
How to do employer branding on social media right
If employer branding on social means more than just slapping new job openings on LinkedIn, what, then, can we do to optimize its chances of success?
STEP 1

Define your brand! Before you can begin employer branding on social media, you need to define what your brand stands for on a philosophical level. Consider what makes your company special and why it really stands out against potential competitors in the labor market. Why would someone want to work for your brand specifically? Your employer branding game really needs to be authentic, so make sure it accurately reflects your company culture, values, and mission.

STEP 2

Show your company culture to the world! Use social media to show off your company culture in all its glorious forms! Take advantage of visual platforms to share pictures and videos of your employees at work, or during company events. Demonstrate your company's core values and how they drive your business decisions.

STEP 3

Highlight your best employee stories! People relate to people far more than they do to companies, so use social media to tell their tales. Clearly prove how your company has helped employees grow and develop their careers, or what work/life balance means at your organization.

This also gives you the opportunity to put storytelling to work! Storytelling is a powerful tool for any content creator, and social media operation is no different. Building stories that readers connect with, are entertained or informed by, or in which they can see themselves, is a supreme way of growing their interest in your organization.

You can also take this opportunity to show employee benefits and perks.

STEP 4

Engage with candidates directly! You can (and must!) use social media to engage with candidates and answer their questions, whether it's via direct messages or in comments. Make your prospective employees feel as though they're already a part of the team, and be sure to respond to comments and messages promptly. Show that you value their interest in your company and are committed to building relationships.

STEP 5

Take advantage of employee-generated content. Encourage your employees themselves to share their experiences in their careers on social media as corporate influencers. This can include photos, videos, and blog posts about what it's like to work for your company, what it's like to work in their industry in general, or other things that could cast your brand in a positive light! Employee-generated content is great because it is often perceived as being more authentic and can be more effective at building your employer brand than promotional content.

And once more, it's hard to argue with the exponential reach of individual accounts over your own.

STEP 6

Work with targeted social media advertising. Social media ads can be powerful tools for promoting your employer brand. Use targeting options to reach potential candidates based on their interests, location, and job title. Make sure your ads and other forms of content are visually appealing and clearly communicate your brand's message architecture.

How to measure employer branding success on social media
As with all things related to social media, KPIs and analytics are an essential part of the process. It's impossible to know whether your efforts are going noticed and having any effect whatsoever if you're not following the right things.
Use analytics to track your social media engagement. The top KPIs for employer branding are likely to revolve around engagement. These include but aren't limited to:
Comments on posts

Likes or other reactions

Bookmarks or "saves" on a post

Direct messages that reference a post

Clickthrough rates for link content

If your efforts are working, you should notice an increase in these types of engagement, and of course, an increase in the overall number of applications and inquiries about job posts! Success should literally speak for itself.
One challenge will be analyzing the performance of your employees' content when they share themselves. As it is generally published on their own pages, data of this sort can be tough to track. Since manually checking your employees' content is not likely to be an easy prospect, nor a popular one, it may be better to instead share that content from their pages to your company pages, if appropriate.
An even better way to enable and measure employer branding is by using Social Share. Social Share is a facelift feature that is part of our Teams plan, that allows you to turn your employees into corporate influencers and employer branding pros.
If you'd like to learn more about Social Share, we wrote an entire section about it later in this guide. You can skip to it now with this link.
Brand Evangelism with Corporate Influencers
What is the difference between employer branding and corporate influencers?
Following in the same vein as employer branding, another way that organizations can enable their own people to become brand evangelists is by creating a strong corporate influencer presence. But what are corporate influencers? If employer branding refers to the way in which companies market themselves attract new talent, corporate influencers, on the other hand, are there to help sell your product, service, mission, and dream directly from within.
Corporate influencers can come in many forms, but generally they are your own employees using and showcasing your products in their personal lives, via social media, or just in general. They often promote business goals through their own personal presence on their own social media channels.
Often, corporate influencers are already your strongest employer branding advocates, the angle is just a bit different and the two concepts are just different sides of the same coin.

The benefits of corporate influencers
Corporate influencers who advocate on behalf of your business are one of the most powerful tools your marketing department has at its fingertips. Here are some of the top reasons to leverage your team members no matter the size of your organization.
1. Advertisements are unpopular
People just don't love ads.
Unless it's Superbowl commercials, most people simply don't have the time or interest in consuming raw promotional material anymore and seek to avoid it whenever possible. Customers expect a seamless social media experience that is not punctuated by product promotion or content they didn't specifically ask for.
This has made the role of social media advertisers more challenging. In fact, around 85% of Millennials do not trust advertisements, let alone want to see them. Furthermore, Gen Z goes to great lengths to avoid ads as well, 99% will hit skip if given the option, and two thirds use adblockers.

Most will never see your ads, and those that do will ignore them completely.
What does this leave? Well it's not all bad news: despite not liking or trusting ads, Millennial and Gen Z users do trust word of mouth, suggestions by people they know, reviews, or promos by influencers they follow. This means that the ads don't have to go away, they just have to change their forms, and corporate influencers are one way to do that.
2. The power of influencers has never been greater
Today, influencers of all sorts, particularly in B2C industries such as fashion, cosmetics, or travel, are the absolute cash cow for businesses looking to make it big on social. With countless influencers becoming overnight millionaires, businesses have done everything in their power to snap them up and use them as their own evangelists.
There are plenty of categories of influencers ranging from the huge, mega influencers with tens of millions of followers on social, to nano influencers who may have only a thousand followers or even fewer. But numbers aren't everything, especially in certain industries, and your happy employees are still a force to be reckoned with. Whether it's as social media personalities, event speakers, or popular writers, marketing teams can take advantage of their own people to spread their message from an individual standpoint.
3. It's an extremely cost-effective strategy
Influencers don't always come cheap. Some of the biggest influencers in the world can cost companies millions just for single promotions of their products or services. But with corporate influencers you may not have to break the bank.
However, even though they may be your own employees, you should still find a way to compensate your corporate ambassadors and influencers for going above and beyond their daily jobs.
Becoming a dedicated CI usually means coordinating with the sales or marketing departments of a company. For larger companies, this can mean an influencer editorial calendar or schedule that provides regular content and guidance to influencers who may not be used to marketing workflows.
Influencers who are not incentivized to create this content on behalf of their employer may not put as much time or effort into it, or may not see it as a key aspect of their jobs.
Therefore, we recommend compensating your corporate influencers in some way, even if it's small. Whether this is a pay raise, or some other form of compensation and recognition is up to your company's budget and culture.
4. Nobody knows your product or service like your own people
While working with external influencers might be a valuable option as well, nobody knows your product like those who work with it every day. Your corporate influencers know the product inside and out and are already incentivized to make sure it's a success.

How to work with corporate influencers
Decide what specifically you want to promote and establish a meaningful message architecture: how do you want your company to be presented to the public? What does your brand stand for?





Identify your most suitable colleagues and find volunteers interested in becoming CIs. If they have large social media followings, even better, but this should not necessarily be a requirement in and of itself. The candidates should be the strongest proponents of the company and





Develop a content editorial for your influencers. You don't always have to feed them content – theirs should be authentic, original, and based on themselves – but you can help choose when they post and make helpful suggestions.




Create a contact area specifically for your influencers and the people responsible for managing the campaigns. This can be anything from a WhatsApp channel, to a channel in whatever internal system your company uses, such as Slack, MS Teams, etc. There you can support communications and keep on top of their performance; offering assistance and reminders if needed.


Remember to interact with your corporate influencers on social media with your own page! Like and share their content and help them boost their profiles. It's a mutually beneficial relationship with each side empowering the other.



By taking advantage of corporate influencers, treating them as part of your marketing campaign, and ensuring that you are analyzing success, your team can see a significant increase in public reach, public relations, and even sales.

Catapult your employer branding with your facelift Teams plan
Already a facelift user and just want to learn more about Social Share? Skip ahead here!
Employer branding and employee advocacy are a fundamental part of the way that organizations do business on social. This is why we've put so much effort into sculpting facelift into the perfect tool for managing all your social campaigns, with special attention to team management, brand evangelism, and of course employer branding.
Whatever your people are doing, we want to be there to support them!
Right now, facelift offers an extended Teams plan that includes Social Share as an add-on. This package is specifically designed for employee advocacy and ensuring that you're able to leverage the power of social with your very own employees.
As we've already gone over, Social Share may be a huge boon to facelift users looking to optimize the way they do social, and it is of course designed to integrate fully with your Teams plan.
This Teams plan is created with smaller social media teams in mind and offers all the core features of the facelift experience. We designed it to be scalable and flexible, with a great deal of customization options depending on your organization's needs and size.
You have access to our editorial calendar features, the ability to publish content direct to your top social media platforms, and powerful analytics, so you can always stay on top of your performance on social media.
But with the employee advocacy package, you can use these tools to an even greater extent. The plan offers interest-tailored content suggestions for your users via Social Share. It's the perfect solution for organizations that wish to capitalize on their greatest assets: people!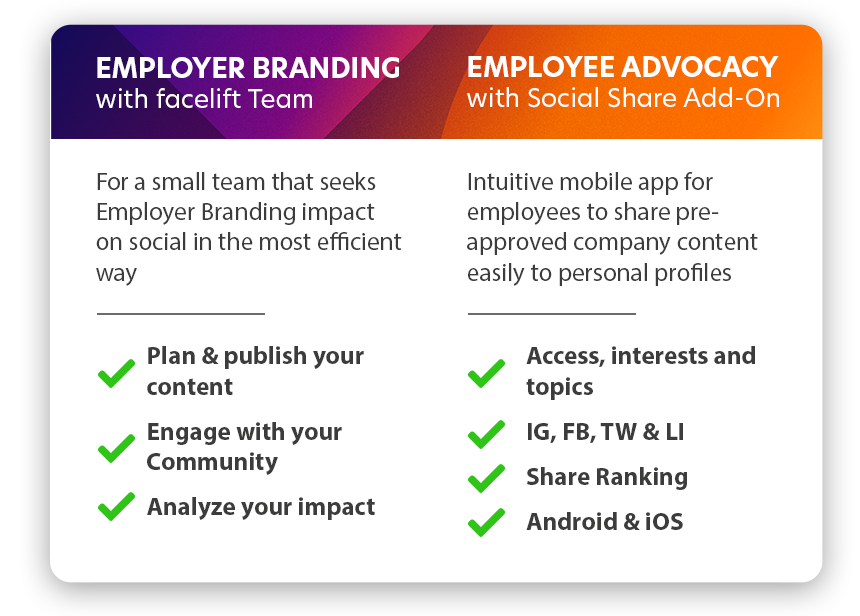 Scaling up is easy as well. As your team grows, or as you see the value of Social Share, your facelift plan can be expanded as well.
If you're ready to talk with us about how your team can become new facelift users, or you're looking to upgrade your plan, you can get in touch with us for a facelift demo or more information.
Not quite there yet? Want to learn more about Social Share first?
We get it, growing your tech stack is always a careful process, and we want you to know what you're getting into! We'd like to spend some time exploring how and why you can take advantage of Social Share and facelift for turbo-charging your employee content.
Already a facelift customer with access to Social Share? Skip ahead and get started now.
Boost your brand awareness with facelift and Social Share
While employer branding and corporate influencer management is not inherently difficult, it still comes with its own management requirements that marketing or HR teams need to be able to handle. That's a fundamental piece of facelift's unique selling point and is really at the heart of why we created Social Share, too.
facelift's Social Share mobile app can be a powerful tool for businesses looking to use both brand ambassadors and enable corporate influencer marketing as part of their outreach strategies. The app empowers businesses to easily share content with their internal influencers and employees, who can then distribute it to their own followers and friends on social media and other online platforms in a matter of seconds.
The benefits of team enablement with Social Share
Social Share lets your employees easily discover, filter, and share pre-designed and approved company content to their personal social profiles with just a couple of clicks. It's one of the simplest ways to amplify reach beyond your corporate channels and drive genuine business results.
With Social Share, employees individually select the type of content that interests them, and is most relevant to their professions, most. This also includes the ability for them to individually filter based on language.
This is great if your organization works internationally and produces translated content, regional employees can set up Social Share to only show them content in their language, or multiple languages, if they wish.
Users can be instantly notified when fresh content is available thanks to optional push notifications.
Importantly, your facelift administrators can use Social Share to find top advocates and the best performing content, which helps your marketing or HR team know what works and what doesn't. Measurement of this kind also helps to encourage healthy competition among employees via an in-app leadership ranking system for those who share the most content!
Furthermore, in-depth user metrics and analytics mean that businesses can easily see how many people are engaging with your employee influencer content.

Ways you can use Social Share
Whether you're still looking for info on how you can leverage social share, or you're already a facelift customer looking to make the most of facelift, here are several ways that you can take advantage of Social Share to improve your corporate influencer management or helping to ensure success with your employer branding efforts.
1. Boost corporate culture with competitions!
By creating a fun, competitive element that rewards top influencers, you can give your teams something to look forward to! Small content sharing competitions can reinforce the interest and value in corporate influencership and employer branding. If your company offers them, things such as employee recruitment bounties are easier to track as well.
At facelift, we offer our own top influencers gift cards for the most shares in a month or quarter.
2. Give your HR team an edge over the competition.
Recruiting top talent is harder than ever, and top-notch employer branding could be your key to more success in the job market! By using your brand evangelists, your employees can use Social Share not only to share new job openings to a larger audience within their own networks, but they can also use their unique voices and interests to connect with people in a more personalized and intimate way.
When scaling your facelift team, consider letting some of your HR members have access as well. With facelift's team and user management tools, operating jointly across departments gets way easier. Custom user roles mean each team can operate in its own space without trampling over one another. HR could even have its own inbox for community management related to hiring.
3. Ideal for dealers and sales representatives
Professional networking platforms such as LinkedIn and Xing have revolutionized the way that sales teams and product representatives have done outreach, including both as a first point of contact as well as when nurturing leads. Social Share can be used to help support sales teams by providing content and information specifically tailored to these needs.
If you'd like to read about a real-life example of Social Share being used in this way, just look at the successes of German insurance company HDI by following this link. HDI was able to significantly improve their sales outreach, particularly on LinkedIn, by using Social Share in a pilot program we conducted together. They saw tangible results and their sales users overwhelmingly said they would recommend facelift and Social Share.
4. Expand your target groups
As your business grows, new target audiences may come to the forefront of your marketing efforts. One of the best ways to spread your message is by leveraging the diversity of your team's networks. As each role within your company, be it customer success, marketing, sales, or any other, has its own industry-specific network, you can think of Social Share as a way of targeting not just one audience, but many.
This can be especially useful for both B2B industries looking for niche audiences, as well as broader B2C companies whose reach may be more general.
5. Simplify branch networking
Thanks to custom user control management, Facelift is already great for enabling multiple social media teams across locations or even countries, but Social Share can help take outreach to even greater heights!
Operating multiple stores or offices often requires that organizations provide localized messaging, news updates, and special offers at each of their locations. Social Share can be used by international or regional teams to send fresh content specifically where it is needed.
For example, a grocery chain that operates throughout an entire country may have hundreds of locations in different towns or even within large cities, each with its own social media pages, managers, and style. A store can provide its local employees with content specific to their area independently and without hassle.
6. Maintain corporate branding and message architecture
Whether you're working with internal or external influencers, it's always important for your business to present a unified front with one brand voice. Your message architecture defines what your organization communicates itself to the public and how your employees view the organization they work for.
Because Social Share allows for content to be pre-written by your marketing or HR teams, directly within facelift, you can know that the content your employees are sharing fits your corporate style and message architecture. This has the added benefit of ensuring all your teams understand and are on the same page about corporate messaging and can also help boost team unity via a common voice and purpose.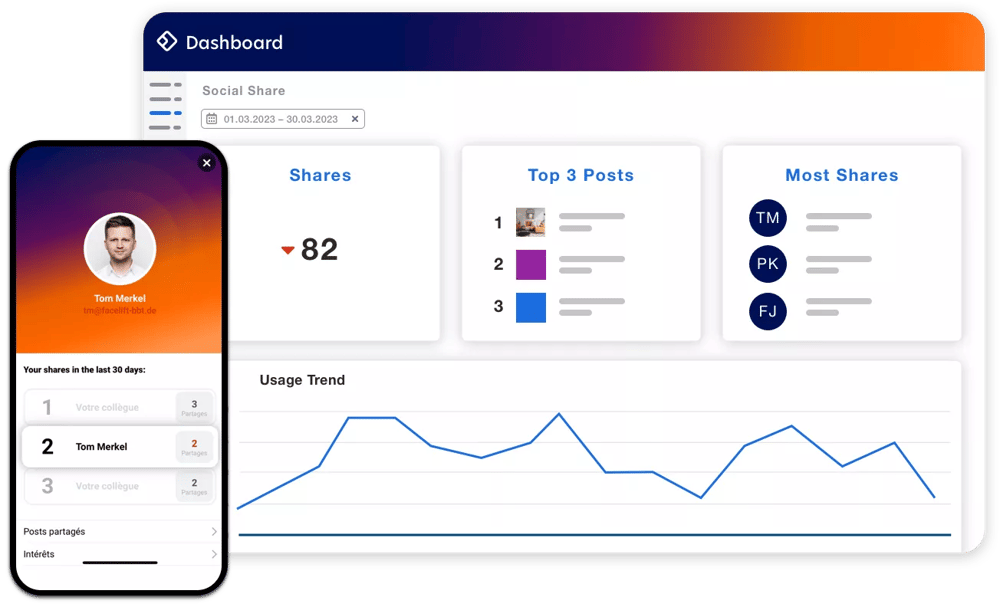 How to get started with Social Share
Are you already a facelift user and uncertain about how you can jump into Social Share? We've created a short video that shows you how you can get set up in just a few easy steps:
If you're still not sure that facelift and Social Share are the ideal social media management solutions for your team, give us a chance to convince you further by signing up for a product demo with our team! We'll walk you through facelift step by step and explain in greater detail how to take advantage of Social Share to revolutionize your employer branding.
But if you're not ready for that step just yet either, try signing up for a free basic facelift trial. There's no commitment, no payment needed, no fine print, and no pushy sales call. You won't have access to Social Share just yet as part of the trial, but you'll have two weeks to get used to the rest of facelift's leading edge social media management features and find out why it could be the next indispensable addition to your tech stack.
Subscribe to our newsletter.
Subscribe to our newsletter to receive all the latest news around marketing and social networks.