How to Create a

Strong Social Media Content Plan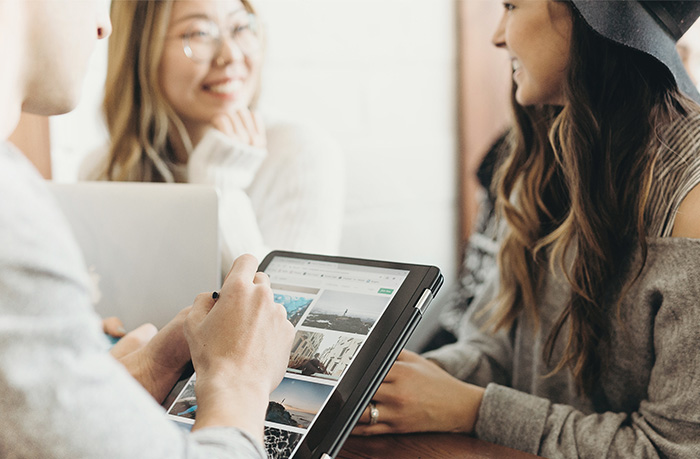 Starting from scratch with your company's new content campaign? With so many factors involved, it can be hard to know exactly which steps to take and when. Your content plan lays out all the texts, articles, downloads, videos - the content - that your company wishes to present to the world as well as the strategy behind producing these and how your team can manage upkeep over time.
This philosophy applies to inbound marketing campaigns in general, but is also highly relevant to your business's social media efforts. Our focus here in this guide will remain largely on strategizing, producing, and maintaining social media content campaigns over the duration of their lifecycles.
At a glance, we'll talk about:
Campaign scope: how targeted or broad should your campaign be and which platforms are the best fit for your organization's needs.
Identifying and reaching your target audience where they are and ensuring that your content is made for them.
How to build basic buyer personas for your social media pages, and put them into action.
The execution plan of your content campaign: how to get the ball rolling and maintain its momentum over time.
Tools you need to make your social media campaigns succeed: what Facelift can do to help you with your content management.

Determining the scope of your campaign
The overall scope of your social media content campaign refers to the volume of content you would like to produce and where you would like to present it; with which social media platforms do you wish to work? Each major platform has its strengths and weaknesses, making it so that each platform will be better suited towards certain goals.
Instagram
This platform is an image sharing network that allows users to publish pictures or video content. It's a fantastic way to tell stories using visual aids and is an excellent space for almost any B2C brand looking to advertise either passively or actively to an enormous audience. Still a dominant force in short-form video content, you can read much more about how to use Instagram Stories by following this link.
Twitter
fWith their small character count and a semi-ephemeral nature, tweets can be a powerful tool. Twitter is a platform of high activity and fast-moving content. It's a terrific way for brands to stay in touch with their followers and take part in ongoing conversations. Twitter can be highly effective, but sometimes requires a more aggressive and time-consuming content production and maintenance strategy.
LinkedIn
LinkedIn is all about professional networking, skill development, and discovering career opportunities. It's the ideal place for B2B companies, thought leaders across various industries, and individuals looking to connect with others on a professional basis. Almost any business can be successful on LinkedIn and its popularity among professionals is only growing.
TikTok
A growing giant in a crowded space, TikTok has seized the youth vote when it comes to preferred social media platforms and is now a ticket to success for many organizations focused on getting the attention of Gen-Z and many millennials. This short-form video sharing platform is fun, lighthearted, and not yet saturated with too much business content. Could TikTok be right for your business?
Facebook
Facebook has a bit of everything to offer. Featuring the most social media users worldwide, this gigantic platform is flexible enough to work for most businesses, regardless of industry or size. It remains stronger for B2C companies, but is not to be ignored by anyone.
Pinterest
Billing itself more as an image sharing platform, or even visual search engine rather than a social media site, Pinterest is a giant when it comes to finding and sharing pictures. It is ideal for brands looking to reel in consumers, especially in highly visual industries such as fashion, food, or luxury items.

Vocabulary lesson
What are B2B and B2C? These abbreviations stand for "business to business" and "business to consumer ". B2B companies are those who serve other companies, such as advertising, PR agencies, or corporate law firms. B2C would include retail, food and hospitality, or most of what you find at a mall. You can read more about the differences between B2C, B2B, and B2E in detail here.
Some of the most successful industries for image sharing sites may include, but are not limited to:
B2C:
Fashion
Consumer goods
Jewlery and luxury goods
Food and beverages
Arts and entertainment
Fitness
B2B:
Heavy industries
Logistics
Advertising and design agencies
As you can see, while visual platforms may work well for some B2B businesses, the reality is that it's often not as easy for companies without the same kind of tangible products, or the kind of items that appeal to the greater population. While Instagram may still have its uses for B2B companies, LinkedIn might be a better way to reach out to other businesses and individuals within B2B industries. Platforms such as Twitter and Facebook also thrive on visual content, but also enjoy a broader spectrum of content effectiveness.
There are two ideal ways to approach choosing your platforms, each with its own pros and cons.
1. Experiment with many platforms. This can increase reach and will reveal which platforms work best for your business. The downside is that it may be more time and resource intensive and requires a greater working knowledge of each platform.
2. Select very specific platforms and focus all your efforts in a more targeted effort. The advantage here is that you can dedicate time and energy to more refined goals. The con is that you may miss some other opportunities. Take the time to sit down with your team and really know your mission. Set some growth goals and make sure that the social media platforms you choose work for your industry.
Map your resource requirements
Your content strategy will necessarily depend on your resources.
Take inventory of every-thing that will go into making your campaign possible.
This includes:
Calculating time for:
Coordination
Creative work
Scheduling
Community management
Calculating cost for:
Materials incl. images or videos
Team time expenditure or new hires
External support (freelancers, design agencies, photographers, etc.)

Considering your target audience
Who are you trying to reach with your content plan? If you don't know your audience, your campaign won't get very far. Before you begin creating your content plan in earnest, you should be able to ask yourself and clearly answer:
Who am I marketing to?
What problem(s) does my product or service solve for my customers?
When are the best times in which to reach them?
Where are my followers or customers located?
Why should my customers buy my products?
How can we continue to support our campaign moving forward?
Remember: each platform you choose to use may require different answers to these questions.
Buyer personas
Creating personas is a great way to simulate potential followers, try to get inside their heads, find out what makes them tick, and what they want to solve. Buyer personas are a series of hypothetical customers that are likely to use your product.
For example: A gym is opening a second location and is trying to attract new clients. They create a small group of hypothetical members featuring basic demographics based on their targets, website visitor data and social media followers. Their marketing team thinks of six ideal clients including: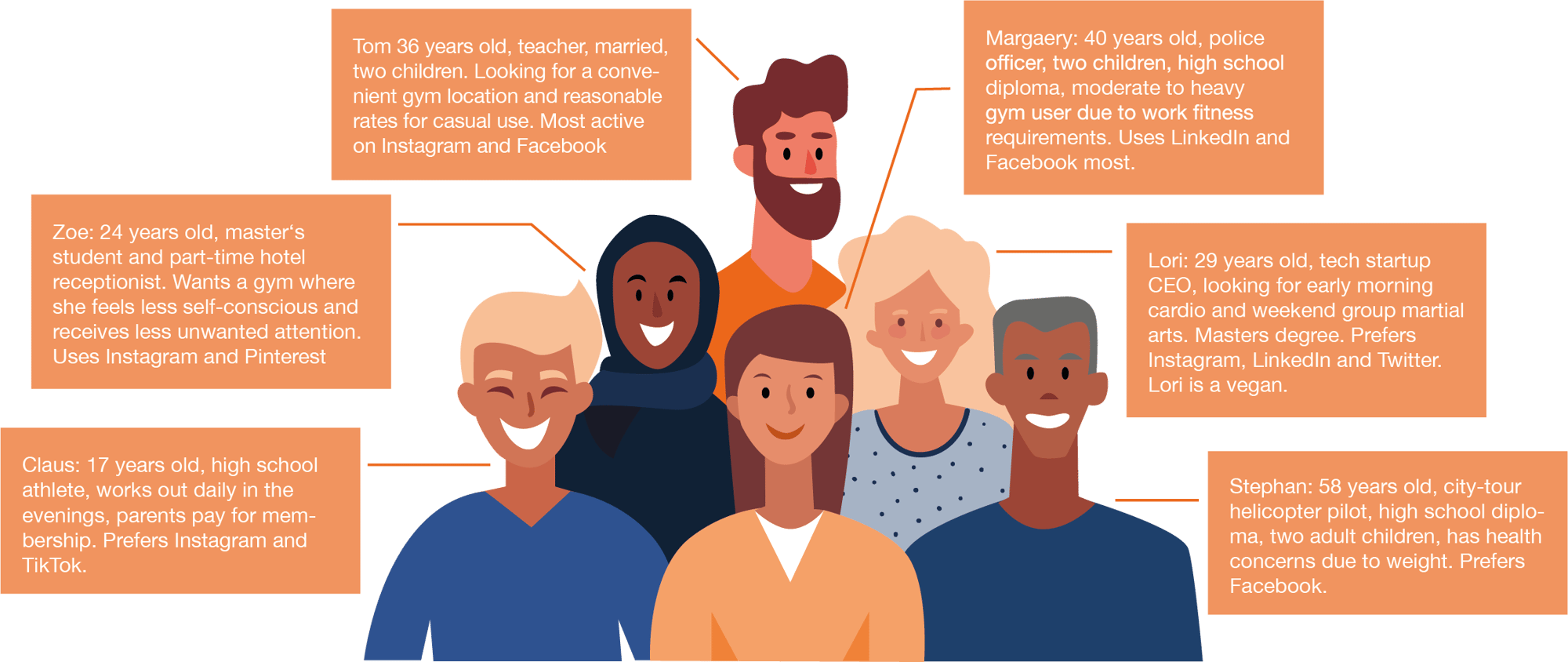 Buyer personas can be made extremely granular, but most only require basic information to be useful and effective.
The creation of detailed, comprehensive buyer personas can take time and effort, and can involve a lot of different metrics, interests, and other sociodemographic details that are intended to create a complete picture of the ideal buyer. We've gone into much more detail about creating buyer personas for social media here in this article. Take a look!
---
Each of these personas in our example has reasons to look for a new gym. It is the social media team's job to create a campaign that includes content that can appeal to each of them. You can construct these personas by taking existing data from your marketing efforts, checking website data, and even speaking directly with your customers.
Tools such as Google Analytics can be used to monitor demographics and track the buyer journey from entry to your website.

Executing your dynamic content campaign plan
Now that you've established all of the items above, it's time to put your plan in action! Let's develop a basic campaign from start of production to finish.
1. INITIAL CONCEPT
This selection of brilliant post ideas is just a giant vat of inspiration. Anyone on your team can toss ideas into the pot. They can then be discussed, and the best ideas can move forward.
2. YOUR TO-DO LISTS
Using your initial concept board, your team selects the most suitable content for your social media campaign. One powerful way is to use a spreadsheet that weighs the potential cost/benefit ratio of a given post.
Tip: Create an issue prioritization template in Excel or another spreadsheet program. Assign values such as amount of labor, time spent, and expected effectiveness for a given post. By weighing these values against one another, you can organize your content plan by expected success rate and focus on what matters most.
3. SEGMENT ACCORDING TO TASKS
Separate individual tasks into their respective spaces and assign them to the team members best equipped to manage them. These sections can be broken up by text, image or video production, review, and more. Depending on your industry, your social media team will probably require a different workflow. For instance, a health supplement company might require legal or medical reviews of some posts before they can be scheduled.
4. CREATE A SCHEDULE
Depending on the strategy that you've created, it's time to make a posting schedule. You can do this by assessing the amount of content you can produce, how often you wish to publish, and what the upkeep process will look like across each of your chosen platforms.
5. UPKEEP
After your content is public, it requires community management and ongoing assessment. Take note of performance across various KPIs such as user engagement, customer service interactions, web link clicks, likes, follows, and anything else. These KPI metrics will allow you to fine-tune your campaign as it progresses.


SAMPLE
A health supplement company is releasing a series of "premium" protein bars aimed at middle-class men in their 20s. Their social media marketing team is made up of four people: a writer, a graphic designer, a community manager, and a supervisor. The team is focusing on Instagram and Facebook, where their visual content stands to shine.
Their campaign plan follows the above formula.
Step 1: Concept
They throw together some ideas onto their brainstorming board:
A glamor video featuring a model with a protein bar
An announcement with a couple of product shots
A landing page featuring a launch coupon
Targeted influencer campaign
Step 2: To-do list
The team focuses on the announcement and the landing page because they are less material-intensive and they want to get their campaign rolling as quickly as possible. The other two projects can be put on the back burner and used in a couple of months.
Step 3: Task assignments
Each person tackles their responsibilities. As each step is finished, the post moves on as though it were on an assembly line at a factory.
Step 4: Publishing
The team uploads their finished content into their scheduling tool and makes sure that everything looks great. Supervisor approval is then requested. For many companies, the content could then simply be approved and published.
However, in this example, the team has more to do! Because it's a supplement company, additional approval from both their legal and medical departments is required before any claims about their product's health benefits can be made. Communication between departments is an essential part of this team's social media strategy.
Every company will employ a unique workflow when determining inter-departmental cooperation.
Step 5: Upkeep
The team experiences mixed success with their strategies. A member of the company's customer service team takes over the community management so the rest of the team can focus on analyzing and making more content. Their posts perform well on Facebook and Instagram, but not nearly as well on LinkedIn and Twitter, and those latter platforms are set to lower priority. The team adjusts their future content to provide more of what people like and less of what they do not.
PLANNING FOR CONTENT SCALING
Every post for any social media page serves a specific purpose and can play a role in a larger campaign. Depending on the size of your enterprise, your product offerings, or corporate style, multiple campaigns can be run simultaneously.
Scaling up your social media marketing efforts and creating more campaigns comes with unique challenges, but the process stays more or less the same. Each time a new campaign is created, the original drawing board needs to be revisited. The biggest challenge the team will face is effective and efficient coordination between teams.
To continue the above example: Our protein bar company is also trying to promote its herbal supplements for women. Due to slow government approval processes, currently they are only able to market that product in select countries. To handle this, the social media team doubles in size in order to allow a new group to focus on the herbal supplement campaign. They need to focus on a new demographic group as well as a new target region that requires multilingual content and community support.
Now these teams need to work together to optimize their publishing activities around one another, as well as try to find ways in which they can work together. A well-made schedule will ensure that no single team's content is interfering with the other's. The schedule can be adjusted to accommodate everyone.
Ways to do this:
1. Appoint team leaders for regular communications.
2. Hold regular sessions between teams.
3. Make sure that all work and scheduling is being performed in a single space or with a single tool.
4. Use geotargeting.
5. Use data segmentation to keep followers and user data separated, but easily available for comparison.
Making sure that the people in charge of these projects are in regular contact with one another is important for ensuring that everyone is able to stay on task and that there are no conflicts. Meetings between the groups allow each team to keep up with the other's activities, and communicate their plans, successes, and difficulties.
Using a single tool to manage all scheduling puts both teams' content in an open place. This improves transparency and helps keep tasks separated and orderly. Geotargeting is the process of selecting only certain regions for publication. For instance, the herbal supplement team can use this technique to focus its posts only on the countries in which it is allowed to market them, while excluding others.
Many scheduling and publishing tools, such as facelift, include features that allow users to segment their data. This also keeps community inboxes separated and analytics for each campaign differentiated and easy to assess.
Adjusting Your Content Campaign!
It's hard to know for certain what people will and will not react to online. Your business's social media campaign never really finishes and the careful tending of content throughout its lifecycle is paramount to its continued sustainability and success. As time goes by, certain things about your social media content will come into focus, and changes will have to be made accordingly.
It is inevitable that some social media platforms will outperform others, and "flop" posts can happen - hopefully without dire consequences. As you continue to publish content, take advantage of your metrics to try to see where the weak points are, and devise a list of tweaks with which you can try experimenting.
Experimentation is key to keeping a campaign optimized and moving forward. Experimentation factors can include, but are not limited to:
Macro adjustments
Using different social media platforms
Posting diverse types of content
Geotargeting
Granular adjustments
Color schemes
Publication times
Age, education or income demographics
Affinity categories
A/B testing is the process of taking a meaningful selection of your target market, around 20%, for example, and splitting that segment into two smaller groups of 10% each.
Each half receives a variation of an experimental metric. A high-end jeweler looking to sell more necklaces could run a test that aims certain posts at followers between the ages of 30 and 39 (Category A) and 40 and 49 (Category B). The goal of the experiment is to determine which age group buys more necklaces due to social media influence.
After that experimental campaign concludes, the jeweler determines that Category B performs better. The company then adjusts its marketing efforts to capitalize on this demographic at a larger scale.
Due to the whimsical nature of social media, these tests are essential, and can become extremely granular in their focuses. Because these platforms are always changing, innovation and awareness in your team will be an ongoing process.

Maintaining your content plan
A solid content strategy of any kind does not end on publication day! Maintaining your well-developed strategy and content editorial, and the community management that comes with it requires ongoing maintenance and constant review. As time goes by your team will inevitably notice areas of strength and weakness, and it's crucial to act accordingly.
The biggest killer of a solid content strategy - whether it's SEO writing, podcasts, or social media - is the development of apathy and a lack of coherent project organization. To this, we suggest ensuring that you're documenting your progress in a single, easy-to-access location that the entire team involved with your social accounts can find and work with.
You can do this by creating a hub or another internal company system that helps let you leverage your entire company to share, comment, and otherwise boost your content. It also allows for the pooling of fresh ideas and insights, and keeps things interesting.
Do not let your social media content plan stagnate! Often, results are hard to see immediately, and months can go by without significant changes. This is to be expected, but it is often the point at which many teams give up on social. Continue producing regular, high-quality content that speaks to your audience in a meaningful way. Keep engaging with your followers, solving their problems, and tracking your KPIs closely for areas of improvement.
facelift can help
A smart social media content plan can be managed with a spreadsheet sheet and a bit of love, but it could be so much more! At facelift, we've made it our mission to simplify the entire social media management experience across the full lifecycle of your content, and with it you can put virtually everything in this guide into practice in a single place.

This means not only helping you plan and schedule your posts across all of your social media platforms in one place, it also means helping you ensure that the content you're creating is having the effect it should.
Furthermore, facelift allows you to access competitor benchmarking, so you can see what's working or not working for others in your space. This can help inspire your content plan with fresh content ideas.
We love making these guides for you - but as happy as we are to provide them, there's no real substitute for digging in and getting your hands dirty. Your best bet at building a robust, lasting social media content strategy, and seeing everything this guide talks about put into action, is to give facelift a shot for yourself.
And you can do that for free for two weeks! You don't need a credit card, and it takes no time at all to get started. So take a few minutes to sign up for a trial and see what facelift can do to help make your social media management easier.
Subscribe to our newsletter.
Subscribe to our newsletter to receive all the latest news around marketing and social networks.