To help employers optimize their social media presence and stand out from the crowd, facelift has launched new software bundles for employer branding on social media. Whether you're a small business or a large corporation, these advanced software tools can help you connect with candidates and build a strong employer brand online. In this article, we'll take a closer look at facelift's latest launch and how it can help you revolutionize your employer branding strategy on social media.
The Power of Authenticity in Employer Branding on Social Media
In today's world, social media has become an integral part of our lives, and businesses are not an exception. Employers are constantly seeking ways to connect with potential candidates and showcase their company culture and values. This is where the concept of "employer branding on social media" comes into play. Employer branding utilizing social media refers to a company's efforts to establish a positive reputation and identity on social media platforms as an employer.
Employer branding on social media is more critical now than ever before. With the rise of social media, job seekers have access to more information about potential employers than ever before. They can learn about a company's culture, values, and work environment with just a few clicks. In such a scenario, it's crucial for companies to establish a positive brand image on social media to attract and retain top talent.
Why is Employer Branding relevant?
43% of companies in the DACH region are confronted with difficulties to find employees
75% of recruiters in companies with more than 250 employees are concerned that they are forced to compete for talent
72% of recruiting leaders worldwide agreed that Employer Brand has a significant impact on hiring
Employer Branding and employee experience is the number one priority for marketing executives according to Forrester's CMO Pulse Survey in 2022
How facelift helps to streamline your Social Media Planning with Marketing Teams
We are more than happy to announce that facelift can fulfill employer branding use cases with its solutions for social media. By using facelift Publisher, with its shared calendar, HR and marketing teams can collaborate and communicate more effectively. This will ensure that all social media posts are coordinated, messaging is consistent, and audiences are targeted appropriately.
facelift unified inbox provides several benefits, such as improved collaboration between HR and marketing teams, better organization and tracking of social media messages, and faster response times to customer inquiries or concerns.
With the help of Dashboards and Tags you'll adjust your content, timing, and messaging based on real-time feedback and insights, improving your engagement and ROI over time.
New Social Share features
We've made some significant improvements to the creation and usability regarding the template creation process. The biggest change is, that Social Share is now available for team plan users.
Easy to find - With this upgrade we made social more accessible for you giving it it's own navigation item
Quick and focused - The new creation process shows only necessary fields, social networks and supported post types
Real time template updates - no more deactivation, available instantly
AI Powered - With Lifty, you can easily generate fresh and new ideas for your social share templates
Learn more about the setup and creation of social share templates in our Knowledge Base.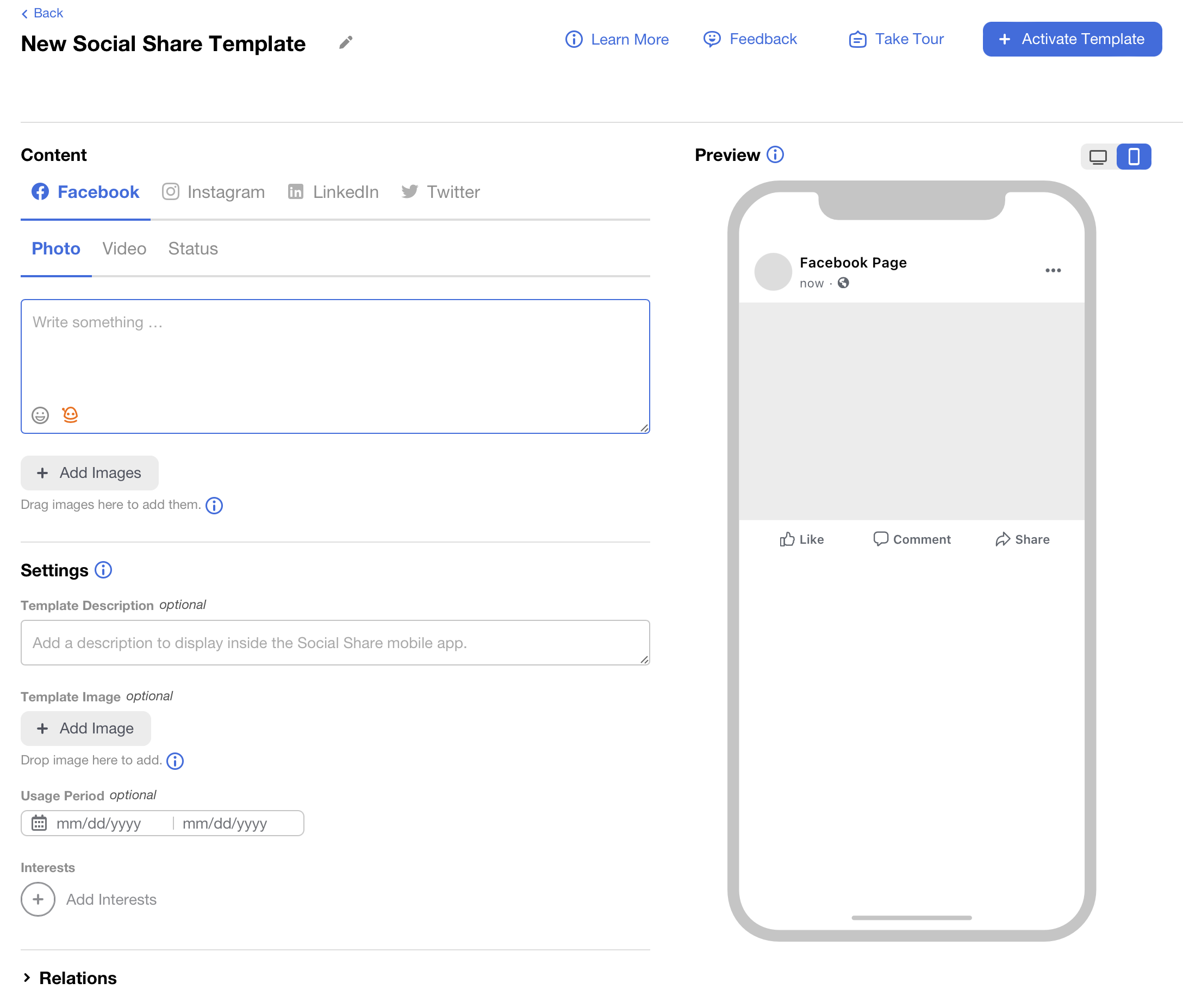 How to get started
We are excited to introduce our new plans and bundles that offer flexible pricing options to suit every budget and requirement. We are committed to assisting you with the setup and finding the best pricing package that fits your needs. Have you asked your HR team if they're leveraging social media for employer branding? If they are, you could collaborate with them using the same tool.
Entry bundle Employer Branding + Employee Advocacy
From 410 € a month
Team plan 200 € + 210 € Social Share app (1 Social Share User included, each additional user costs 10€ p.m.)

Employer Branding Pro + Employee Advocacy
Pricing on request
Business plan + Social Share App


If you have a specific need to streamline your employer branding efforts on social media, please contact us and get a free demo.