We are thrilled to announce our full support for YouTube Shorts, making facelift even more complete and empowering content creators and companies to harness the true potential of this dynamic video format. YouTube Shorts is a video format designed specifically for short-form content, typically lasting up to 60 seconds. It is YouTube's answer to the immensely popular TikTok and Instagram Reels.

Quick, Sweet, and Powerful: Exploring the Benefits of YouTube Shorts
With facelift's powerful features and the inclusion of YouTube Shorts in the Publisher, you can seamlessly plan and publish your Shorts content to reach a massive audience on one of the largest video-sharing platforms. From now on, you can mix and recycle your vertical video content across different social media networks like YouTube, Instagram, and Facebook.
The most efficient way to create new vertical video posts in seconds is Quickpost. YouTube Shorts require a video in a 9:16 aspect ratio, a length of up to 60 seconds and maximum file size of 128 GB. Add a title, profile and description where we will add the hashtag #shorts automatically
When creating content for YouTube Shorts, it's essential to focus on engaging and attention-grabbing videos that cater to the short attention span of viewers. Here are some ideas for the best content for companies on YouTube Shorts:
Product Teasers:

Create short and enticing teasers that showcase your company's products or upcoming releases. Highlight the key features or benefits to pique viewers' curiosity and encourage them to learn more.

Quick Tips and Tutorials

: Share bite-sized tips or tutorials related to your industry or niche. Provide valuable information in a concise format, such as a 60-second tutorial or a quick how-to guide.

Behind-the-Scenes Sneak Peeks

: Offer a glimpse into your company's behind-the-scenes operations. Showcase your workspace, introduce team members, or provide insights into the production process. This helps humanize your brand and foster a connection with your audience.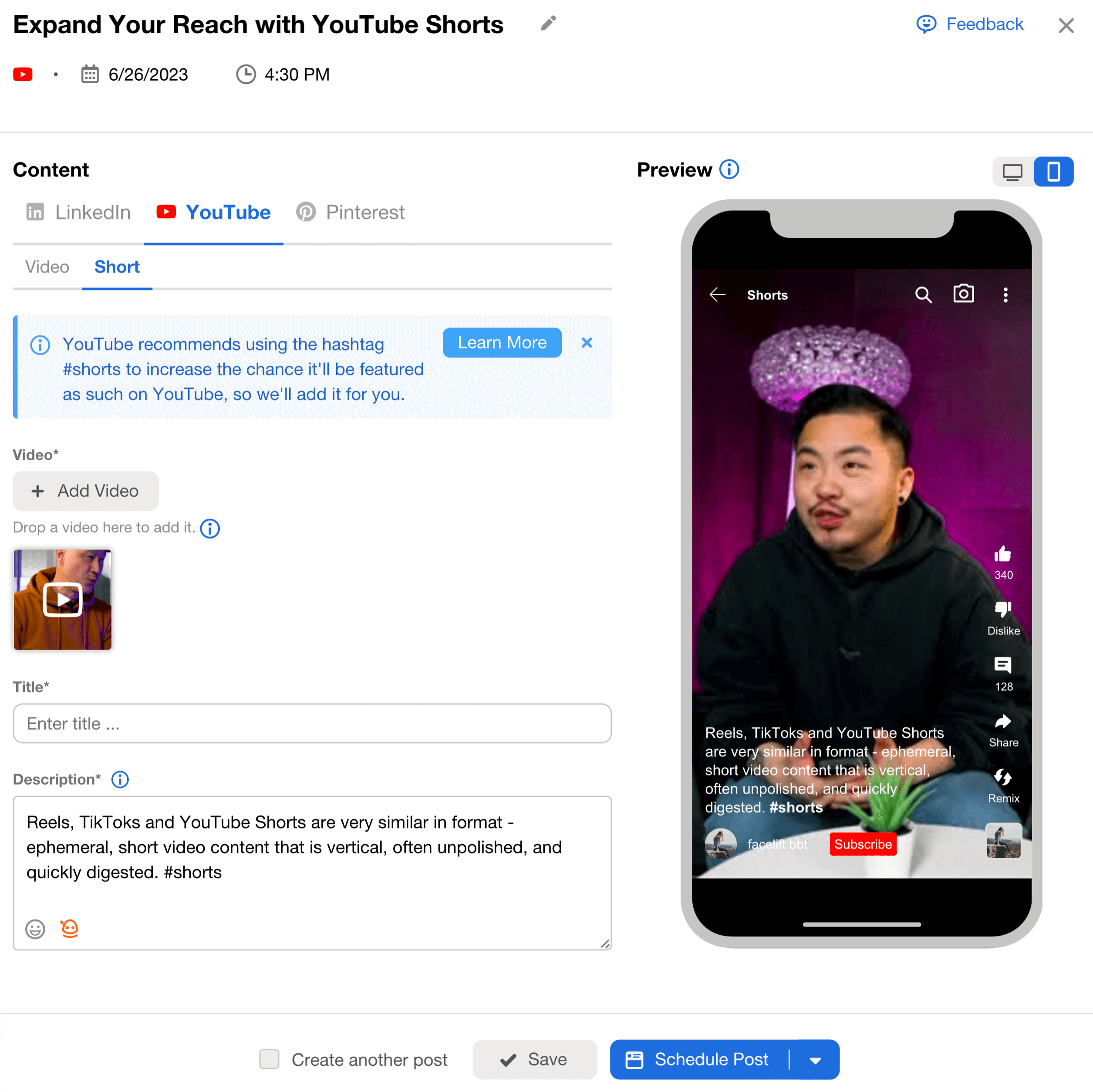 Viral Potential
Remember to keep your videos concise, visually appealing, and engaging. Captions, subtitles, and eye-catching thumbnails can also help attract viewers and make your content stand out. Analyze the performance of your videos and adapt your content strategy based on viewer feedback and preferences.
Shorts for your social media strategy
To help you create a more engaging content, we've listed some content ideas for shorts that are particularly suitable for short-form video formats. In this blog post, we'll explore the immense potential of YouTube Shorts and how it can be a game-changer for individuals, businesses, and aspiring content creators. We'll delve into the key features, benefits, and strategies to help you leverage this platform effectively.
Read our Knowledge Base article to learn more about YouTube publishing options within facelift's Publisher.
Oh, and by the way – do you already follow facelift on YouTube? ;) Whether you're a client, a social media manager, or just someone looking to learn a thing or two about social media, there's something for everyone here, and we sincerely hope you'll subscribe!